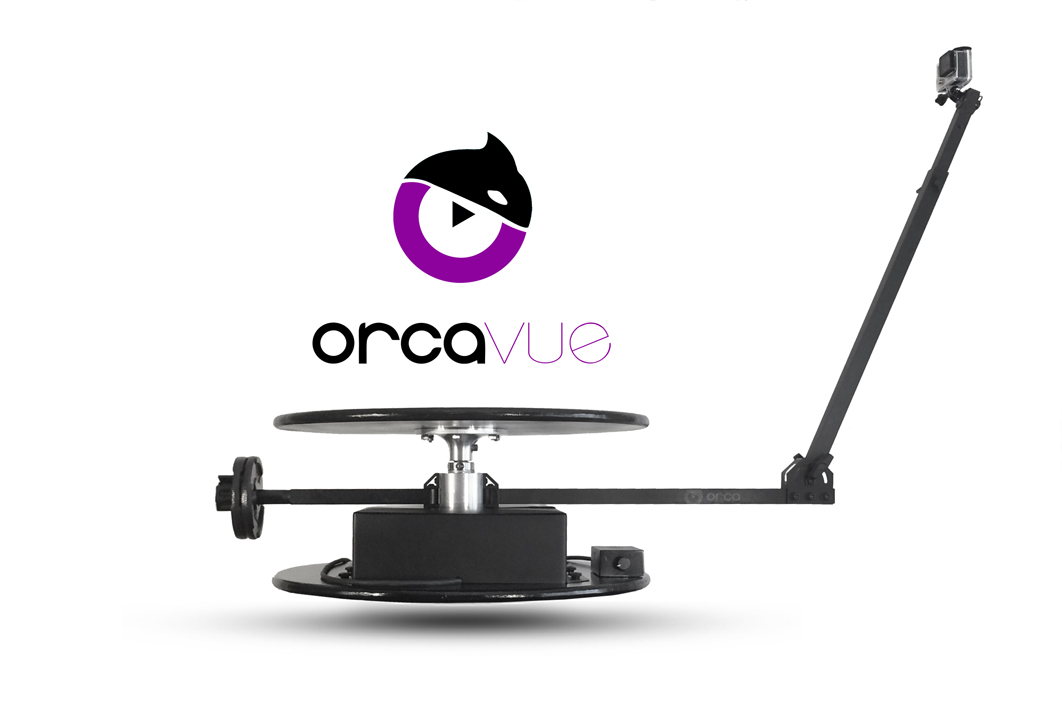 On the eve of March 31, 1999 the world was exposed to a new type of visual effect thanks to the release of a movie that changed and influenced movies for the next decade. The Bullet Time effect as it came to be known created a sense of slow motion combined with orbiting camera motion that let you for the first time move away from the constraints of a stationary or dolly only camera move.
The Matrix did so with an array of carefully positioned Canon SLR photo film cameras with electronic remote triggers to shoot in sequence a few milliseconds apart to capture the scene in a loop around the subject. The Matrix used 120 cameras and a copy of the exact same lens in a setup that cost $100,000 per day of filming to rent and operate.
Finalized bullet time effect on the Matrix:
With the now unveiled Orcavue camera rotation system you can mimic the look and feel of the Bullet Time effect with a camera you already might own like a GoPro Hero 3 or 4, iPhone or GH4.
Orcavue System Specs: 
OrcaVue Life
Supports: 

1 person

Platform Size:  21 inches diameter
Camera Swing Arm Range:  6-12ft diameter
2 revolutions / second
$2,499 MSRP
Travel Package – $2,799
OrcaVue XL (coming soon)
Supports:  1-3 people
Platform Size:  30 inches diameter
Camera Swing Arm Range:  8-12ft diameter
2 revolutions / second
The system consists of a stationary platform for the subject which can be a person, object or animal. Underneath the platform there is a motor with a lead acid battery that has an arm extension to hold the camera far away from the center model. The art starts slow and accelerates the camera around the subject  at 1 or 2 revolutions or turns per second.  If you couple that with a camera that shoots high frame rates preferably 120fps and beyond  you get a smooth fluid slow motion feel and perfect center orbit around the subject in action. This can be anything from a karate master, basketball player, baseball batter, rocket, athlete or anything your mind can think of.
While you may own a GoPro or iPhone 6, the bullet time effect will increase effectiveness with higher frame rates. That is where a slow motion camera like a Phantom Miro, FS700, edgertronic or the upcoming fps1000 jump in.  You will get a much more impressive effect.  The following video shows the Orcavue in action:
With a price tag above what many amateurs could consider affordable, the Orcavue is as of this moment, not for everyone. It is kind of bulky and more of a specialty product craze much like a motion slider a couple of years back. You will start to see the effect more and more on TV, the Internet and films and it could get old and tired fast. However for production houses or stock footage shooters, the appeal is clearly there.  It can elevate a mundane shot to an interesting and dynamic extravaganza.
if you feel you can capitalize fully from the device it can make sense quickly to acquire the kit to start shooting slow-mo orbital footage.  However if you want to create the "Ultimate Selfie" as the promo piece suggests you can do; it surely can do that and or can leave you in the poor house for a month or two unless you are swimming in dough.   It makes sense for creative professionals much more than selfie makers and could easily be the new gathering smash hit like that of party photo booths.  It can certainly pay for itself quickly of you plan accordingly and generate a lot of income if you find a niche product.
All in all an interesting addition to the slow motion world, we expect to see a lot of interesting footage coming from the Orcavue in the coming months.   Great product if used in the right context with the appropriate gear!
Fire Breathing – University of Maryland College Park – Bullet Time Orcavue Effect by JoyRidersTV
Find all info, pricing and development of the Orcavue at: http://www.orcavue.com/
(Visited 2,582 times, 1 visits today)