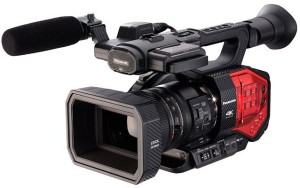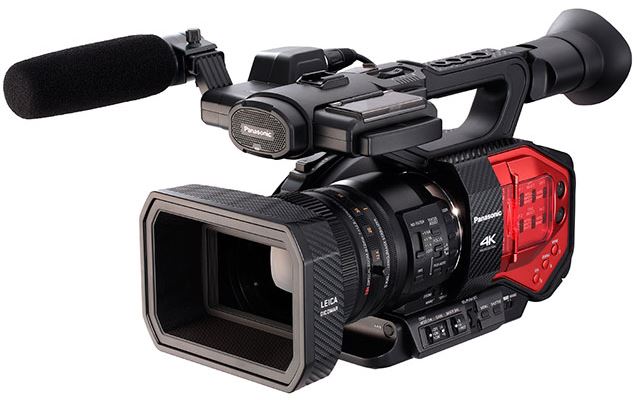 The DVX100 was a huge camera for Panasonic way back in December 2002.  So 13 years later and after a website built around that camera and it's users, now a viable upgrade path; if they haven't already upgraded to something else most likely.
The  new Panasonic DVX200 full name"AG-DVX200" has that portable and production ready for factor with pretty robust specs and a much larger sensor.
DVX200 Specs:
4K/ 24p,30p and even 60p recording
120fps at 1080p resolution.
Large 4/3″ sensor
13X optical stabilized zoom
f/2.8-4.5, 28-365mm equivalent range Powered Zoom
Separate Zoom, Focus and Aperture rings!
V-Log L gamma curve (12 stops of latitude, target) Same as currently firmware tested GH4 V-Log mode.
VariCam like film tones.
time-code in/out
3G HD-SDI and HDMI 2.0 (4K) video outs
Programmable user buttons
MSRP under $5000 USD release fall of 2015
Panasonic claims it will have a newly-developed 4/3" large-format MOS sensor so it probably shares technology with that of the GH4 but it will not be the same sensor. We might see this sensor crop up when and if a GH5 is released in the future.
The Panasonic DVX200 will also record in full wide aspect 4K (4096 × 2160) / 24p all into dual hot swappable SD card slots. It will also be a world camera switchable from NTSC to PAL frame rates without separate models. It will require fast U3 SDXC cards for correct file recording. These are now available widely and at good prices.
Panasonic DVX200 at NAB by cinema5Dnews:
The lens is quite good with with F2.8 aperture at the wide end plus an improved  five-axis Hybrid Image Stabilizer with also something new called 4x correction-area Image Stabilizer that produces clear images without blurring. It seems to be some sort of electronic gyro assisted stabilization.
If the camera is released at a price point closer to $4,000 USD then it will probably be a hit and a camera the Panasonic GH4 user base could upgrade to in the future.  The 60p frame rate at UHD 4k is without a doubt something excellent to have and it separates the camera from even the newly announced Canon C300 MarkII which tops out at 30p in that spec.   While dynamic range at 12 stops will be lower and low light performance will probably be far away from the competition, it does provide an all in one documentary, production and run and gun product with a largish sensor and flexible frame rates at a very attractive price point.
B&H shows the prototype Panasonic DVX200:
The specs for video recording are not finalized and there is no solid info as to point if the camera will record in 8bit, 10bit or 4:2:0 or 4:2:2 color space. We will have to wait for finalized firmware and a shipping camera to try that.
We will be all over the camera slow motion samples once available, we have a feeling it will take a spot in our camera guide close to the top with it's specs.  Thanks for reading!
Full panasonic Press release for the DVX200 here!
(Visited 7,437 times, 1 visits today)