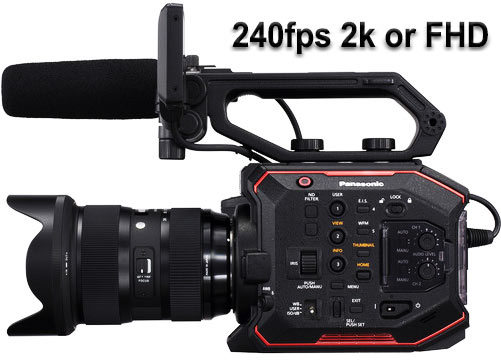 The Panasonic EVA1 camera has started to ship to pre-order owners and some footage has started to show on the web.  The camera seems to be very good at low ISOs and up to ISO 5000 it defends itself well. After that banding and heavy noise starts to become a problem.    One thing to keep in mind is that the 5.7k sensor is intended to supersample for 4k to deliver unbelievable detail levels while having a detrimental effect on super high ISO.   The dual native ISO settings of 800 on the low end and 2500 ISO on the high end help the camera achieve dependable noise free and extremely clean footage in those modes.
The camera can also shoot up to 240fps full HD and or 2k super slow motion video and use it's improved sensor specs to reduce rolling shutter. The camera should be able to deliver excellent high frame rates in good light but it seems the slow-motion option offers lower quality in codec and also in noise control. We have no clue what is causing this but it is apparent from the samples that detail and quality take a hard hit in these modes.
Here are the video samples we could

find from

the EVA1:
Testing the EVA1 – Example Footage & Comparison to Canon, Sony and Blackmagic by ProAV TV: (Jump to 5min Mark for the SLow Motion)
Panasonic EVA 1 240fps VFR BANDING ISSUES?  by CRFTSHO:
Panasonic EVA-1 Test shots by John Barry Sales:
Panasonic EVA1 – Real Life Test & Review with Wildlife Footage by Media Division:
EVA1 VFR Explained by Zemma Productions:
Panasonic EVA1 Extra Notes:
The EVA1 is one monster of a 4k camera that can resolve so much detail you will want to blur it somewhat to help your talent and their facial imperfections. For naturalists it becomes a future-proof way to shoot and retain excellent resolution from a super-sampled 5.7k image.
One thing of note is that for higher frame rates above 60fps like 120 and 240fps you will have a  4:3 crop of the sensor which will introduce more noise and possibly banding in some slow motion scenes.  The camera is also clearly better at 120fps than at 240fps handling compression which seems to be heavy on the higher frame rate.  The camera reminds us of the GH5 and how it is best at 120fps quality wise and then drops precipitously in both detail and compression artifacts when you approach 240fps. Panasonic are throwing away information to achieve the 240fps spec and you should really take a deep look at the quality delivered if you are buying this camera with 240fps in mind.  There is no question that cameras like the FS7 and FS700 deliver better 240fps slow motion from a crop-less full APS-C sensor.
The EVA1 also shoots all slow motion above 60fps at 4:2:0 h.264 8 bit which is how most cameras handle this spec including Sony when you record in-camera.  External recording should be able to improve upon the color fidelity and resolution by capturing the RAW signal.
Many say the EVA1 is a GH5 on a larger body and we can safely say this is not the case. The EVA1 handles 14 stops of dynamic range while the GH5 does 12 stops to 12.5 stops using V-Log.  The EVA1 also is superb up to ISO 5000 while the GH5 struggles past 3200ISO and cannot really hold as clean an image except at under ISO 800.  EVA1 is a camera for a different crowd that needs a professional no compromise 4k image that is cinematic and true to life; we only wish the camera did slow motion in 2k/1080p as good as the UHD for a $7.3k camera body.  -HSC


(Visited 683 times, 1 visits today)