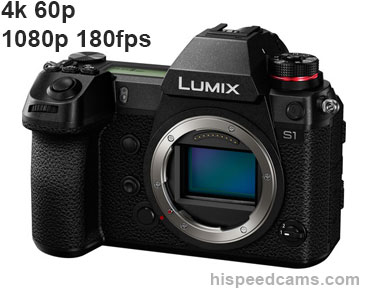 As it was initially unveiled at Photokina last year, the Panasonic Lumix S1 and S1R cameras are their answer to the domination of larger sensors in stills and video mirrorless cameras. Is there any reason now to buy a Full Frame DSLR when mirrorless is so advanced? The only thing we can think of is to have marginally longer battery life. The mirror is on its last legs and fans better start offloading their lenses if they don't want to mess with adapters. In the case of Panasonic however, it is not possible to use Lumix  Micro 4/3 lenses on the Leica/Sigma/Panasonic Full Frame L-Mount.
The S1 and S1R will both shoot up to 180fps 1080p video with a crop that may or may not be impactful. Seems the S1R has less crop on 1080p than the video geared S1 which is an odd spec. We will have to wait for more samples and info on the HFR mode to see which of these cameras offers the best slow motion performance. From the limited samples, we can say that the quality looks very good and at least on par with the Lumix GH5 at 120fps.
Panasonic Lumix S1 Main Specs:
24.2MP Full-Frame MOS Sensor
Venus Engine Image Processor
5.76m-Dot 0.78x-Magnification OLED LVF
3.2″ 2.1m-Dot Triaxial Tilt Touchscreen
UHD 4K60 Video; HDR and 10-Bit Recording
1080p Slow Motion 180fps HFR
ISO 100-51200, Up to 9 fps Shooting
Contrast-Detect 225-Area DFD AF System
Sensor-Shift Image Stabilization – 6 Stops Dual IS
Weather-Sealed Construction
96MP High-Res Mode, Dual XQD/SD Slots
The video below by HDblog Italy shows at the 2:04 Time a small sample of 180fps slow motion video.
Panasonic LUMIX S1 e S1R in TEST video: le FULL FRAME da battery by : HDblog it
There is no question that Panasonic is a leader in video quality in mirrorless cameras ever since they shipped the initial GH1 camera. Today the Lumix GH5 and GH5s are some of the most revered video-centric cameras for professionals that opt-in a mirrorless system instead of traditional ENG/EFP style video cameras.
The samples are few because the cameras are still pre-production but it will be a short wait until the beginning of April when these cameras ship to see how they perform.
Panasonic Lumix S1 S1R review hands-on impressions by Gordon Laing:
Gone is the vari-angle screen of the GH5 and replaced with a Tri-axis tilter LCD which will feel out of place on a camera as large as this. Panasonic claims it made the call to give durability and robustness to the camera. Funnily enough, the Tri-axial screens seem to break more often than the classic vari-angles.  A theory why this happened is to avoid ports being obstructed and to get better weatherproofing.  We can attest that the Lumix GH series can withstand full rain since the GH3 was released so the selection of this screen is puzzling.
The cameras still do not have a phase detect AF system in the hybrid style which seems to be ideal for video. Panasonic is hell-bent on betting it all on their Depth from Defocus algorithm which should be improved here but can hardly compete with Sony cameras of two years ago that have dual pixel AF.  Panasonic wants to be proven right with their technology at all costs at the expense of many users having their footage hunt or defocused when using the DfD system on other Lumix cameras.
Panasonic Lumix S1 180fps Slow Motion Full frame, a First in its Segment:
All Full frame mirrorless consumer cameras up till now maxed out at 120fps 1080p for slow motion. The new S1 and S1R both max out at 180fps which is the same spec on the very good Lumix GH5 which was in our view the best quality high frame rate Lumix yet and a cut above in detail to its sibling the GH5s which can go up to 240fps.
Panasonic have now shown it can be done in full frame bodies, hope Sony catches the wave and surprises with even higher specs for slow motion.
Panasonic, Opportunity to deliver a Sony a7s Killer Camera:
Now that the Lumix brand has transitioned to Full Frame with the L-Mount, it will be now possible to adapt the Dual ISO technology of their GH5s and EVA1 cameras into a new Full Frame Mirrorless with lower Megapixel count in the 12MP range for example to get a class-leading low light sensor with 6 stops sensor stabilization and internal 10-bit 4:2:2 video codecs.   It should easily beat the Sony a7s II since the smaller GH5s Micro 4/3 sensor camera with dual ISO had better color and detail than the Sony a7s II up to ISO 25,000.
Panasonic Dual Native ISO Explained by LensProToGo:
The Dual ISO tech in Full frame will now allow Panasonic to deliver up to twice the low light and low noise performance of the GH5s and will be probably the most video-centric powerhouse mirrorless expected in the next couple of years.  With the smaller sensor, it will also be possible to allow faster frame rates in the 240fps or higher at 1080p and 4k at 120p with ease.  These are exciting times for fans of higher frame rates with clean noise performance.
We will have more samples and a verdict about these new cameras when we get closer to release. -HSC
(Visited 3,786 times, 1 visits today)