Panasonic announced two new cameras this week the ZS200 America / TZ200 Europe  which offers the worlds longest wide to super zoom range in a 1″ sensor form factor with a 24-360mm equivalent F3.3-6.4 lens and the larger sensor 4/3ds 20MP "Same as GH5″ Lumix GX9 which tops out at 60fps 1080p which we will not cover any further. We have a cut off of 120fps for slow-motion cameras.  The ZS200, however, looks to be Panasonic's answer to the excellent and full-featured RX series of cameras like the RX10 IV and RX100 V.
The main selling point of this camera is the appeal of carrying a 15X zoom in your pocket along with a 1″ sensor which beats most superzoom cameras that use tiny 1/1.8″ or 1/2.5" sensors.  Panasonic is able to do this by extending the lens to almost 3 times the camera's width footprint including lens ring which looks kind of ridiculous but is effective at contracting enough to fit on a large pocket.   The image below shows only 3/4ths of the extension.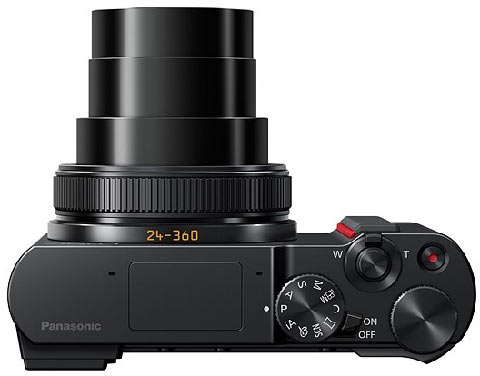 FZ200 Video Specs
Format
MPEG-4, AVCHD, H.264
Modes

3840 x 2160 @ 30p / 100 Mbps, MOV, H.264, AAC
3840 x 2160 @ 24p / 100 Mbps, MOV, H.264, AAC
1920 x 1080 @ 60p / 28 Mbps, MOV, H.264, AAC
1920 x 1080 @ 60p / 28 Mbps, AVCHD, MTS, H.264, Dolby Digital
1920 x 1080 @ 60i / 17 Mbps, AVCHD, MTS, H.264, Dolby Digital
1920 x 1080 @ 30p / 20 Mbps, MOV, H.264, AAC
1920 x 1080 @ 30p / 24 Mbps, AVCHD, MTS, H.264, Dolby Digital
1920 x 1080 @ 24p / 24 Mbps, AVCHD, MTS, H.264, Dolby Digital
1280 x 720 @ 30p / 10 Mbps, MOV, H.264, AAC

1280 x 720 @ 120fps VFR Mode!
Panasonic TZ200 DFD Auto Focus again?
The camera used the Lumix DFD Depth from Defocus algorithm for acquiring continuous and single AF which has been ridiculed for it's hit and miss quality in video mode on the higher end Lumix cameras for over a year.  Still, however, it does a perfectly acceptable job for stills and not demanding video scenes.
There is also the fact that recently, youtube channel YodaYeo was able to improve the DFD performance on the GH5 to near Sony and Canon phase detect levels by just changing the shutter to a faster mode than 180° degrees to something like 120° to create a perfectly usable system even with adapted Canon Glass.  This is based on the technology limitation that a rolling shutter sensor has when scanning the image which has to wait for an extra frame to use an AF assist.  The channel explains this fully in this footage here! Highly recommended video to watch.
So if the TZ200 / ZS200 uses the same system you could, in theory, achieve similar results by going with a faster shutter speed.  This is not ideal in all modes as 24p simply will not show any improvement but 25p and 30p will, in fact, work fine.    Your mileage may vary. In our view, it is time for Panasonic to accept defeat and offer hybrid contrast and Phase detection systems in their cameras.
Panasonic LUMIX TZ200 | Travel Photography Field Test in Valletta by Wex Photo Video:
ZS200 TZ200 Slow Motion Mode:
The camera of choice for HSC in the segment for two years in a  row has been the Sony RX100 V which offers excellent slow-motion quality continuous 120fps Full HD, slightly lower resolution 240fps 1080p and up to 960/1000fps at sub VGA resolutions.  So two years later we get a somewhat odd answer from Panasonic with a maximum 120fps VFR mode at Full HD which is certainly an improvement but it is missing the variety and simply better slow-mo of the Sony models.
Both Sony and Panasonic are using a 1″ sensor which is probably a Sony built part which makes use of the BSI spec to improve low light ability.  Panasonic offers 4k up to 30fps and 60fps continuous Full HD 1080p but nothing more than a 120fps Full HD mention in the specs which seems to us a bolt-on feature.  We think this mode may be time-limited as well as probably sacrificing compression quality and scrapping audio as it is common for most cameras in this segment.   All we know of the 120fps mode at this point is that it is accessed in a special function menu and it is recorded in the card at 30p.  Which kind of confirms of audio-less suspicions.
We will have to wait for samples from this camera to share and be able to rank it. It is probably going to disappoint in the quality department but the ability to have a pocketable 120fps full HD camera with a 5 axis stabilized 15X lens is one reason to remain hopeful about its performance.  The camera will ship April 1st 2018 with a price tag of $799.99 and it is available for Pre order at Amazon.com here.  Stay Tuned for more and full specs below-HSC
ZS200 / TZ200 Full Specs Below:
Pixels
Camera Effective Pixels
20.1 Megapixels
Sensor
Sensor Size / Total Pixels / Filter
1-type High Sensitivity MOS Sensor / 20.9 Total Megapixels / Primary Color Filter
Lens
Aperture
F3.3 – 6.4 / Multistage Iris Diaphragm (F3.3 – 8.0 (W), F6.4 – 8.0 (T))
Intelligent Zoom
30x
Lens
LEICA DC VARIO-ELMAR
Optical Image Stabilizer
5-Axis HYBRID O.I.S. +*
Focus
Focusing Area
Normal: Wide 50 cm – infinity / Tele 100 cm – infinity/AF Macro / MF / Intelligent Auto / Motion Picture: Wide 3 cm – infinity / Tele 100 cm – infinity
AF Assist Lamp
Yes (On / Off)
Post Focus
Yes
Focus Stacking
Yes
AF Metering
Face/Eye Detection / Tracking / 49-area / Custom Multi / 1-area / Pinpoint/(Full area touch is available)
Shutter
Shutter Speed [Still Image]
Approx. 60 – 1/2,000 sec (Mechanical Shutter)/Approx. 1 – 1/16,000 sec (Electronic Shutter)/Time (Approx. 120 sec)
Shutter Speed [Motion Picture]
Approx. 1/25 – 1/16,000 sec/Approx. 1/2 – 1/16,000 sec (Creative Video M Mode / MF Mode)
Recording Modes
Mode Dial
Intelligent Auto, P, A, S, M, Creative Video, C (Custom), Panorama Shot, Scene Guide, Creative Control
4K Photo Mode (*2)
4K Burst: 30 frames/sec, max. 15 min/4K Burst (S/S): 30 frames/sec, max. 15 min/4K Pre-Burst: 30 frames/sec, approx. 2 sec
Continuous Recordable Time (Motion Pictures) (*2)
AVCHD
4K/30p, 4K/25p: Approx. 90 min/FHD/60p, FHD/50p: Approx. 100 min
MP4
FHD/50p: Approx. 100 min/FHD/50i: Approx. 100 min
Actual recordable Time (Motion Pictures) (*2)
AVCHD
4K/30p, 4K/25p: Approx. 45 min/FHD/60p, FHD/50p: Approx. 50 min
MP4
FHD/50p: Approx. 50 min/FHD/50i: Approx. 50 min
Exposure Parameters
Exposure
Program AE, Aperture Priority AE, Shutter Priority AE, Manual
Light Metering
Intelligent Multiple / Center Weighted / Spot
ISO Sensitivity
(Changeable to 1/3 EV step)
Picture Quality
Still Picture Recording
[4:3] 4864×3648 (17.5M) (L) / 3456×2592 (9M) (M) / 2432×1824 (4.5M) (S)/[3:2] 5472×3648 (20M) (L) / 3888×2592 (10M) (M) / 2736×1824 (5M) (S)/[16:9] 5472×3080 (17M) (L) / 3840×2160 (8M) (M) / 1920×1080 (2M) (S)/[1:1] 3648×3648 (13.5M) (L) / 2592×2592 (6.5M) (M) / 1824×1824 (3.5M) (S)
Image Quality
RAW / RAW+Fine / RAW+Standard / Fine / Standard
White Balance
(2-axis adjustable)
Picture Adjustment
Contrast, Sharpness, Noise Reduction, Saturation*, Color Tone**, Filter Effect**/*Except for Monochrome mode. **For Monochrome mode only.
Bracket
AE Bracket
3, 5, 7 images in 1/3, 2/3 or 1 EV step, Max. +/-3 EV
Other
Digital Red Eye Correction (Red-Eye Removal)
Yes (On / Off)
Wi-FI
IEEE 802.11b/g/n/2412 MHz – 2462 MHz (1-11 ch)/WPA / WPA2/Infrastructure Mode / WPS
Self Timer
2 sec / 10 sec / 10 sec (3 images)
Display
Rating / Rotate Image / Protect
Yes / Yes / Yes
Playback Mode
All, Picture Only, Video Only, Slideshow (All / Picture Only / Video Only, duration & effect is selectable), Calendar
Thumbnails / Zoomed Playback
12,30-thumbnails / Yes
Show Histogram/ Show Highlights
Yes / Yes
Edit
Retouch
Clear Retouch
RAW Processing
Yes
Direct Print
PictBridge compatible
Title Edit / Text Stamp
Yes / Yes
Video Divide
Yes
Setup
OSD language
Japanese, English, German, French, Italian, Spanish
Monitor
LCD Monitor
Static Touch Control
Media
Recording Media
SD Memory Card, SDHC Memory Card, SDXC Memory Card/(Compatible with UHS-I UHS Speed Class 3 standard SDHC / SDXC Memory Cards)
Built- in- Memory
–
Audio
Microphone / Speaker
Stereo / Mono
Interface
Interface
microHDMI typeD (*3), USB2.0 Micro-B
Power
Power
Li-ion Battery Pack (7.2V, 1025mAh, 7.4 Wh) (Included)/USB power charging
Standard Package
Included Software
・ The software to process RAW file on computer is not bundled with this camera. To do this, SILKYPIX Developer Studio is available for download at Ichikawa Soft Laboratory's website using computer connected to the Internet./http://www.isl.co.jp/SILKYPIX/english/p/ (For Windows / Mac)
Standard Accessories
Battery Pack, AC Adap
(Visited 2,652 times, 1 visits today)