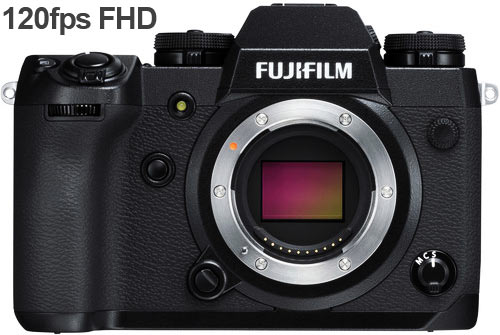 The Fuji X-H1 just announced does a lot of things right; It has a 200mbps 4k codec in UHD / DCI, 120fps Full HD which from the initial looks of it looks gorgeous and it finally has the 5-Axis Stabilizer on the sensor 5.5 stops worth that had eluded Fuji cameras for two years now.  It even has a new Eterna color profile which makes it easy to color correct without being too flat or too processed.
However, the X-H1 is based on the same 24MP X-Trans APS-C sensor found on the X-T2 which while overall good, it has problems with color moire and fine textures due to the processing on the unconventional RGB pattern which has 4 adjacent green pixels and differs quite a lot from Bayer sensors. See this article from PetaPixel comparing both technologies here.  But as far as video mode is concerned it looks to be a good contender to options like the GH5 and Sony 7 series.
Fuji X-H1 Main Specs:
– 5-axis shake correction with  up to 5.5 stops
– Electronic front curtain shutter, electronic shutter
– 24.3 MP, X-Trans CMOS III sensor
– X-Processor PRO
– Rugged magnesium alloy body
– EVF is 3.69 million dots, the maximum refresh rate is 100 fps
– 3 inch 1.04 million dot touch type liquid crystal monitor
– Film Simulation ETERNA
– Cinema 4K 24 fps, 4 K 30 fps
– 120 fps slow motion video in full HD
– F-log (can be recorded on F-Log directly to SD card at 4K)
– Video bit rate up to 200 Mbps
– Built-in high-performance microphone
– Improvement of AF algorithm
– ISO 200 – 12800 (ISO100, 25600, 51200 in extension)
– Dual card slot
– Wifi
– size 139.8 x 97.3 x 85.5
– Weight 623 g (including battery included 673 g)
As you can see Fuji has been able to produce an entirely new camera system based mainly on the X-T2 components and still generate a lot of excitement. The new camera is better than the X-T2 in all perceivable ways except size/portability and it has become the default go-to for Fuji enthusiasts.
X-H1: IBIS System Video:
The IBIS system at 5.5 stops looks to be on par with the one present on the Lumix GH5 which is class leading.  Fuji has done what they themselves dismissed as impossible on their cameras just a year ago. The IBIS system on an APS-C is not only possible but has been able to match the best out there. Good on Fujifilm for this engineering triumph.
X-H1: Steve Christo x Gymnastics -Proud of- by FUJIFILMglobal:
As you can already tell from the Gymnastics video above, the camera seems to struggle in low light video, this is not only in the footage above but can be seen in most promotional material as well as early reviews. The NR in camera seems to be either too low or not adequate enough to compete even with smaller sensor 4/3 cameras like the GH5s.  Youtube compression aside the presence of artifacts in low light scenes is concerning.
Fuji X-H1 Slow Motion Performance:
Based on the samples below the camera can do very good 120fps Full HD slow motion but it suffers from severe moire and aliasing that is visible in most shots. Be it the X-Trans sensor pattern or processing from a less than optimal sensor down-sample, the X-H1 is not going to be competitive with the GH5, G9, GH5s, a7r III, a9 and even the discontinued Samsung NX1. Noise also seems to be a problem in slow motion settings generating ample amounts of shadow artifacts.
Fujifilm X-H1 120p slow-motion footage by Digital Camera World:
Fujifilm X-H1 // 120fps Full HD Slow-mo test footage by KAMERAZ:
Fujifilm X-H1 slow motion test beelden by Photofacts Academy:
The camera does well in some instances but we can find distracting aliasing in parts of the shot that detract from the overall pleasing motion and color rendition.  Seems that processing is not going to cut it for this camera in video mode compared to the competition even with ETERNA film simulation and a 200Mbps codec.
We will have more slow-motion samples of the Fuji X-H1 when they become available and be able to judge a more fair outcome.
More Info:
FUJIFILM X-H1 Review and Sample Footage by cinema5D:
The review above by Cinema 5D is probably the best one we have encountered yet on the Fuji X-H1. It goes over the excellent image quality that can be achieved in 4k when in good light and in capable hands, as well as drawbacks like the 15min video limit without grp and 30min rec time limit with the optional 2 battery grip.
It has some issues while focusing, using external mics, manual focusing in video which will zoom the live view but will not zoom out if you do it which seems reparable via a firmware fix.
Our Take:
The Fuji X-H1 is a bold new step by Fujifilm into the pro video capture world and they have taken care of getting a lot of things right. The image quality in 4k is exceptional in good light and looks very cinematic which for many would be reason enough to get one.  The lack of 10-bit recording, ok low light performance to ISO 3200 but not above that threshold and slow-motion quality that has a series of artifacts will put off a lot of prospective buyers.
For Fuji system owners that needed stabilization this camera has it in spades and will perform more than adequately.  The ETERNA movie film simulation profile looks very good and may be a great substitute for the Log format that is also included in the camera without the need for a lot of color correction in post.
The camera is not the best in any particular metric out there and it may hurt its chances. It seems this camera should have been out not this week but over a year ago. By now it's feature set while competitive is not class leading.  The X-Trans sensor is also already proven to be less than ideal in many situations and still has compatibility issues with many RAW converters.  Fuji is trying hard to cater to the professionals with this camera but the Pros have better alternatives in Full Frame from Sony or Video from Panasonic like the GH5, G9, and GH5s which are class leading.  The X-H1 video mode is limited in many respects to the competition and will have an uphill battle to get people in other systems to switch. For shooters already in the Fuji ecosystem of lenses, this might be the best camera yet from this legendary film camera company.
Pricing and Availability:
The Fujifilm  X-H1 is expected to Ship March 1st, 2018 and it is available for pre-order in the following kits now:
FUJIFILM X-H1 Full specification:
Model name
FUJIFILM X-H1
Number of effective pixels
24.3 millions pixels
Image sensor
23.6mm×15.6mm (APS-C) X-Trans CMOS III with primary color filter.
Sensor cleaning system
Ultra Sonic Vibration
Storage media
SD Card (-2GB) / SDHC Card (-32GB) / SDXC Card (-256GB) UHS-I / UHS-II

*6

Lens mount
FUJIFILM X mount
Image Stabilizer
Mechanism
Image sensor shift mechanism with 5-axis compensation
Compensation Effect
5.5 stops (based on CIPA standard. Pitch/yaw shake only. With XF35mmF1.4 R lens mounted.
Sensitivity
Standard output
AUTO1 / AUTO2 / AUTO3 (up to ISO12800) / ISO200-12800 (1/3 step)
Extended output
ISO100/125/160/25600/51200
Viewfinder
0.5 inch approx. 3.69 millions dots OLED Color Viewfinder
Coverage of viewing area vs. capturing area: approx. 100%
Eyepoint: approx. 23mm (from the rear end of the camera's eyepiece) Diopter adjustment: -4-1 – +2m-1
Magnification: 0.75× with 50mm lens (35mm equivalent) at infinity and diopter set to -1.0m-1
Diagonal angle of view: approx. 38° (Horizontal angle of view: approx. 30° )
Built-in eye sensor
LCD monitor
3.0 inch, aspect ratio 3:2, approx. 1.04 millions dots touch screen color LCD monitor(approx. 100% coverage)
Continuous shooting
14.0 fps (with the Electronic Shutter), 8.0 fps (with the Mechanical Shutter)
11.0 fps (with the Mechanical Shutter and when fitted with VPB-XH1)
Movie recording
[4K (4096×2160)] 24P / 23.98P up to approx. 15min.
[4K (3840×2160)] 29.97P / 25P / 24P / 23.98P up to approx. 15min.
[Full HD (1920×1080)] 59.94P / 50P / 29.97P / 25P / 24P / 23.98P up to approx. 20min.
[HD (1280×720)] 59.94P / 50P / 29.97P / 25P / 24P / 23.98P up to approx. 30min.
* For recording movies, use a card with UHS Speed Class 3 or higher.
* With Vertical Power Booster Grip attached, individual movie recording time is extended up to approx. 30min. on both 4K and Full HD mode.
Wireless transmitter
Standards: IEEE 802.11b / g / n [standard wireless protocol]
Access mode: Infrastructure
Encryption: WEP / WPA / WPA2 mixed mode
Bluetooth®
Standard: Bluetooth Ver. 4.0(Bluetooth® low energy)
Operating frequency (Center frequency): 2402~2480MHz
Power supply
NP-W126S Li-ion battery (included)
Dimensions / Weight
((W) 139.8mm × (H) 97.3mm × (D) 85.5mm (minimum depth 39.5mm)
Approx. 673g (including battery and memory card)
Approx. 623g (excluding battery and memory card)
Battery life for still images

*7

Approx. 310frams (Normal Mode) When XF35mmF1.4 R is set.
Accessories included
Li-ion battery NP-W126S, Battery charger BC-W126, Shoe-mount flash unit EF-X8, Shoulder strap, Body cap, Strap clip, Protective cover, Clip attaching tool, Hot shoe cover, Vertical Power Booster Grip co
Model name
FUJIFILM X-H1
Number of effective pixels
24.3 millions pixels
Image sensor
23.6mm×15.6mm (APS-C) X-Trans CMOS III with primary color filter.
Sensor cleaning system
Ultra Sonic Vibration
Storage media
SD Card (-2GB) / SDHC Card (-32GB) / SDXC Card (-256GB) UHS-I / UHS-II

*6

Lens mount
FUJIFILM X mount
Image Stabilizer
Mechanism
Image sensor shift mechanism with 5-axis compensation
Compensation Effect
5.5 stops (based on CIPA standard. Pitch/yaw shake only. With XF35mmF1.4 R lens mounted.
Sensitivity
Standard output
AUTO1 / AUTO2 / AUTO3 (up to ISO12800) / ISO200-12800 (1/3 step)
Extended output
ISO100/125/160/25600/51200
Viewfinder
0.5 inch approx. 3.69 millions dots OLED Color Viewfinder
Coverage of viewing area vs. capturing area: approx. 100%
Eyepoint: approx. 23mm (from the rear end of the camera's eyepiece) Diopter adjustment: -4-1 – +2m-1
Magnification: 0.75× with 50mm lens (35mm equivalent) at infinity and diopter set to -1.0m-1
Diagonal angle of view: approx. 38° (Horizontal angle of view: approx. 30° )
Built-in eye sensor
LCD monitor
3.0 inch, aspect ratio 3:2, approx. 1.04 millions dots touch screen color LCD monitor(approx. 100% coverage)
Continuous shooting
14.0 fps (with the Electronic Shutter), 8.0 fps (with the Mechanical Shutter)
11.0 fps (with the Mechanical Shutter and when fitted with VPB-XH1)
Movie recording
[4K (4096×2160)] 24P / 23.98P up to approx. 15min.
[4K (3840×2160)] 29.97P / 25P / 24P / 23.98P up to approx. 15min.
[Full HD (1920×1080)] 59.94P / 50P / 29.97P / 25P / 24P / 23.98P up to approx. 20min.
[HD (1280×720)] 59.94P / 50P / 29.97P / 25P / 24P / 23.98P up to approx. 30min.
* For recording movies, use a card with UHS Speed Class 3 or higher.
* With Vertical Power Booster Grip attached, individual movie recording time is extended up to approx. 30min. on both 4K and Full HD mode.
Wireless transmitter
Standards: IEEE 802.11b / g / n [standard wireless protocol]
Access mode: Infrastructure
Encryption: WEP / WPA / WPA2 mixed mode
Bluetooth®
Standard: Bluetooth Ver. 4.0(Bluetooth® low energy)
Operating frequency (Center frequency): 2402~2480MHz
Power supply
NP-W126S Li-ion battery (included)
Dimensions / Weight
((W) 139.8mm × (H) 97.3mm × (D) 85.5mm (minimum depth 39.5mm)
Approx. 673g (including battery and memory card)
Approx. 623g (excluding battery and memory card)
Battery life for still images

*7

Approx. 310frams (Normal Mode) When XF35mmF1.4 R is set.
Accessories included
Li-ion battery NP-W126S, Battery charger BC-W126, Shoe-mount flash unit EF-X8, Shoulder strap, Body cap, Strap clip, Protective cover, Clip attaching tool, Hot shoe cover, Vertical Power Booster Grip co
(Visited 797 times, 1 visits today)