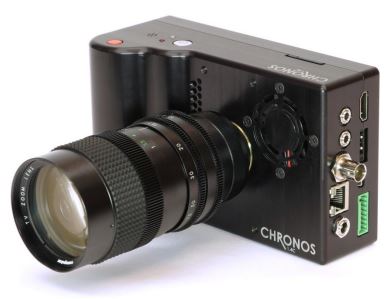 We received a set of Adobe DNG image samples from Krontech to check the resolution, dynamic range and grading potential of the camera when using the  RAW recording mode. As of now the utility to convert the raw data is still being tested but we were impressed by the results the camera was able to achieve by offloading the de-bayering process to a more capable converter like the Adobe Camera RAW module.
The Chronos files were already good when properly exposed but did suffer from some aliasing and moire in fine detail while resolution also took a hit by saving in a compressed H.264 format.  Now with the DNG RAW capability, we are glad to see that the camera image quality made an enormous improvement in the resolution, color fidelity, and dynamic range. It really brings out the real potential of the camera for a variety of applications, also creating a cleaner result in the noise department when processed correctly.
Chronos 1.4 DNG RAW Power:
By our calculations using the 6 dB = 1 stop rule of dynamic range the Chronos 1.4 RAW Files contain 56.7 dB (Sensor Spec) worth of information at 12 bits or close to 10 stops of dynamic range.   So you are gaining more or less 1.5 extra stops of highlight recovery and or shadow amplification when using RAW/DNG compared to H.264 . Not too shabby.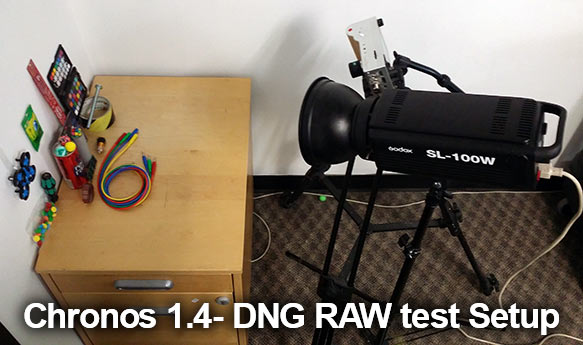 The test setup above by Krontech.ca is serving as a testbed for rolling out the feature. They provided HSC with a series of RAW/DNG files and h.264 equivalent samples for us to test.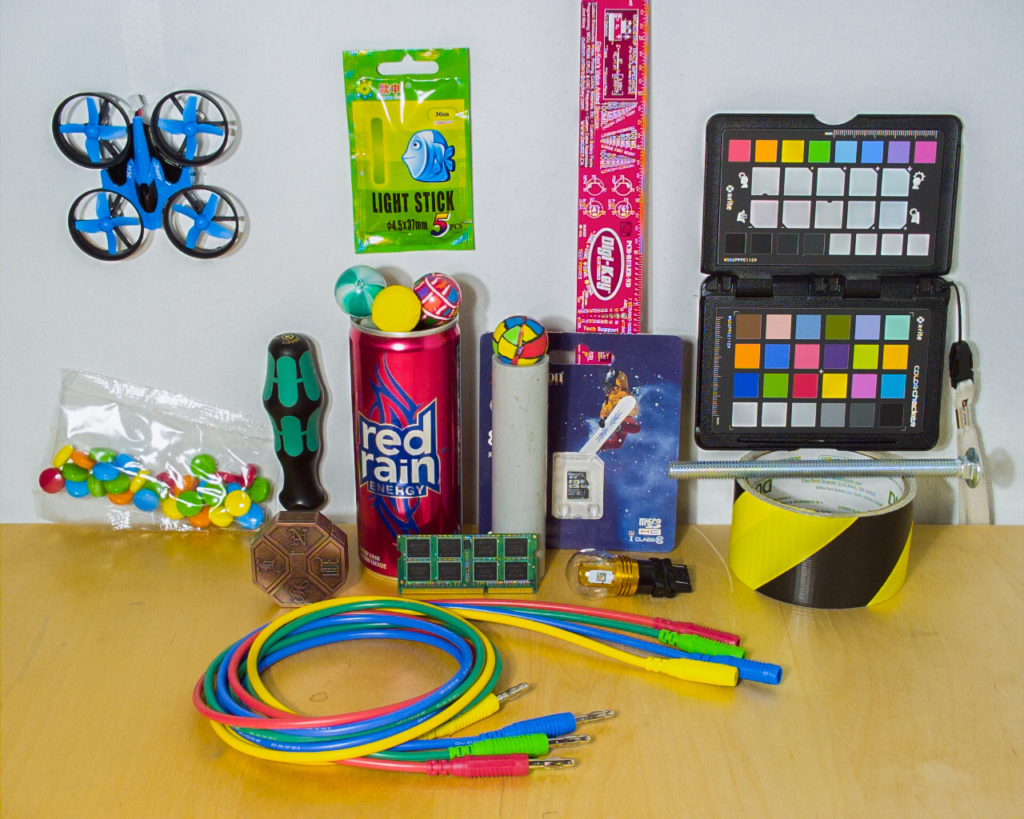 The enlarged area sample below shows the huge amount of quality retention by using RAW/DNG and why it really looks like an entirely different camera when it comes to image quality. The in-camera de-bayering of color information for h.264 does a pretty bad job on edges and color fringes making the files look just too pixelated and artifact prone compared to the incoming sensor data. The RAW, however, cleans all that and allows for a plethora of adjustments that really bring out the true resolution of the 1.3MP 1280*1024 2/3ds sensor for the first time. The 12 bit DNG files also recover highlight and shadow information while allowing for de-noising which make the image quality just burst out.
Click on the image below for original / large sample: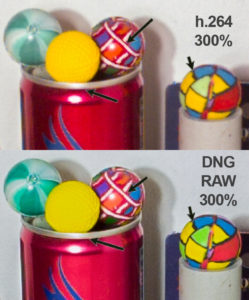 After using the DNG samples we now feel inclined to scrap h.264 as our file saving codec in turn for RAW output for all our Chronos shoots. Krontech tells us that while RAW data is already saved by the camera in the latest experimental firmware which needs conversion with a tool RAW2DNG in Linux "and soon windows", a direct DNG saving option is planned for a future firmware update for the Chronos 1.4 to streamline the workflow.
Each frame in RAW DNG is now 2.5MB at full 1280*1024 resolution which means a 1-second recording will be about 2.64GB at the full speed of 1057fps.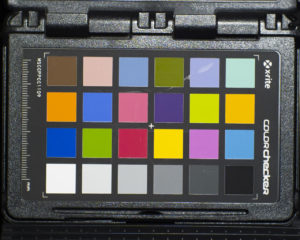 Download and play with the DNG RAW Samples on your own.  Krontech is also sharing the samples with our readers so they can experiment with the quality.
We will keep covering the software evolution of the Chronos 1.4 camera and will inform you when new developments like DNG in camera and remote operation become available.

Chronos 1.4c Starts Shipping 32GB model with 16-second Rec Time:
Back to the grind stone! We have cameras leaving the warehouse this week! pic.twitter.com/5Gx7DWCWAr

— Chronos Cameras (@ChronosCameras) February 2, 2018
As you can see the Chronos team has been busy building and shipping new cameras. The latest 32GB model for $3,999 which will be capable of over 16.5 seconds of record time at full resolution is gaining popularity due to the very large buffer.
So now the Chronos Camera is priced in three model options based on the depth of memory buffer:
8GB Chronos 1.4 Camera Body: $2,999
16GB Chronos 1.4 Camera Body $3,399
32GB Chronos 1.4 Camera Body $3,999
The cameras remain the same in the internals so if you don't need the extra memory recording buffer you can go for a standard 8GB model which will record just over 4 seconds at full speed.
For more information about pricing and availability of the Chronos 1.4c camera visit: http://www.krontech.ca
Crushing REAL High-Speed Camera by Hydraulic Press Channel:
New sample video:  THE MOST SATISFYING CHRONOS 1.4 SLOW MOTION SHOTS EVER!! by SLOWMOTION EXPERIMENT:
(Visited 1,296 times, 1 visits today)