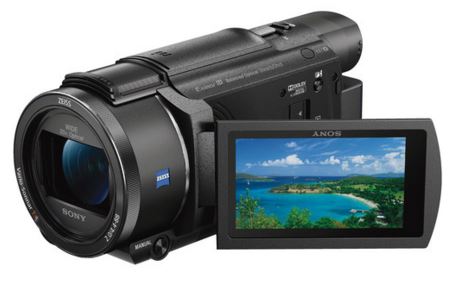 Another big set of releases at CES regarding cameras that have a slow motion mode fro the consumer are the Sony Handycam and Action cam models that were refreshed.   The Sony FDR-AX53 is the most interesting of the two as it is probably the smallest and lightest Handycam from Sony that shoots 4k in a near professional quality level.
It offers so much for under 1k that it will pose some problems for other cameras in it's segment.  It is not as advanced in the zoom department as the Panasonic WXF991 which can ramp zoom and focus on dolly motion but it does have a jack of all trades feel about it.
Sony FDR-AX53 Specs:
Size & Weight
DIMENSIONS (W X H X D)

Approx. 2.87 x 3.17 x 6.56 in (including supplied battery)
WEIGHT Approx. 22.4 oz (including supplied battery)
Image Stabilization STEADYSHOT
Balanced Optical SteadyShot™ with 5-axis Intelligent Active mode
VIEWFINDER TYPE

(0.24 in)/Color,  1 555 200 dots equivalent
LCD
SCREEN TYPE 3.0-inch (7.5 cm) Xtra Fine LCD display (921 600 dots) Wide (16:9) Tilt Swivel
SHUTTER SPEED

Auto Control Range (1/8(NTSC)/1/6(PAL)-1/10000), Standard (1/60(NTSC)/1/50(PAL)-1/10000), Manual Iris Control (1/30(NTSC)/1/25(PAL)-1/10000), Manual Shutter (1/8(NTSC)/1/6(PAL)-1/10000), Smooth Slow (1/250(NTSC)/1/215(PAL)-1/10000)
Shooting
HIGH SPEED REC* Slowmo!

Yes (120p(NTSC) 

100p(PAL) 

1920 x 1080, 100 Mbps/60 Mbps)

TIME-LAPSE CAPTURE

Yes 6 (Shooting Interval (1/2/5/10/30/60 sec), Shooting number (1-999), Capture Image Size, (4K:L(8.3M;3840 x 2160)/HD:S(2.1M;1920 x 1080)), AE Mode (AE Lock/AE Tracking))

SELF-TIMER

Approx. 10 sec. (Still Image/Golf Shot)
FLASH COMPENSATION

Yes (3 steps)
Storage Media
COMPATIBLE RECORDING MEDIA

XAVC S 4K (100 Mbps): SDHC Memory Card (4 GB or over, UHS-I U3 or Higher)/SDXC Memory Card (UHS-I U3 or Higher), XAVC S 4K (60 Mbps)/XAVC S HD: SDHC Memory Card (4 GB or over, Class10 or Higher)/SDXC Memory Card (Class10 or Higher), AVCHD, Still: Memory Stick PRO Duo™ (Mark 2), Memory Stick PRO-HG Duo™, Memory Stick XC-HG Duo™, SD/SDHC/SDXC Memory Card (Class 4 or Higher)
Recording
RECORDING FORMAT (VIDEO)

XAVC S format:MPEG4-AVC/H.264, AVCHD format ver. 2.0 compatible:MPEG4-AVC/H.264, MP4: MPEG-4 AVC/H.264

RECORDING FORMAT (STILL IMAGE)

DCF Ver.2.0 compatible, Exif Ver. 2.3 compatible, MPF Baseline compatible

VIDEO RESOLUTION

XAVC S 4K: 3840 x 2160/30p(NTSC)/25p(PAL), 24p, XAVC S HD: 1920 x 1080/60p(NTSC)/50p(PAL), 30p(NTSC)/25p(PAL), 24p, AVCHD:1920 x 1080/60p(NTSC)/50p(PAL)(PS), 30p(NTSC)/25p(PAL)(FX,FH), 24p(FX,FH),60i(NTSC)/50i(PAL)(FX,FH), 1440 x 1080/60i(NTSC)/50i(PAL)(HQ,LP), MP4: 1280 x 720 30p(NTSC)/25p(PAL), MP4: 1280 x 720 30p

VIDEO RECORDING RATE (ABR / VBR)

XAVC S 4K: Approx.100 Mbps/Approx. 60 Mbps, XAVC S HD: Approx. 50 Mbps, AVCHD PS: Approx. 28 Mbps/FX: Approx. 24 Mbps/FH: Approx. 17 Mbps/HQ: Approx. 9 Mbps/LP: Approx. 5 Mbps
Audio
MICROPHONE

Built-in 5.1ch Zoom Microphone

AUDIO RECORDING FORMAT

XAVC S: MPEG-4 Linear PCM 2ch (48 kHz/16 bit), AVCHD: Dolby® Digital 5.1ch, Dolby® Digital 5.1Creator, Dolby® Digital 2ch Stereo, Dolby® Digital Stereo Creator, MP4: MPEG-4 AAC-LC 2ch

MIC LEVEL CONTROL

Yes (31 steps)
MY VOICE CANCELLING

Yes

AUTO WIND NOISE REDUCTION

Yes (On/Off)

SPEAKER

Monaural Speaker
Interface
INPUT AND OUTPUT TERMINALS

Accessory Shoe (Multi Interface shoe), HDMI (micro) Terminal, Remote (integrated into Multi/Micro USB Terminal) Terminal, Stereo Minijack

WI-FI®

Yes
NFC™

One-touch remote, One-touch sharing
Power
SUPPLIED BATTERY

NP-FV70
HSC: It is clear that this Handycam is the most advanced in terms of features and apparent recording quality to ever be released by Sony in this price bracket MSRP $998. Everything in it seems to be in a class of it's own from the sensor performance with 1.6x larger pixels to previous models to the 5 axis image stabilization. Notice the lack of a tilt-able eye cup viewfinder with a usable resolution like it is included in the Panasonic which might be a sore point of the Sony.  There is even a self timer mode for video which will let you get your Golf Shot in slow motion at the max of 120fps at 1080p and start recording 10 seconds later.  As to the validity of this being a Golfer's camera it remains to be seen. You could always use the Wifi function to start the recording with 10 second delay and do your shot. 
It is kind of a let down that 4k is still limited to 30p maximum. It is time to start allowing cameras to record at 4k 48p and 60p for more fluid motion in the format.  Higher frame rates in 4k have a tendency to look better and avoid screen tearing and look much more fluid.  You will still need 24p for the cinema effect however higher frame rates are great for slowing down action.    It is still a remarkable device considering what it does but if you are looking for higher frame rates at 4k this is not your solution.   For 1080p 120fps is good but it is kind of a let down as well.  240fps for the 1080p format is becoming a more common feature for cameras and portable devices.  Sony in their own RX camera series seems to think 240fps and even higher frame rates are needed. The Handycam segment is limited in this regard.  It will be interesting to see what Panasonic can do in the segment or if they in fact have stagnated.





The other announcement is the Sony HDR-AS50 Action Cam which is a lower end model to last years X1000V which beat the GoPro Hero 4 Black in resolution and stabilization. 
AS50 Specs:
1080p60 XAVC S Video at 50 Mbps
120 fps High-Framerate Capture in 720p
1/2.3″ Exmor R Sensor with Bionz X
Burst and 4K Time-Lapse Photo Modes
Bluetooth for Remote Operation
Live Streaming via Ustream
Wide and Narrow Angle of View Modes
SteadyShot Image Stabilization
Stereo Microphone / Mono Speaker
Works with RM-LVR3 Live-View Remote
It is a low end action cam to compete directly with other segment offerings and for those who do not need 4k or higher frame rates at 1080p.   This camera will only deliver 120fps at 720p.  It is a good compromise with a price tag under $200 for the body only and about $259 with a waterproof case.  It will be interesting to see if Sony releases a X2000V or similar replacement with high end specs in the first half 2016.   
From what you can see in the demo video, the footage while distorted due to the super wide angle lens; does in fact offer a big jump in dynamic range and highlight retention compared to other cameras in the action rugged segment.  Sony is a leader in sensor technology especially for dynamic range and low light ability and it shows in these hardware releases.
Both cameras will be available some time in the first quarter of 2016 with February 21st as a possible date based on the pre order websites.
(Visited 5,162 times, 1 visits today)