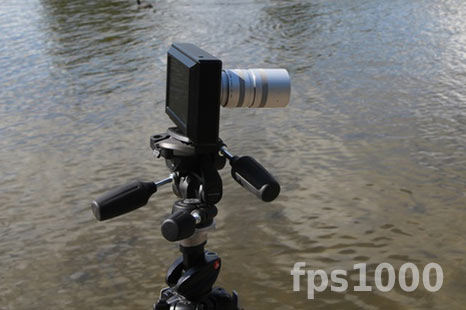 Warning: The parent company of FPS cameras "The Slow Motion Camera Company Ltd." went out of business and entered liquidation proceedings. No further development of cameras is expected. More information here on Google Search! 
In the update released to day Graham Rowan the creator of the fps1000 high speed camera project has made it known that the camera body has passed EMC for both CE and FCC certification.
What this means is that battery only cameras will be able to ship to Kickstarter backers as there is still some emissions that need re certification if used on a power supply.  Once that is corrected all models will be able to ship with power supply support.
Certification is a time consuming process and an expensive one so that is why some backers can choose to have battery only cameras for now.  For many a power supply is essential which will mean just a little longer wait for the fix which already has been made to upcoming boards to be back from the supplier and be incorporated into new cameras.  This could mean several weeks to over a month. The good news is that the sensor board is not affected so once the fixes are in all the models can begin production and shipment.
Update by Graham Rowan:
I spent another day at the EMC test facility this week for a second attempt at getting emissions approvals. I took away everything I learnt from the first session last month and made some modifications to the motherboard to reduce the source of noise as well as improving shielding on the case. I also bought a near field spectrum analyzer so that I could get some idea of relative improvements before submitting the camera to another test.

The result?

A qualified success. The modified camera was very much quieter than the original unit and well within the required emissions levels. However, when the external power supply was plugged in there was sufficient noise being transmitted through the power lead to cause it to fall outside the allowed levels. Unfortunately the emissions requirements are that all ports on the camera must be loaded under test.

I was faced with the decision of either going away to make the required modification to the board (a very simple change) and wait another month to get new boards made and tested, or to go ahead with the testing with the external power supply port sealed off. I couldn't face yet another month of delay so I went ahead with the testing.

The Outcome?

I do now have full FCC & CE certification of the fps1000 as batteries only camera. I am of course disappointed that this is the case but also hugely relieved that I have finally got through this process. I can at least start shipping production units. The camera was conceived as a portable device so this is not a complete failure (had it been the other way round, and it was only possible to use the camera from a mains supply then I would not have gone ahead).

I have made the modification to the supply circuit which should fix the problem and I will be making the first production units with these new boards. I plan to submit the camera for another test with this modification. However, I will be producing the first cameras with the possibility that they will be shipped as batteries only units.

I haven't decided yet on the timescale for re-test. The testing is an expensive process. I will give backers the opportunity to decide on whether a batteries only unit is acceptable before shipping. At least for now production can go ahead and first cameras should start going out this month."
HSC- If you don't need a power supply, but we highly recommend you wait and get one, then you can contact Graham Rowan and ask for your camera to ship as is.   There is a possibility you can send it back at a later date to be re fitted with the power input but it is hardly ideal.  In our view having a power supply is essential for many situations and will make the camera much more versatile for scientists, production lines and other environments where the 2hr battery will not be enough as in some rigs the camera might be unsuitable for battery changes. Power supply in a camera like this is a very important piece of the puzzle.
Things will heat up for the fps1000 once the cameras start shipping and users are able to get acquainted with the hardware. We will keep you updated as things develop.
Kids order a double platinum fps1000 in this fun video!
Sample videos on the prototype fps1000 from last month 720p Platinum camera 550fps:
2. https://vimeo.com/user33535663/review/149579674/cedc903eb9
3. https://vimeo.com/user33535663/review/149585486/f1c39ba5fa
4. https://vimeo.com/user33535663/review/149579681/d4f8c5adb2
(Visited 1,230 times, 2 visits today)