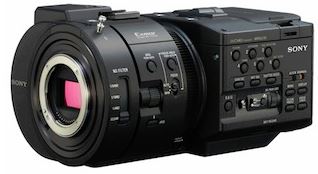 The Sony FS700 has been reduced in price several times this year and now commands an under $5k price for the body only package.  When the camera was released it commanded a $7,999 USD price tag for the same kit with $8,499 USD for the basic 18-200mm kit. Nowadays you can get some used FS700 bodies for just over 4k.
The FS700 remains in the #2 spot of our HSC Camera guide for slow motion cameras on a budget. The deal just got better with these price cuts.
With the relentless pace of technology advancement; it seems that as the camera is close to 50% cheaper than at launch a replacement might be coming in the near future.  If a replacement comes by the end of this year or early 2016 it will probably be using the same technology just released on the RX 10 II and RX 100 IV cameras that offer a back side illuminated stacked CMOS sensor with 1/32000 shutter speed.
The sensor in a future FS700 camera replacement will probably be as advanced but in a larger Super 35mm format like it's current incarnation.  If such a camera was released the price will probably resemble that of the launch of the FS700 at 8k or higher.   We also expect the replacement to be able to shoot 4k video internally without the need for an external recorder. The codec will probably be XAVC S at 50 megabits or higher.
If you don't need higher resolution or frame rates and are in the market for a high speed camera that does 1080p at 120fps and 240fps at great quality  and up to 480fps and 960fps at reduced quality; then this is the camera for you.
Adorama Camera Sony FS700 Deals:

Adorama has the FS700 Body with free shipping here for $4,999!
Adorama also has other kits here at reduced prices for the FS700!
Amazon.com Sony FS700 Deals:
Video reviews from the FS700:
FS700 Reviewed by Philip Bloom:
FS700 Review by Neumann Films:
Thanks for your support of HSC!
(Visited 1,055 times, 1 visits today)