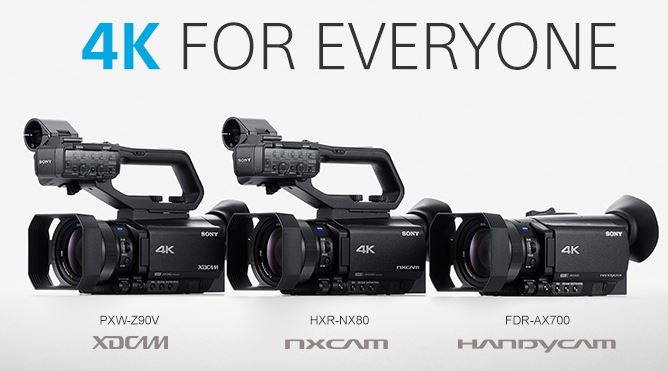 Sony has released three new Palm Sized 4k camcorders on the wake left by the RX10 IV all in one  1″ Sensor camera, these new cameras aim to produce professional results in 4k and with the use of broadcast features like 3G-SDI in the case of the Z90V allow for real time ENG and EFP production.
These cameras have the same  sensor and buffer mode as the RX10 IV camera but in a more traditional non SLR like form factor. The FDR-AX700 at the lower end of the range lacks a Proper microphone mount and XLR inputs with volume controls but they all share the same specs in lens 12x – and internal codecs aside from broadcast features.  This includes the HFR mode which seems to be identical to the RX10 IV offering 120fps continuous and up to 7 seconds of 240fps near full HD and reduced resolution 480fps and 960fps.
Professional features:
1″ (1.0-type) stacked sensor: high sensitivity, resolution and dynamic range
Stacked CMOS image sensor delivers broadcast-quality 4K and Full HD
Sony's S-Log2 and S-Log3 recording for extended highlights
Stunning 120 fps (NTSC)/1 OOfps (PAL) Slow & Quick Motion in XAVC s
HD or XAVC HD
Extended Super Slow Motion at up to 960 fps (NTSC)/1000 fps (PAL)
Lens ring with increased depth for reliable focus and zoom
Ml Shoe for up to 2 channels of cable-free wireless audio with SM AD-P3D, URX-P03D*2·
3 and matching UWP-D transmitters, sold separately
2.4 GHz Wi-Fi capability for USTREAM™ service*', wireless remote control
Touch screen monitor with 1 SSSK dot Extra Fine LCD
OLED Tru-Finder™ viewfinder: bright, colorful, 2359K dots OLEO Tru-Finder™ viewfinder: bright, colorful, 2359K dots
Dual media slots: simultaneous or relay recording
HDMI  type A connector; REMOTE terminal for connection to the MCX-500 live producer
Wireless TC Link allow to settle synchronized TC on multiple camcorders (CBKZ-WTCL required)* 1

Zeiss Vario-Sonnar 12x zoom lens

Sony fixed a Zeiss® lens with impressive capabilities.

29 mm wide-angle zoom (35 mm equivalent) is ideal for capturing panoramic landscapes. 348 mm Telephoto Long End On Still images but gets better by shooting video!
Zeiss T* coatings. This is a Zeiss® Vario-Sonnar® lens with the legendary T* (T-star) coatings, for impressive contrast and resolution.
12x optical zoom, 24x with Clear Image zoom, 48x with Digital Extender. The 12x optical zoom increases seamlessly to 18x (in 4K) or 24x (in Full HD) thanks to the Super Resolution technology of Sony's Clear Image Zoom. The Digital Extender doubles this range yet again, up to 48x in Full HD.
Lens ring enables smooth, natural adjustment of focus or zoom, depending on mode. A manual dial and buttons on the side of the body enable swift and easy adjustment of iris, ISO/Gain and shutter speed.

Built-in ND filters

Makes it easy to take advantage of shallow depth of field even in exterior day shoots. There's no need to carry and mount external Neutral Density (ND) filters. The built-in ND filter wheel has positions for Clear, 1/4 (2 Stops), 1/16 (4 Stops) and 1/64 (6 Stops).
Broadcast capabilities (PXW-Z90V only)
Precise 10-bit, 4:2:2 XAVC L recording in HD
Professional 3G-SDI output
2.4 / 5 GHz Wi-Fi capability for more robust wireless connectivity
Live streaming with having QoS (NETWORK CLIENT MODE) • Streaming compatibility with Sony's XDCAM air service
FTP file transfers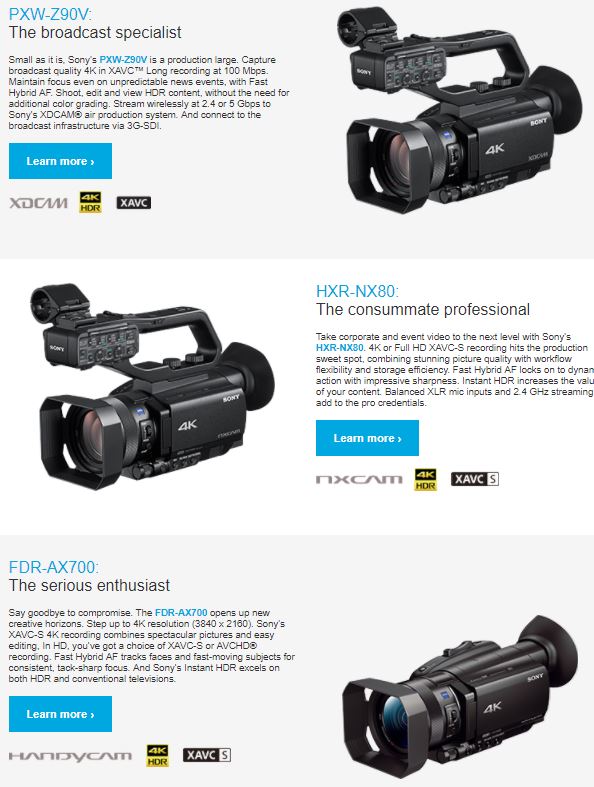 The 273-point phase detect auto-focus system is the same as in the RX10 IV camera but with even more customizability like tracking rate selection and the ability to ramp focus changes with smooth results. Aiming again at a more professional crowd.  For those who thought the RX series cameras were not the ideal form factor for paid jobs; these new FDR-AX700,  HXR-NX80 and PXW-Z90V Palm 4k corders offer the professional style with portability you have been waiting for.  XLR inputs and the ability to produce material in better codecs with flat profiles on a conventional platform.   Including the HFR mode for sweet slow motion performance.
HFR and 120fps Slow Motion:
120 fps continuous High Frame Rates
"High Frame Rate shots can turn everyday actions into slow motion ballet. The HXR-NX80 delivers continuous 1-120 frames per second (fps) Slow & Quick Motion in Full HD. For 24p projects, the result is gorgeous 5x slow motion. There's more. You also get beautiful time lapse sequences down to 1 fps. In burst mode recording, the camera achieves even higher frame rates: up to 960 fps at specific resolutions."
Z90 / NX80 Sample Footage – High Frame Rate by Sony:
"Large, 1" (1.0-type) image sensor
The 1" (1.0-type) image sensor of the FDR-AX700 dwarfs the 1/2 or 1/3-type image sensors commonly used in palm-sized camcorders. The large sensor makes for more cinematic imagery, with the blurred backgrounds that cinematographers cherish. Technical advances also boost resolution (14.2 megapixels effective), low-light performance (1.7 lux in Low Lux mode) and speed (120 fps in Full HD)."
Pricing & Availability:
FDR-AX700 –  $1,900 USD – October 2017.
HXR-NX80 – $2,300 – December  2017.
PXW-Z90V – $2,800  – December  2017. 
Our Take HSC:
These new cameras are really something of a small miracle. It is Sony's answer to the pro-sumer market that wants a 1″ sensor camera that has all the capabilities of the best technology available in a smallish package that you can take to a paid job without getting strange looks.  The fact that these cameras shoot continuous 120fps Full HD and can do pretty amazing higher frame-rates in 240fps for 7.4 seconds near full HD 1080p and up to 480fps/960fps at reduced resolutions make it a great value that matches or exceeds the quality available on the Sony FS7 and FS5 cameras which are much more expensive solutions.
You will have a smaller sensor but with an impressive AF capability that can track subjects with hybrid phase and contrast points and not lose track in good light. Many cameras simply cannot even get close to the AF performance from Sony when it comes to AF.
We are very excited about these three new camcorders which allow for customization in price.  We feel it is still a letdown that 4k 60fps is nowhere to be seen this time around and it is probably the only big kink we can see in this whole package.
We will have video samples of the slow motion above 120fps when they are released.  -HSC
(Visited 5,521 times, 1 visits today)