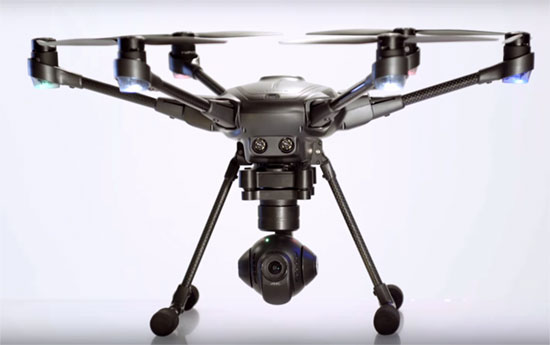 The Drone market has started to heat up when it comes to professional features in the mid range pricing space. The Phantom 4 by DJI showed us that collision avoidance and obstacle awareness as a built in feature can stay within the realm of fairly priced drones.
Now the Typhoon H Drone by Yuneec an established electric aviation company with it's 4k camera capable of slow motion 120fps at 1080p which is competitive with DJI's is trying to compete head to head with some great technologies that the Phantom does not offer like a 6 rotor design that gives redundancy if one of the propellers should fail mid flight.
Typhoon H Main Features:
Max flight duration:
Up to 25 mins
Battery:
4s 14.8v LiPo Battery (POWER 4)
Charger:
Sc4000-4
Transmitter:
ST16 Ground Station
Max. flight altitude:
400ft (122m) (Restricted by FAA)
Max. rotation rate:
85°/s
Max. roll angle:
35°
Max. rate of climb:
16 ft/s (5 m/s)
Max. speed: Angle mode
30mph (13.5 m/s)
Max. speed: Follow Me mode
43.5mph (19.4 m/s)
Dimensions:
20.5" x 18" x 12.2" (520x457x12x310mm)
Dimensions (folded):
13.8" x 10.6" x 10" (350mm x 269mm x 254mm)
Airframe weight:
3.74lbs (1695g)
Camera weight:
.55lbs (250g)
Takeoff weight:
4.3lbs (1950g)
Effective pixels:
12.4 Megapixels
Camera lens:
14mm/F2.8
Field of View:
98°
Electronic shutter:
1/30 – 1/8000
Video transmission range:
1 mile (1.6km)
Video resolution:
4K UHD 30fps at 100mbps

1080p 120fps 1920*1080***
The Video capture at 4k 30p offers 100 Mbps for good quality that is better than most smaller cameras and on par with Panasonic's GH4 and GX series on 4k.  The sensor is not Micro 4/3 size like some of the DJI options but the footage produced can be breathtaking in the right conditions.
Typhoon H Into video by Yuneec:
Highlights:
Ready-to-Fly, right out of the box
Ultrasonic collision prevention
4K UHD 30fps, HD 1080p 120fps video / 12.4 Megapixel still camera
3-axis anti-vibration gimbal camera with full 360° rotation
Retractable landing gear
Easy 'Twist and Lock' propeller installation
Folding rotor arms for compact storage
Integrated autonomous flight modes
ST16 controller with built-in 7-inch touchscreen
Slow motion Quality 1080p 120fps?
All the features in the world and spec sheets mean nothing if the output video quality is sub par and the CGO3+ 4K camera included in the Typhoon H has great looking 4k video at 100mbps but sadly sub par low rate and aliasing prone 1080p 120fps video at just 28Kbps.   It seems there is some severe line skipping in the 1080p 120fps footage samples on the web which are full of aliasing artifacts see for yourself in the samples below:
There is no question the Typhoon H has a great 4k image that is quite flat and ready for grading.  The video comparison above does show the Phantom 4 taking the edge on detail and sharpness when it comes to video output at 4k while slightly being behind in low light compared to the  CGO3+ on the Typhoon H; and the video below shows the Phantom trouncing the 1080p 120fps quality outright with very little artifacts.  While on both the slow motion quality could be improved there is no question the aliased image  at 1080p 120fps of the Typhoon H   CGO3+ camera is a big downside.
Conclusion:
Recommended for 4k footage acquisition of the Typhoon H $1,299 MSRP as a very viable option to the DJI Phantom 4 4k.    However we cannot recommend the slow motion 120fps mode doe to the aliasing issues presented above. If this changes in the future that is another story all-together.
It is encouraging to see so much development and features in such low cost products today which could only get better as time goes on. The 6 propeller design and retractable landing gear on the Typhoon H are amazing features that used to cost a lot more just a year ago.  While the collision avoidance is there it is more rudimentary than the visual computation on the DJI phantom it still works well enough on the Typhoon H to rely on it for larger obstacles.  The flying is smooth and the camera's 360 degree rotation capability with no landing gear obstruction cannot be understated. We feel that the Typhoon H by Yuneec is just a generation away from camera design and features to iron out most negatives today.
It is an exciting time for drone purchasers as the options continue to improve while offering better value for your money.
More information about the Typhoon H from Yuneec Here: http://www.yuneec.com/products
FAA Rules:
as a side note, the USA's FAA has finalized the safety guidelines for drone pilots in the country and expects all of the pilots that use it for videography and photography to   abide by them.  This discussion on dpreview will get you up to date!


(Visited 2,040 times, 1 visits today)