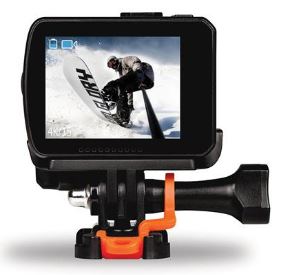 Action camera clones are propping up everywhere and that is one of the reasons GoPro as a stock investment has under performing. The plethora of options keeps getting more diverse and at even lower entry prices.
The Firefly 6S and Veho K-Series K-2 Pro and K-1 are such products that aim to do it all for the action camera enthusiast while competing at a lower entry price. This doesn't necessarily mean cutting corners do to lower prices and these two brands seem to fit the bill in one way or another to fill the shoes of a GoPro Action camera competitor.
veho K-Series K-2 Pro 4K Wi-Fi Action Camera:
4K, UHD, and 2.7K Video
1080p up to 60 fps / 720 up to 120 fps
12MP Photos with 10 fps Burst Mode
100° Wide-Angle Lens
Detachable Touchscreen LCD
Wi-Fi for Remote Monitoring and Control
1500mAh Lithium-Ion Battery Pack
G-Sensor & 180° Image Flip
Flat and Curved Adhesive Mounts
Carry Case
As you can see the camera has a maximum frame rate of 15fps at 4k so it will not be a solution for those seeking 4k at 24p or above. Your footage will look choppy in this mode.
Video Frame Rates Supported
MP4
4096 x 2160p / 12 fps
3840 x 2160p / 15 fps
3840 x 2160p / 12.5 fps
2704 x 1440p / 24 fps
2704 x 1524p / 30 fps
2704 x 1524p / 25 fps
1920 x 1080p / 60 fps
1920 x 1080p / 50 fps
1920 x 1080p / 48 fps
1920 x 1080p / 30 fps
1920 x 1080p / 25 fps
1920 x 1080p / 24 fps
1280 x 960p / 60 fps
1280 x 960p / 50 fps
1280 x 960p / 48 fps
1280 x 720p / 120 fps
1280 x 720p / 100 fps
1280 x 720p / 60 fps
1280 x 720p / 50 fps
120fps Quality:
While there are no samples from the 720p spec on the K-2 Pro camera, we are posting a K-2 standard clip that may show approximate slow motion quality:
Veho MUVI K2 – 120 FPS example slow motion by TheAnthonyChan0:
The Muvi K-2 Pro 4k comes with a variety of cool add-ons and even a carry case and detachable LCD screen module to sweeten the deal.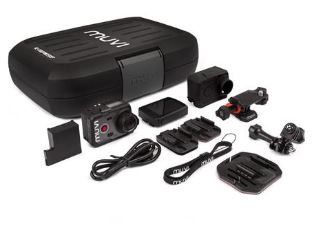 While the veho K-Series K-2 Pro 4K action camera will not compete head to head on specs with the liked of the GoPro Hero 4 Black 4k at 30fps it does bring a sort of character to the table with some useful included features and a kit with everything to get started. The MSRP of the veho K-Series K-2 Pro 4K Wi-Fi Action Camera is $289.99 which competes favorably against the 4k Black which is above $400 with bundled remote.
Adorama Camera has the veho K-Series K-2 Pro 4K Wi-Fi Action Camera listed today as a new addition: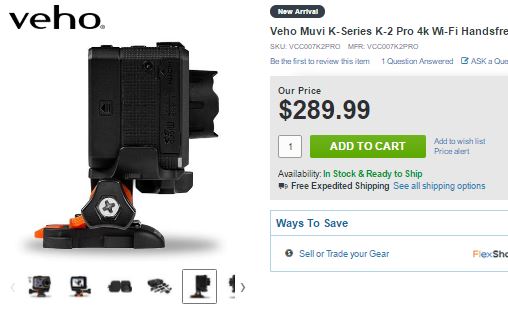 The FIREFLY 6S 4K Action Camera: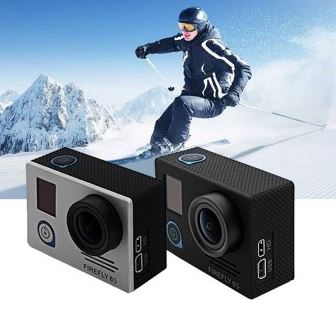 If you are looking for something in a rather less expensive bracket the Firefly 6S action camera which is a GoPro clone with a variety of manufacturers in China that is almost identical to the Hero 3 and 4 models is right up your alley. At a MSRP of $129 USD it is as cheap as it gets but wait sites like gearbest.com here have it for a limited time for under $83 bucks.  You could basically buy it, abuse it and feed it to a crocodile and it wouldn't hurt that much while getting great footage. It is probably also compatible with GoPro housings and accessories as they share the same footprint but we cannot confirm it.
Firefly 6s Main Specs:
Novatek 96660 chipset
12MP CMOS IMX078 image sensor
Support USB / AV OUT
Video resolution: 4K at 24fps, 2.5K at 30fps, 1080P at 60fps / 30fps, 720p at 120fps, VGA at 30fps
Time-lapse video at 0.5 / 1 / 3 / 5 / 10 second intervals
Cycle recording, cutting video into 5-minute segments
Automatically start recording when connected to external power source via USB
Burst photo capturing 11 photos in 1 second
ISO adjustment, sharpness adjustment and color adjustment
Time stamping allowing you to stamp the time on the photos or videos
Gyro image stabilization function
Built-in WiFi allowing you to connect to the smart phone / tablet via the Firefly App (4K and 2.5K are not supported)
3 options for angle of view adjustment: Large / medium / small
Supporting TF card up to 64GB (not included in the package)
Sure the quality is more inclined to the lower end when it comes to the codec but it is still decent and the stills are very detailed and useful. Furthermore the camera does offer 4k recording at 24p which is better than the veho's 15fps above.  This do it all camera for under $100 could be a good venture into the sports action camera market if you have never owned one but do not want to spend much on testing one for starters.
The review above will give you plenty of indications on what this camera can do and the 120fps  720p samples shown below will let you see as far as slow motion what you can expect. If you need cheap 120fps frame rates that are portable; you can't really get any more low cost than this.
The Firefly 6S can be bought from Amazon.com Here  $129
or
The Firefly 6S can be bought from gearbest.com here for $82.55 for a limited time! Which is a better deal!
(Visited 615 times, 1 visits today)