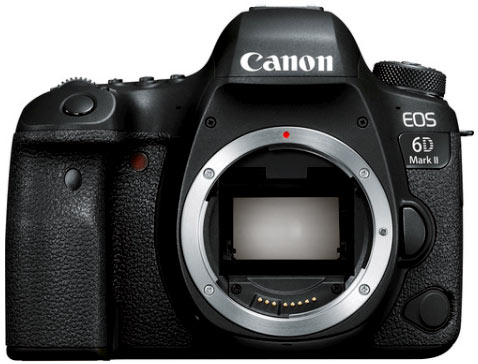 Nearly 5 years after the original 6D Mark 1 camera was released, Canon has now unveiled the EOS 6D Mark II which is a big update from that camera when it comes to a new vari-angle LCD touch screen, AF points now 45 all cross type vs the old one at 11 with only 1 center cross type, Wireless support, dual pixel video AF and an extra 6MP for a total of 26MP vs 20.1 on the Mark 1.
This camera is still the cheapest full frame camera on the Canon line up and it gets a lot right but also 4 things are left out that really miss the mark which will not sit well with people looking at competitive options.  The camera is a great picture shooter for sure but it feels crippled artificially and it is quite behind the times when it comes to video specs.
EOS 6D Mark II Main Specs:
26.2MP Full-Frame CMOS Sensor
DIGIC 7 Image Processor
45-Point All-Cross Type AF System
Full HD Video at 60 fps; Digital IS
3″ 1.04m-Dot Vari-Angle Touchscreen LCD
Dual Pixel CMOS AF and Movie Servo AF
Native ISO 40000, Expanded to ISO 102400
6.5 fps Shooting; Time-Lapse & HDR Movie
Built-In GPS, Bluetooth & Wi-Fi with NFC
Dust and Water Resistant; SD Card Slot
Official Canon EOS 6D Mark II Digital Camera Introduction by CanonUSA:
As you can see the camera is a real powerhouse for photographers and 1080p shooters that want full frame but also want a cheaper body under $2k USD.   There is a lot to like here if this camera was released 5 years ago it would have been cutting edge and would have really been a darling with most user segments.
Forward 5 years and the camera is simply missing a lot when it comes to video. These are what we feel the sore spots that Canon needed to address with the camera but decided not to allow the features for whatever reason. Many say it is to not cannibalize their higher priced cameras and Cinema EOS line but that is already happening by the adoption of other brands by users that cannot find the video modes on Canon.
Video Fail List:
Missing all 4k video except for Timelapse sequences.
Missing Sensor stabilization "Using Software/ Electronic Only"
Slow Motion Caps at Full HD 60fps – It is 2017 – Hello?
Only 1 SD card, lack of dual cards is not ideal for events.
30min recording limit
No Peaking in Video Mode for Focus assist
We have seen this movie before. The 5D Mark IV, for example, missed the mark with 4k video with a terrible crop factor and to add insult to injury the codec for recording video is Photo JPEG which is good in quality but insanely huge for 4k. Canon needs to get H.264 and or H.265 as a codec for their DSLRs. This is getting long in the tooth.  Videographers have opted for Panasonic GH4, GH5 and or Sony a7s I & II cameras instead of Canon or Nikon for their video needs. Nikon is selling less and less cameras and Canon as well.
Seems they are not interested in innovating their way out of the hole and fight against Panasonic and Sony for camera enthusiast dollars.
What Canon needs to do in our view:
Get 4k 24, 25, 30p and 60p on all of their enthusiast DSLRs.
Retain Dual Pixel AF in 4k which is the best in the business.
Implement 5 axis sensor IBIS stabilization on Full frame & APSC.
120fps 1080p or higher on non pro DSLRs instead of 720p.
Dual SD Card slots on cameras costing above $1500 usd.
Add Vari-angle LCDs like the one on the 6D II on other cams.
Fix the Codec & implement an efficient one at 4:2:2 if possible.
Increase Dynamic Range and Low Light Quality to Sony Levels.
We feel that if Canon did all of the above they would only be competitive with the current crop of cameras. They will still have to create new features that will set the cameras apart. Their dual pixel AF technology is the best in the business and it is really the best argument for getting an EOS DSLR instead of a mirrorless camera.
There has been a lot of disappointment from Canon fans and people expecting Canon to really bring the full frame lower cost cameras to the competitive forefront.
We cannot list the 6D Mark II in our camera guide as the slow motion feature in both 720p and 1080p max out at 60fps.  Our cut off is 120fps.  Hopefully, Canon will release something exciting that will really get our hopes up. The Vari-angle screen is a must and we are glad it finally made the rounds to the full frame DSLR line. We think you are better off with a Panasonic Lumix GH5 for the same price and a boatload of features including 180fps continuous Full HD shooting.
The videos below will discuss most of the stuff listed above and will show a few more things.   We encourage you to watch a few of them to get more information on the 6D Mark II.  So close yet so far! 
Enjoy the 4th of July Weekend!

 
Canon 6D Mark II Preview byTony & Chelsea Northrup:
Canon EOS 6D Mark II Preview: It's MISSING 4K! byJared Polin:
Canon 6D Mark II & 200D/Rebel SL2/X8 Hands-on Preview by Kai W:
My Thoughts – Canon 6D Mark 2 (too many deal breakers?) by PhotoRec TV:
WHAT ON EARTH is wrong with CANON? 6D Mark II by Theoria Apophasis:
Canon 6D Mark II – Hands-on First look by digiDIRECT:
(Visited 4,457 times, 1 visits today)