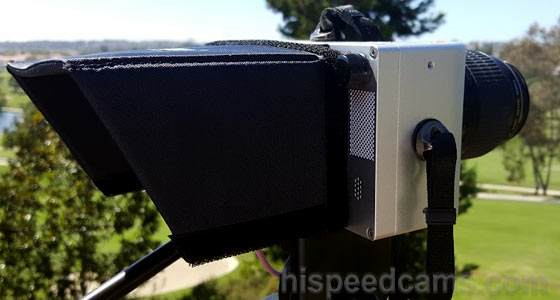 We would like to share a few modifications users of the Chronos 1.4 have made to the camera in the few short weeks they have had to put it through its paces.  In our case, we got the Pro AM 5″ Sunshade for LCD screens and had great success curing what could have been a big nuisance for the camera.  In bright daylight, the Chronos screen completely washes out like most phones out there and makes it impossible to judge focus, controls and reviewing clips.
There are also case mods and more strap accessories that have made the camera better.   While the software is still in the early stages, the camera is fully functional and has been able to deliver outstanding image quality.  There are a few image artifacts that firmware will address in the future, that are pushing back our full review of the camera. For those that have been asking, rest assured we are on it!
Chronos 1.4 Mods Rundown: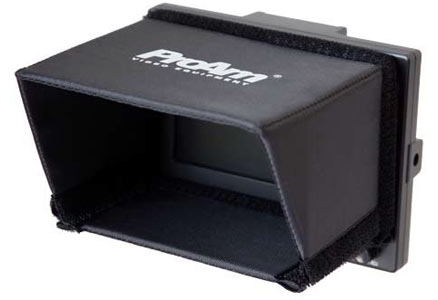 We found the  ProAm USA 5″ LCD Video Monitor Hood / Sunshade at the Amazon.com website for $17.99 including free shipping. It was a crap shoot as we would not know if it would fit the Chronos 1.4 and make it usable at the same time.  To our surprise, it was near perfect in the way it was able to fit the screen and avoid the jog wheel on the right side.  It is also extremely easy to take on and off. Furthermore, the lower flap is completely removable which allows you to use the camera's touch screen with your hand and not collide with a barrier. We chose to not install the lower flap and it has functioned perfectly.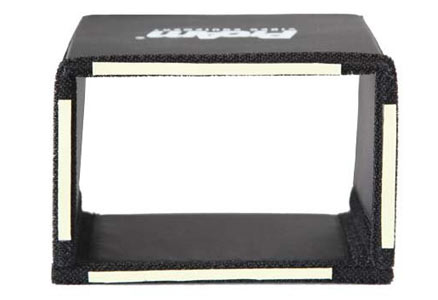 The included velcro strip tape is slim enough to be installed on the sides of the camera without having to cut the excess. We decided to give it a bit of room aside from the display in order to easily operate the controls. You may try different placement and see what works for you.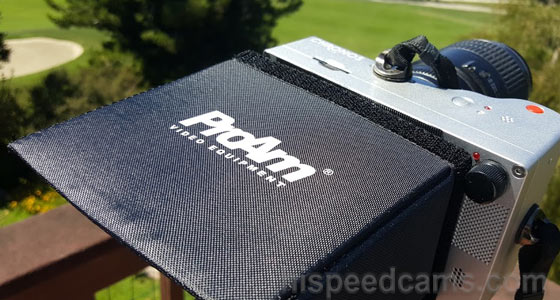 The shade visor makes a real difference in usability with perfect coverage in very bright sunlight.  Notice the right Jog wheel is still left with usable space and since the screen is detachable indoor use remains unaffected with movement freedom.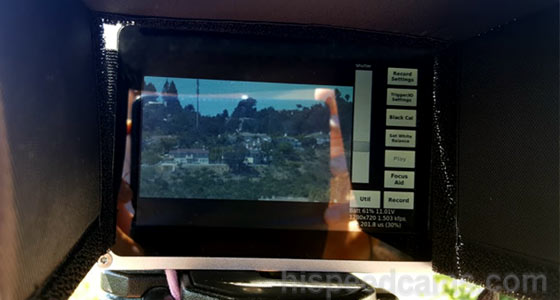 Make your own case for the Chronos 1.4:
Chronos owner Anton4Video has gone ahead and made a camera case custom set of foam inserts to accommodate the Chronos, Power supply, and 3 batteries.  The case he used is the – Pelican iM Storm 2100 $97.10 at Amazon, – which is both sturdy and very secure with dual side lock ports if needed. It also has the pressure equalization valve to adjust when being transported on airplanes.  He used custom foam inserts made by hand which we also found gave it a very nice touch.
Chronos 1.4 hard case V1.0 by anton4video:
 We added a couple of videos below so you can learn how to draw and cut custom foam shapes for cases.  Stay safe, some of this methods can cause injury. Always use protective gear like gloves and protective eye-wear.
How to Cut Clean Details in Foam by Punished Props:
Pelican Case Foam Cutting – WAY TOO MUCH FUN! by TiborasaurusRex:
Another Camera Neck Strap for the Chronos:
We talked about straps on a previous post here with our own solution but another Chronos user Gyppor has also been creative.
Mounting a neck strap to a Chronos 1.4 camera by Gyppor:
 More Chronos 1.4 Video Samples:
What good is a camera if it is not able to show what it can do? Well we have gathered some recent Chronos 1.4 clips for your enjoyment as a bonus below.  Remember to support the people that created these videos and accessories by subscribing to their channels.
Satisfying Crazy Firecracker Explosions Chronos 1.4C Ultra Slowmotion! by SLOWMOTION EXPERIMENT:
Drilling aluminium in slow motion ( Chronos 1.4 ) by Gyppor:
Air cannon vs. Tennis racket by Antti Hara:
Super Slow Motion Waterballoon Assault | Chronos 1.4 by Paul Bryan TV:
Pounding rusty nails in SUPER slow motion (Chronos 1.4 – 13k-38k fps) by Gyppor:
For more information about the Chronos 1.4 Camera and ordering info go to the official website: http://www.krontech.ca/
(Visited 674 times, 3 visits today)