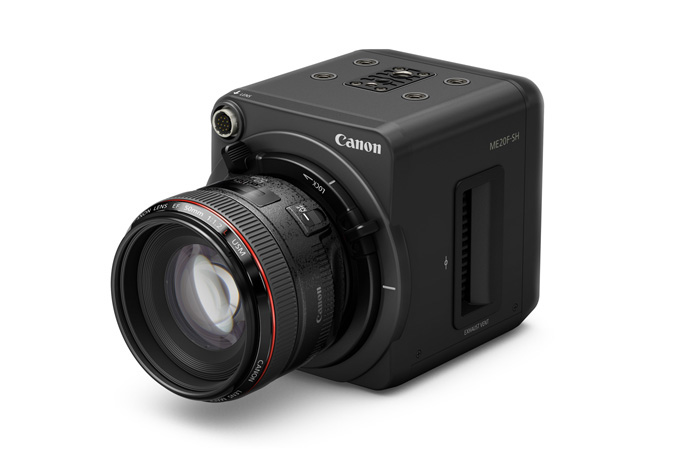 The newly announced Canon ME20F-SH Camera besides it's overly unpronounceable name and a price tag of $30,000 USD has what could be a record for any sensor to date. The ISO 4 million mark on this camera/sensor is able to record footage in full color at night. It over exposes footage only lit by a full moon.  The Sony A7s last year was a revelation of where sensor technology is going with it's close to 1/2 million ISO at 409,600 . It could shoot in near complete darkness and could do a good job at it.  What Canon has done with the ME20F-SH is build their peak sensor technology into a 35mm Full Frame Sensor but with only 1080p Full HD resolution. The Sony A7s can shoot 4k footage with the HDMI output on an external recorder. This makes the pixel size on the Sony more constrained even with a Full Frame Sensor.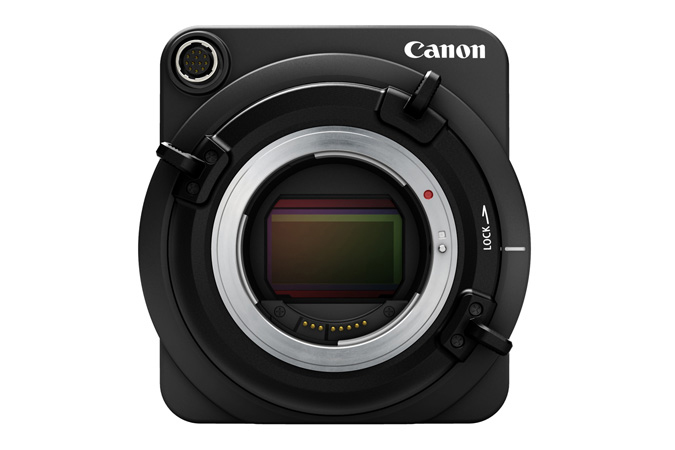 The pixel pitch size on the Sony A7s  (12MP on a full frame CMOS Sensor) is around 8.4 µm; in contrast the new Canon ME20F-SH has a  19 µm pixel size in a Full Frame Sensor.  This is an amazing performer in low light and probably the most sensitive sensor ever made for commercial purposes. At 2.26 Megapixels this is the state of the art for large pixels with impressive dynamic range and low light. It is unclear how the low resolution in such a large sensor will behave when it comes to moire and aliasing artifacts.
Canon ME20F-SH Full Specs:
Product name
ME20F-SH Multi-purpose Camera
Image sensor
35mm full-frame CMOS sensor (single), effective pixel count: approx. 2.26 million pixels
Minimum subject illumination
Less than 0.0005 lux (at maximum 75 dB gain setting, equivalent to an ISO sensitivity of over four million)
Pixel Pitch
19 Microns
Lens mount
Canon EF mount (Cinema Lock type)
Optical filters
ND filter with two density levels (motorized manual / auto) IR cut filter (motorized manual)
Frame rates
59.94P / 59.94i / 50.00P / 50.00i / 29.97P / 25.00P / 23.98P
Gamma
Canon Log, Wide DR, etc.
Video output terminals
3G / HD-SDI
BNC jack (output only) Terminal count: 21080P / 1080i / 720P
HDMI
HDMI connector (output only)
Genlock terminal
BNC jack (input only)
Remote terminal
φ2.5mm stereo mini-mini-jack (Canon-proprietary protocol)Round 8-pin jack (for RS-422, Canon-proprietary protocol)
Microphone terminal
φ3.5mm stereo mini-jack
AF
One-shot AF
Auto-exposure
Combined interlocking (iris / gain / ND / shutter)
White balance
AWB, color-temperature setting (setting range: 2000 to 15000 degrees Kelvin), natural light, light bulb, Setting A, Setting B
Digital teleconverter
2x, 4x
Power input
4-pin XLR DC11-17VTerminal block 2-pin jack DC11-17V
Operating temperature
32 degrees F (0 degrees C) to 104 degrees F (40 degrees C)
Body dimensions
Approx. 4 inches (102mm) (w) x 4.5 inches (116mm) (h) x 4.4 inches (113mm) (d) (excluding protrusions)
Weight
Approx. 2.4 lbs (1.1 kg) (body only)
The Camera is a sensor block with an EF and EFS compatible Canon Autofocus mount with 3G-SDI outputs and HDMI for monitoring and recording.  The camera does have a MicoSD card for firmware updates but recording will take place on external recorders only with the added benefit of Canon LOG for maximum dynamic range retention.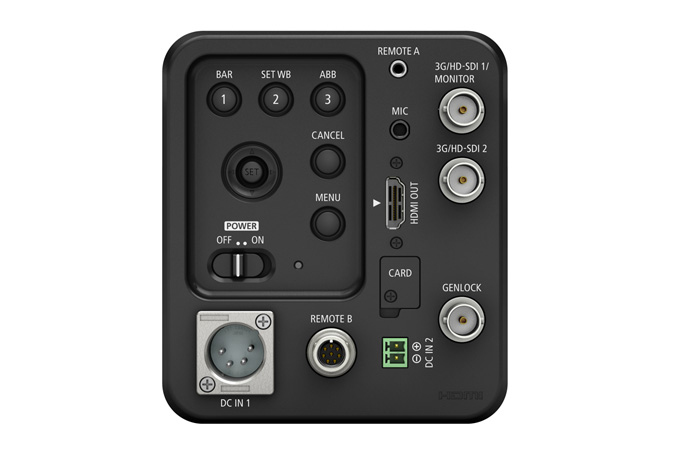 Microphone port and remote control plugs are included, power is delivered by an XLR 4 pin type professional connector.  This camera is made for specialist shoots that have a lot of gear behind the scenes. WIth a camera that can record in full color in extreme low light the nature documentaries that relied on IR infrared cameras will no longer look green or blue with strange bright eyes. The new nature documentaries at night will have full color characteristics.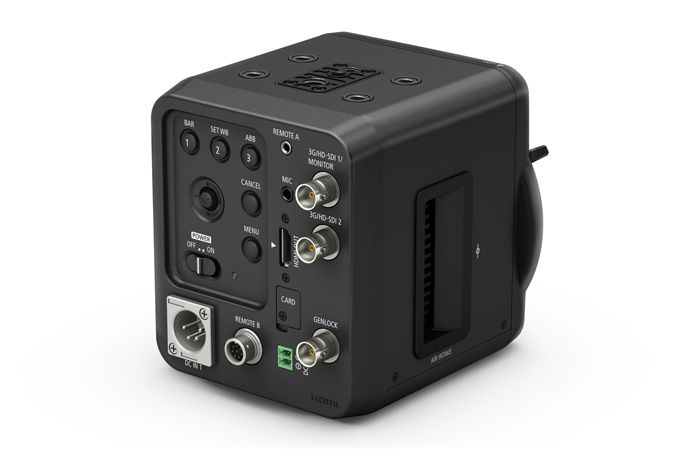 For scientific purposes it will be able to capture low light phenomena such as meteorites, biology at night and even microscopic specimens at extreme low light levels with clarity. The maximum Frame rate of 60fps at 1080p leaves us wanting much more with such low light performance.  You could shoot extreme frame rates in limited light environments only possible before in dreams.   Reducing the amount of light needed would produce a whole new realm of night time high speed video that is altered by adding light. Shooting wildlife at night at high speed in their native illumination could provide a wealth of information.
See the video below released two years ago using a prototype of the same technology by Canon. You can even see the milky way and other features of the night sky that were only possible with long exposures before. This kind of performance could revolutionize astrophotography.
Canon Prototype Footage Low Light Sensor Tech from 2013:
"The Canon ME20F-SH is expected to be available in December 2015 at a suggested retail price of $30,000." While the price is certainly nothing but expensive for the common producer of footage, it is a small price for scientific applications and large production houses and TV channels like Discovery Networks or the BBC.  This type of technology will allow for unprecedented ways of looking at the world.  The most important aspect of this extreme sensitivity in sensors is that when things improve, even higher ISOs will be available at higher frame rates and in much less expensive camera bodies.   The age of grainy footage at night is dissolving in front of our eyes but it may take a few years for it to be feasable in our budgets.  For everyone else the Sony A7s with a 4th of the performance is available to everyone in a portable body able to record to SDXC cards. And there are rumors of even better performance in an A7s Mark II. For $2,400 USD there is no better low light alternative.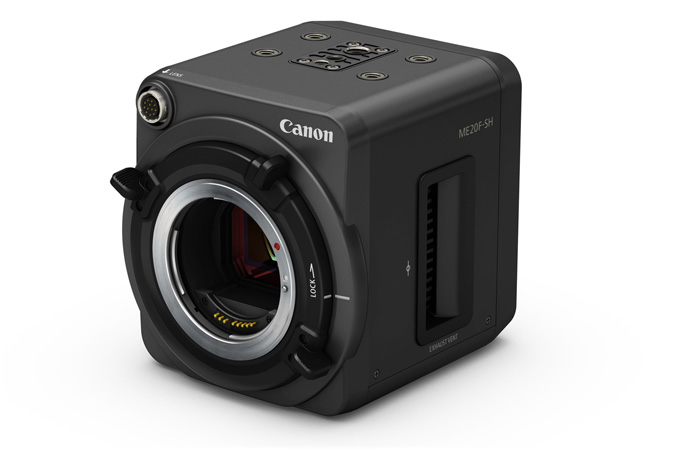 For more information about the Canon ME20F-SH visit the Canon site with all the information. 
(Visited 1,758 times, 1 visits today)