The new Sony Xperia M5 and M5 Dual smartphones sporting android 5.0 make use of the Mediatek Helio X10 chipset which is capable in specs of 480fps 1080p video. However you will not find that high end spec in these phones even when the phone and sensor combination should be able to support it.  You still get slow motion but the plain vanilla 120fps 720p that you've grown accustomed to while browsing for high end smartphones. The phone is waterproof but as advised by Sony it should not be fully immersed as the charging port is uncovered. It should be however rain and splash proof without much worry. If you wanted to take underwater pictures in the ocean, the Sony Xperia M5 phones will not allow you to do this unless they are in a waterproof external case.
Sony Xperia M5 and M5 Dual Specs:
 Camera
Main camera 21.5 MP Exmor RS with Hybrid AF F2.2 with ISO up to 3200
Front camera 13 MP Exmor RS with AF
HSC: The main camera is very powerful at 21.5MP and should be responsive in multi shot burst environments, the sensor is one of the latest in the Sony Exmor series and should be a BSI design with great low light performance.
Chip
Google Android™ 5.0
64-bit MediaTek Helio X10 Octa-core processor (2.0 GHz)
Dual Sim card "Only on the M5 Dual"
Camera and video
21.5 megapixel Exmor RS with Hybrid AF Back Camera
5x Clear Image Zoom
4K video recording
HDR for photos and videos
13 megapixel front-facing camera, FHD 1080p for video capture
120fps Using Timeshift mode at 720p.
Sony Exmor RS™ for mobile image sensor
Video stabilizer – video stabilization
Auto Scene Recognition – automatic scenario recognition and setting optimization
Image stabilizer
Geotagging – add location info to your photos
Image capture, supported file formats: JPEG and Webp
Image playback, supported file formats: BMP, GIF, JPEG, PNG, WebP
Video capture (including H.265), supported file formats: 3GPP™, MP4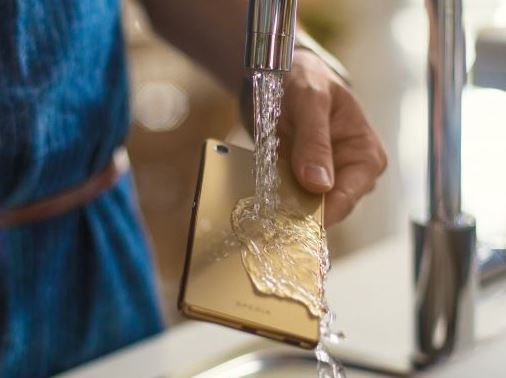 Waterproof limitations:
IP (Ingress Protection) rating
The Xperia M5 has been given the highest IP rating for a smartphone – IP65/68. This is a standard that measures a device's resistance levels to dust (IP65) and water (IP68 – both for splashes and submersion).
"The Xperia M5 is waterproof and protected against dust, so don't worry if you get caught in the rain or want to wash off dirt under a tap, but remember: all ports and attached covers should be firmly closed. You should not put the device completely underwater or expose it to seawater, salt water, chlorinated water or liquids such as drinks. Abuse and improper use of device will invalidate warranty. The device has Ingress Protection rating . For more info see www.sonymobile.com/waterproof. Note: the Xperia has a capless USB port to connect and charge. The USB port needs to be completely dry before charging."
HSC: The Prone is very well protected but it is by no means an underwater device. Could it survive a 30 minutes immersion? Maybe but just to be on the safe side; stay by Sony's warranty support claims.
Xperia M5 Promo Video by Sony:
Buth the M5 and M5 Dual which is the same phone but with dual sim cards will be rolling out in August.  No definitive price was known at this time.

It is a real letdown that a phone capable in hardware of 480fps at full HD 1080p is limited to 120fps at 720p. The Helios X10 from Mediatek is capable of such feats and while it may surface with these specs on a Sony phone sometime in the future it seems unlikely at this point.  The Helios X20 a more powerful version of the chip also supports 480fps full HD so it could be the choice of future Sony Phones.   The only phone that is directly claiming the 480fps Helios X10 as a feature is the yet unreleased and unconfirmed Ono U1 smartphone first talked about here.
The Sony Xperia M5 phone is a well design device with a lot of appeal but the specs could have supported the best of what the cpu could deliver. It is certainly a good choice with stylish design and somewhat waterproof at the same time.
For more information about the Sony Xperia M5 and M5 Dual follow this link: http://www.sonymobile.com/global-en/products/phones/xperia-m5/
(Visited 4,717 times, 1 visits today)