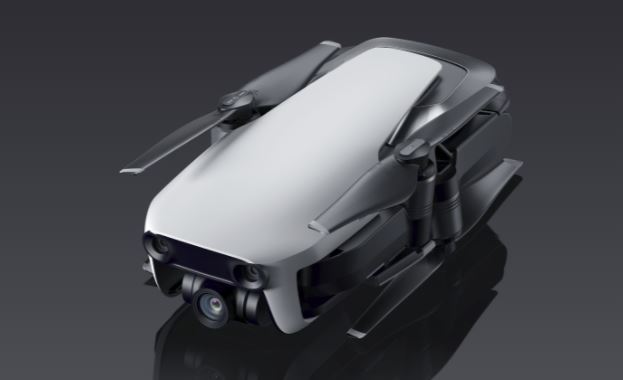 The new Mavic Air may actually be the drone you have been waiting for.  It has most of the technologies that have evolved on pricier drones like the Inspire series and Phantom high-end consumer offerings like obstacle avoidance, awareness sensors, and now at this tiny size, a 4k 30p 3-axis gimbal stabilized camera.  The 4k recording ups the ante at 100mbps compared to the Mavic Pro's 60mbps which was a big issue for motion artifacts and clearly separated the quality lines on phantom and Mavic series.
The new drone also has the ability to shoot 120fps Full HD 1080p video in what looks like improved quality "but still a little noisy" which is also a plus.  The sensor is the same as on the Mavic Pro with a 1/2.3″ size at 12MP with HDR still shooting mode and an 85°-degree FOV. The main feature of course is the size which is slightly bigger than last year's spark but with finally 4k image quality. Portability is probably the most important drone feature today.
DJI Mavic Air Camera Specs:
Sensor
1/2.3" CMOS
Effective Pixels: 12 MP
Lens
FOV: 85°
35 mm Format Equivalent: 24 mm
Aperture: f/2.8
Shooting Range: 0.5 m to ∞
ISO Range
Video:
100 – 1600 (auto)
100 – 1600 (manual)Photo:
100 – 1600 (auto)
100 – 3200 (manual)
Shutter Speed
Electronic Shutter: 8 – 1/8000s
Still Image Size
4:3: 4056×3040
16:9: 4056×2280
Still Photography Modes
Single shot
HDR
Burst shooting: 3/5/7 frames
Auto Exposure Bracketing (AEB): 3/5 bracketed frames at 0.7EV Bias
Interval: 2/3/5/7/10/15/20/30/60 s
Video Resolution
4K Ultra HD: 3840×2160 24/25/30p


2.7K: 2720×1530 24/25/30/48/50/60p


FHD: 1920×1080 24/25/30/48/50/60/120p
HD: 1280×720 24/25/30/48/50/60/120p

Max Video Bitrate

100Mbps
Supported File System
FAT32
Photo Format
JPEG/DNG (RAW)
Video Format
MP4/MOV (H.264/MPEG-4 AVC)

AIRCRAFT Specs:
Takeoff Weight
430 g
Dimensions
Folded: 
168×83×49 mm (L×W×H)
Unfolded: 
168×184×64 mm (L×W×H)
Diagonal Distance
213 mm
Max Ascent Speed
3 m/s (S – mode[1])
2 m/s (P – mode)
2 m/s (Wi-Fi mode)
Max Descent Speed
2 m/s (S – mode[1])
1.5 m/s (P – mode)
1 m/s (Wi-Fi mode)
Max Speed (near sea level, no wind)
68.4 kph (S – mode[1])
28.8 kph (P – mode)
28.8 kph (Wi-Fi mode)
Max Service Ceiling Above Sea Level
5000 m
Max Flight Time (no wind)
21 minutes (at a consistent 25 kph)
Max Hovering Time (no wind)
20 minutes
Max Flight Distance (no wind)
10 km (at a consistent 25 kph)
Max Wind Speed Resistance
29 – 38 kph
Max Tilt Angle
35° (S – mode[1])
25° (P – mode)
Max Angular Velocity
250°/s (S – mode[1])
250°/s (P – mode)
Operating Temperature Range
0°C – 40°C
Operating Frequency
2.400 – 2.4835 GHz
5.725 – 5.850 GHz
Transmission Power (EIRP)
2.400 – 2.4835 GHz
FCC: ≤28 dBm
CE: ≤19 dBm
SRRC: ≤19 dBm
MIC: ≤19 dBm5.725 – 5.850 GHz
FCC: ≤31 dBm
CE: ≤14 dBm
SRRC: ≤27 dBm
GNSS
GPS + GLONASS
Hovering Accuracy Range
Vertical:
±0.1 m (with Vision Positioning)
±0.5 m (with GPS Positioning)Horizontal:
±0.1 m (with Vision Positioning)
±1.5 m (with GPS Positioning)
Internal Storage
8 GB
Mavic Air – Introducing the Mavic Air by DJI:
What Has been Taken Out?
At first glance this looks like a killer drone compared to most everything out there in a package that is so small it boggles the mind but there have been some compromises that you have to be aware of.
Flight time has been reduced to 21 minutes from the Mavic Pro's 27min due to the smaller battery size, build quality while still good is not really as strong as the Mavic Pro for example.  And the biggest drawback is the fact that it looses the Radio OcuSync signal feature for the controller-drone link and replaces it with WiFi which can really cause some scrambling of signal if several WiFi devices are competing for the same air space. Expect this drone to be shorter range when in congested areas to be on the safe side and not loose the link. You cannot always rely on return to home feature in case signal is lost, it is common for any drone to miss once in a while.  Other than that it is hard to fault it for the price and what it offers. Stay at close range and you should be fine. The Original Mavic had a 4.3 mile 7km distance threshold while the Mavic Air has a 2.4mile 4km limit which seems a little optimistic.
Higher Frame Rates:
Higher frame rates take a bump up with the inclusion of:
100/120fps 1080p Full HD 
50/60fps 2.7K: 2720×1530
4k, however, is not record-able above 30fps which for a drone this size is to be expected.  You will need a bigger drone for that. However, the inclusion of 60p at 2.7k is a nice feature to have and can be used alongside 4k footage with easier matching.
Skip to 1:25 to see 1080p 120fps Kayak Slow Motion on this launch film from DJI:
Air Hand Gestures:
The video below goes into great detail showing how you can control the Mavic Air with your hand, much like what the Spark was able to do last year but with higher reliability and more object / obstacle sensing awareness for a truly marvelous technology put to good use.
DJI MAVIC AIR – Hands On Impressions! by devingraham:
Video Quality?
There is no question the Mavic Air has upped the ante when it comes to video quality. The Mavic Pro had a maximum of 60mbps recording and this drone has a 100mbps codec H.264.  It will not be as good as the Phantoms that shoot 4k or the best of them the 4 Pro in image quality but it does cross the threshold of blurring the lines between professional and amateur image quality. We are quite impressed by the quality in 4k. Dynamic range takes a hit from the small sensor and low light is not to be attempted by quality enthusiasts but the old camera saying goes… best drone is the one you have with you. The Mavic Air being so portable is probably the drone that will become the largest adopted base for the product category.  This will probably be the iPhone of the drone world.
Casey Neistat has a comparison of the current DJI drones vs the Mavic Air below. Excellent first test drive!
Mavic AIR DETAILED REVIEW vs. Mavic Pro by CaseyNeistat:
The Slow Motion quality at 1080p is not so good, it is pixelated, has heavy compression artifacts and it is very bad in low light.  That said we expect better performance from the 2.7k 60p mode instead.
We will have more slow motion samples of the Mavic Air as they become available including 2.7k, the drone retails for $799.00 for the basic combo or $999 for the fly more package with extra goodies like 2 extra batteries, 6 propeller blades, battery charging hub & Travel Case.
We recommend the Fly more package as the 21-minute battery limit is just too restrictive.  By having 3 batteries you will have over 1hr of flight give or take which should be plenty for most users.

You can purchase directly from the DJI Store here or the banner above and as DJI is an HSC Partner you get to help us continue our mission at no extra cost to you. Please send us your slow-motion footage one you play with your drone.  Estimated shipping date: January 28, 2018 – HSC
(Visited 592 times, 1 visits today)