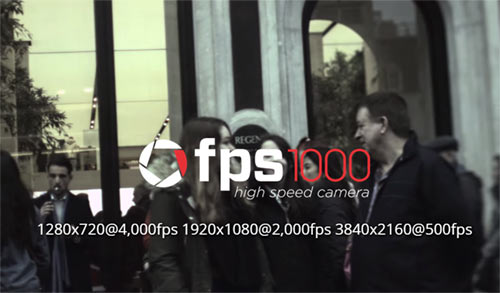 Warning: The parent company of FPS cameras "The Slow Motion Camera Company Ltd." went out of business and entered liquidation proceedings. No further development of cameras is expected. More information here on Google Search! 
The fps4000 is starting production of 1080p units with 4k cameras following closely behind. The Slow Motion Camera Company Ltd. has launched a new website today with specs, pricing and an easy order page which will let you finally be in the order queue for an fps1000, fps2000 and fps4000 camera.  Website here: https://www.slomocamco.com
We are expecting an fps4000 camera for our lab sometime in the 1st quarter of the year which will let us put it through its paces.   The cameras aim to change the way you record slow-motion footage by allowing up to 2 minutes continuous recording in camera solid state memory which can free up DPs from the typical few seconds in slow motion cameras. This, in theory, allows recording an entire production in slow motion which can be ramped in speed slow or faster if needed.
The cameras range in price from £1,900 British Pounds "About $2,657 USD" for an fps1000  that records 1000fps at 720p in a 2/3″ sensor and 256GB of Solid-state Memory for up to two minutes recording, to a £5,000 British Pound or about $7000USD" monster memory camera with 1,600 GB 1.6TB Solid State beast that can record at 3840*2160 4k UHD resolution at 500fps for over 2 minutes on a 4/3″ larger sensor, with a micro 4/3 mount which is very adaptable to a variety of lens mounts.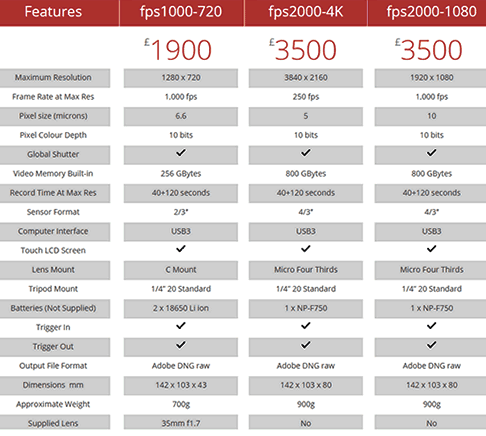 There are intermediate versions of the cameras with reduced pricing and reduced frame rates so the platform caters to all sorts of buyers based on their fps speed needs.   The higher the speed you need the more memory it requires which is the way the solid-state recording system in these cameras work.
There is still no information on windowed frame rates and which resolutions are supported as they drop the frame area but Graham Rowan the company founder told us that this information will be available soon after further testing on production units. Expect the cameras to reach in the 10ths of thousands of frames/sec at reduced resolutions depending on the sensor used.
fps4000 Showreel Jan 2018 by Graham Rowan fps:
If the fps4000 4k camera at 500fps performs as expected while recording in RAW DNG format, then cameras like the Vision Research Phantom 4k which at 1,000fps 4k or double the frame rate of the fps4000, will find new competition with a price that is less than 1/10th that of their flagship camera.  That Phantom camera has a larger sensor and impressive image quality so it will be a matter of testing to see where the fps4000 falls in the spectrum of price/performance.
More information on the fps range of cameras and ordering information at: https://www.slomocamco.com
 Disclaimer: We are not affiliated with any camera company and do not receive compensation in any form. We remain an independent website with equal opportunity for all gear makers.  If you purchase gear from any manufacturer we cover it is your sole decision and HSC is not liable for delivering, troubleshooting or honoring the warranty on your order.
(Visited 5,893 times, 1 visits today)