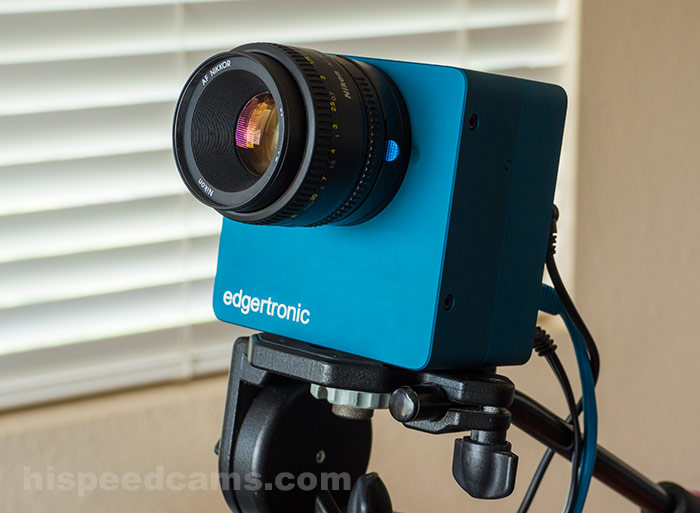 The edgertronic professional affordable high speed camera continues to evolve and the latest 2.1.6 software release adds a few pretty cool features and a few small bug fixes to the line.  The update will be beneficial to all previous and new owners of the camera at no extra cost as it has been in the past. The camera also maintains the #1 spot in our HSC Camera Guide for price/performance.
We would also like to point out that the edgertronic has shipped it's 540th high speed camera to date and it is a remarkable feat considering the expected low volume of sales of high speed imaging cameras. Congratulations to the Sanstreak team and Mike Matter for reaching this impressive milestone.
Improvements over software release version 2.1:
Added Force Monochrome for color cameras
Added preferences tab in setting modal and removed Advanced Settings button. EDR and force monochrome settings are in the preferences tab.
Save and restore user setting when updating software after camera is updated to 2.1.6.
Fixed a calibration defect that occurs with some video capture settings when sub-sample is enabled.
Added support for setting the camera clock using NTP Network Time Protocol.
Added support for triggering a set of cameras using Multicast Network Trigger.
Fix defect that sometimes shows up when taking lots of videos without power cycling.
Internal manufacturing test calibration procedures.
Fix Smart Calibrate related defect.
Change the default for Smart Calibrate to enabled.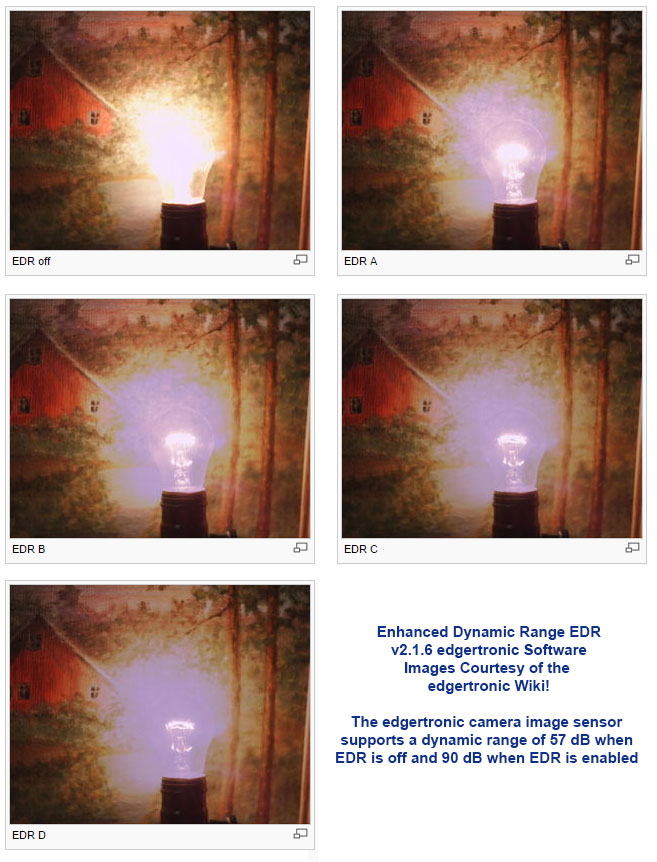 As you can see in the above image the camera is able to expose a light bulb filament without obliterating the background exposure. The already good 57dB Dynamic range or about 11 stops of the edgertronic camera is expanded to 90dB or 15 stops with EDR Mode.    All is not a free lunch as for the edgertronic color cameras you will get a purplish hue which will not be color accurate.  However the camera has another feature as a simple fix to get that hue out and that is Force Monochrome which gets rid of the purple hue and also moire color artifacts which could appear from time to time in color images with fine detail.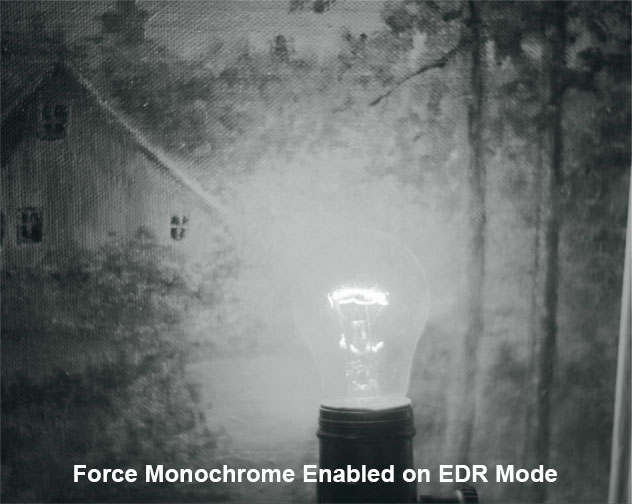 You will loose color but you will get 1/3rd apparent resolution increase by forcing monochrome on a color camera as it is not softened by the Bayer pattern as much.  If resolution and best performance is what you are after however;  then the monochrome edgertronic with it's 2 stop sensitivity advantage over the color camera is the camera for you.  Many users don't care much about color especially scientists or industrial manufacturing, so loosing color is of no real consequence.
For scientists the EDR mode is a fantastic new feature which will let them perform experiments with much more brightness than before like molten metals for example.  For everyone else it is a cool feature to try in your workflow.  Be advised that EDR is turned off by default and it is not ideal in all circumstances.  It will be a matter of planing your shots to extract it's usefulness and get the best possible image using the feature.
As to how they achieve the EDR it is a secret sauce between hardware and software in the camera that plays with the two knee exposure values of the image sensor capture and produces an image that is not blown out.   More In depth info on EDR here!
In order to update your camera follow the instructions at:
http://wiki.edgertronic.com/index.php/Software_releases
More info and purchase options for the edgertronic camera at:http://edgertronic.com/
HSC Reviews the edgertronic here!
Cool edgertronic scientific videos by: Peter MacDonald
(Visited 738 times, 1 visits today)