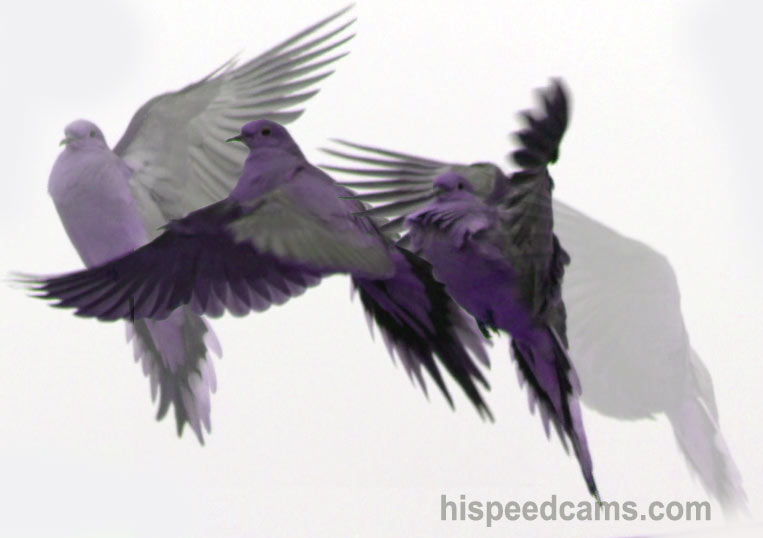 There has been a lot of work put it developing software that can interpolate frames for video editing and compositing applications. Twixtor in the late 90's was perhaps the first time the technology could make something worthwhile and really produce acceptable results in a computationally acceptable timeframe.
Today the most used algorithm is Adobe's Optical Flow in Premiere or Time Warp in After Effects which use vector directional plus acceleration of pixel values to derive in between frame data to generate new frame information from the preceding frame as point A and the next frame as point B.  The results can do some wonders to really slow down things above the frame rate ceiling of the camera.
Pros of Software Slow Motion:
You will get slower footage from any frame rate.
You can save from buying or renting a high-speed camera.
Very inexpensive, already bundled on many editing applications.
Free to experiment without re-shooting.
The audience may not see the difference between this and the real thing.
Can extend a shot to fit an edit better or extend real slow motion above and beyond what is possible in camera.
Results achieved can be good to great.
Cons of Software Slow Motion:
Frame information derived from interpolation is not producing a real event. Not scientifically usable or of value in the lab.
Artifacts will be created that may deform the image in unforeseen ways. Can make footage look weird or unusable at certain speeds.
Works better on footage with simple backgrounds i.e. Blue Sy, Single color Background or black/white backdrops.
You may need to shoot at 60fps or above to get better results.
Computation/rendering can take a long time, especially in 4k.
No substitute for shooting real high frame rates.
Results may be terrible or bad depending on subject matter, initial frame rate or shot composition.
How to FAKE Slow Motion with ANY camera!! by Peter McKinnon:
In the video above you can see a good rundown of the Optical Flow feature in Premiere Pro from Adobe software.  You may get excellent results if you can tame the urge to go overboard and go for the slowest frame rate possible.
Our Take:
We at HSC are no fans of Optical Flow, Twixtor or similar algorithms because what makes real slow motion shine is peering into time frames that are too fast for regular cameras to see. Interpolation the dreaded "i" word in high-speed imaging circles is simply making up information that is not captured in the first place.  In order to study a real physical event, you need true slow motion, that only high-speed cameras can achieve. There is no substitute for hardware dedicated to recording microsecond events.
Scientific labs, industrial manufacturing lines, car crash testing, nature phenomena, biological study of the animal world, fluid dynamics, electricity propagation, engineering tests, sports analysis, material failure and many more fields cannot be studied with frame interpolation. You need a real high-speed camera for these markets.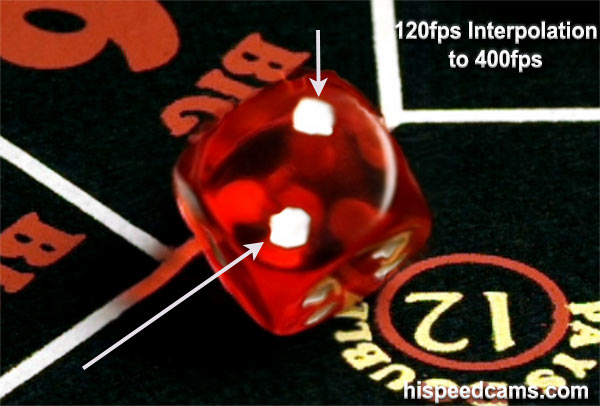 That doesn't mean the technique is useless. The real power of the interpolation can be used on slow motion shots that are already captured at frame rates above 500fps for example.  Interpolation then can create a breathtaking result for video editors and artists that can translate to derived frame rates in the thousands of apparent frames with little distortion. For example, a video shot at 1000fps can be easily transformed to a 5000fps video with interpolation while maintaining most of the apparent esthetics with minimal artifacts.  Human motion, nature, simple backgrounds, animation and other footage can make high-speed footage shine even more.
Interpolation has been used in Hollywood within movies for decades by shooting high-speed first and then interpolating the result for even slower frame rates.  As an artistic result, we can definitely recommend interpolation software if your initial frame rate is already high-speed, to begin with.  We suggest a bare minimum of 120fps to start experimenting further. The sweet spot is 480fps to get that push up to 1500fps without much artifacting.
Ghosting and morphing artifacts will still be there no matter what but will be harder to spot if your initial capture frame rate is high. In our tests, recording at 1000fps can yield 2000fps nearly artifact free and up to 5000fps without extreme distortion. The information in between will not be real or new in any way but the artistic result with ramping in an editing suite can create impressive results.
Applications that Support Optical Flow or Interpolation:
Final Word:
If you can afford to buy or rent a slow motion capable camera, then, by all means, do so. If you can't and just want to experiment with slowing down your normal frame rate footage then using software interpolation might be a good way to get your feet wet in the high speed video realm.
If you are a scientist, educator, engineer, manufacturer or naturalist there is really no substitute for a real high-speed camera. Get a budget going and check our HSC Camera Guide for a good price/performance list of options. If you need real data to discover, troubleshoot and wonder at time scales that your eye can only dream of; interpolation has no value to you.
If you are a video artist, VLoger, Youtube poster, sports enthusiast or experimenter then there is definitely some experimentation that may work for you regarding optical flow video interpolation techniques.
There is still some value for high-speed camera footage with added interpolation as it can fit an edit better or create a derivative version that allows the viewer more time to examine motion. It will not be scientifically accurate but it can create some pretty amazing results if you are a filmmaker or artist that needs a higher frame rate look than the high-speed camera you used was capable of.
In the end, use sparingly and know the limitations of software video interpolation. -HSC  Comment below we would like to know how you use interpolation!
Frame Interpolation with Optical Flow and Twixtor Videos for further Study Below:
Optical Flow tips in Premiere Pro CC 2015.1 by dhelmly:
twixtor slow motion experiment. (is Twixtor really perfect plug-in to make super slow??) by 城田道義:
GET SUPER SLOWMOTION IN PREMIERE PRO by Ignace Aleya:
On 3D Animation: Amazing Slow Motion Videos With Optical Flow | Two Minute Papers #119 byTwo Minute Papers
TWIXTOR: Tips and Tricks by Bobby Sunner:
After Effects Tutorial #1 | How To Use Twixtor by IiroMikola:
Twixtor Tutorial: Create Super Slow Motion in After Effects by SonduckFilm:
Twixtor Workflow – 24P to Slow Mo (4K Sony A7s footage + LUT) by Neumannfilms:
Final CUT Pro X -Smooth Slow Motion Tutorial (How to use Optical FLOW) by HondadashRC FILMS:
(Visited 6,394 times, 1 visits today)