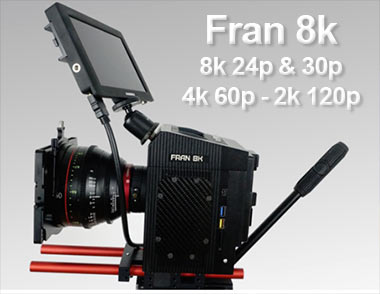 The Spanish company Cinemartin known for their camera monitors is now officially launching the Fran 8k line of cameras in three flavors. The Fran 8k LT at an introductory price of €7,920 Euros or $9,000 USD which shoots 8k at 24p and up to 96fps in 2k resolution in either DNG RAW, PNG or ProRes while sporting a 37 mm x 27 mm (Diagonal 46.2 mm) sensor size slightly larger than a Full Frame 35mm. The LT version will not sport features like Programmability and image stabilization which the other higher cost models will support.
The cameras are built to order and require a 10% deposit when reserved. They are geared at the commercial and cinema markets which require the utmost image quality and 8k resolution on a very large sensor. The frame rates at 4k max out at 60p and at 2k max out at 120fps on the two higher-end models.  The introductory prices will only be available until 31st of December 2018. looking at the video samples released it is clear the quality of the image will be cinematic and contain extreme detail. The file sizes will also be enormous but that is to be expected with a frame size of 7920px * 3024px or 24Megapixels on the LT and 47MP on the Plus!
Fran 8k Camera Makes its Debut!
We have been following the evolution of the Fran 8k for a few months and it seems to be a very solid product technically.  It gives you RAW DNG or ProRes files at 8k resolution to a super fast M2 SSD modules for extreme resolution capture. It is clear the camera is a filmmaking beast and will not be geared for the consumer crowd. Cinemartin aims the camera at professionals that can manage the workflow and have a need for this type of quality.
Fran 8K, Introduction to world highest resolution camcorder by Alejandro Martin:
The Intro video above shows a bit of what the camera is capable of.  The Youtube audience has already commented on how comical the video is at first glance but the product is a real camera at a very affordable price much like what the Kinefinity Chinese cameras have been able to offer. It is always good to get more competitors in the cinema camera field to force prices down and to the benefit of consumers, innovate to the fullest potential.
Alex Martin at Cinemartin has realized a long awaited vision in the Fran 8k camera, it may be just the camera you were waiting for and surely be competing with the likes of RED, ARRI, Kinefinity, Panasonic, Canon, and Sony for your cinema camera Euros or Dollars. We hope to have a 96fps and 120fps video sample of the Fran 8k camera in the near future to share. -HSC
Video Samples Here: (Note: Extremely Large Files Several GB)
8K 50 MP 4:3 – Birds (download in prores)
8K 24 MP 2.6:1 Ferrari Girlfriends 1(download in prores)
8K 24 MP 2.6:1 Ferrari Girlfriends 2(download in prores)
8K 24 MP 2.6:1 Night shoot 1(download in prores)
8K 24 MP 2.6:1 Introduction(download in prores)
You can Pre-order and or get more information at the official website for the Fran 8k camera here: http://www.fran8k.com/order/
Frank 8k Camera Full Press Release:
Barcelona, November 2018 – Press Release.


Hello , Fran 8K camera now comes in three models, ready to order, pricing starts at 7920€ 
Fran 8K camera is now available in three models, Fran LT, Fran (STD) and Fran Plus, all models recording at 8K.

Cinemartin, the team who developed the first Prores & H.265 Encoder for Windows back in 2012, the first 7inch true full HD monitor at 2 digit price (99€), a NVIDIA Realtime HEVC Plugin encoder as well as Plugins for Major NLE editor and Post Effect applications, now, again, is push enough to flip the market, wth the inmediate release of the most acclaimed 8K Global Shutter camera, Fran 8K, now available in 3 models, starting at a price of 7.920 €. 


  A Large Format, Global Shutter, 8K, RAW camera, recording onto removable m.2 NVME SSD drives

No matter if you drive a Ferrari, travel in a taxi Mercedes Benz, enjoy a motorbike, or go walking, now you can afford a true 8K workflow, in all steps, from the camera, to TV. Check on the specs of Fran 8K cameras, to see which model fits in your needs. 
FRAN LT
FRAN (STD)
FRAN PLUS
Maximum resolution
8K 24 MP
8K 32 MP
8K 47.7 MP
7920 * 3024
7920 * 4096
7920 * 6024
Framerates
8K 24p
6K 30p
4K 48p
2K 96p
8K 30p
6K 48p
4K 96p
2K 120p
8K 30p
6K 48p
4K 96p
2K 120p
Global Shutter
YES
YES
YES
Large Format
YES
YES
YES
Removable Lens Mount
NO
YES
YES
EF Mount
YES
YES
YES
PL Mount
NO
2019
2019
Uncompressed RAW
NO
YES
YES
Compressed RAW
YES
YES
YES

Output frame formats

DNG, PNG
DIB, DNG, PNG
DIB, DNG, PNG
Post Soft Output
Prores

Prores, Cineform

Prores, Cineform

HDMI out
YES
YES
YES
Thunderbolt 3 port
NO
YES
YES
Stabilization
NO
YES
YES
Programmable
NO
NO
YES
Modulable
NO
YES
YES
Chasis
Aluminum
Alu & Fiber
Fiber Carbon
RETAIL PRICE
11.995€
17.790€
25.670€
INTRO PRICE
7.920€
14.995€
19.995€
RESERVE
10%
10%
10%
AVAILABILITY
3 – 4 M.
1 – 2 M.
2 – 3 M.
All models share same chassis, and power consumption. 
Fran does not heavily use compression. Any computer from this decade, with a decent GPU, works in order to process and display the 8K generated frames. All models comes with a debayer software, that gives sequence frames ready to import on major NLE.
Introductory video (watch on youtube here) (download in prores here):
Download sample footage from:
8K 50 MP 4:3 – Birds (download in prores)
8K 24 MP 2.6:1 Ferrari Girlfriends 1(download in prores)
8K 24 MP 2.6:1 Ferrari Girlfriends 2(download in prores)
8K 24 MP 2.6:1 Night shoot 1(download in prores)
8K 24 MP 2.6:1 Introduction(download in prores)
Photo credits to Guillemo Castelloví

Cinemartin will start shipping as well the new line of Ultra High Brightness 2500 NIT 7″ HDMI + SDI monitors by the end of November 

(Visited 661 times, 1 visits today)