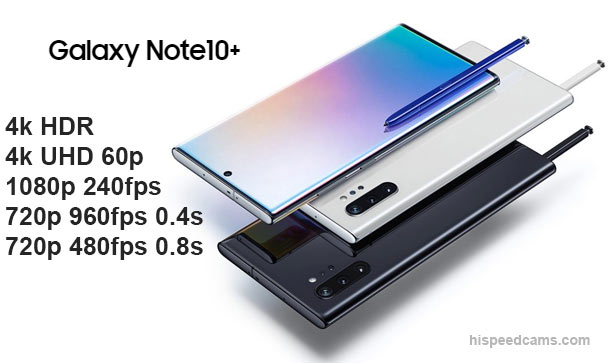 The Galaxy Note 10 is Samsung's most expensive flagship phone yet and as it should be it is also the most capable. We recently saw some slow motion samples that we wanted to share and why this phone is the best quality slow motion a Samsung phone has ever been able to produce.  Sure the quality difference between the Note 10 and the Galaxy S10 is very small but it is there. We see less moire and aliasing than on the S10 and the detail retained is also better.
We were disappointed at first that 720p was still the top resolution for slow motion. But the only 1080p phone alternative the Sony Xperia Series like the Xperia One is only recording 0.1 seconds of slow motion at 960fps 1080p which is next to useless. Furthermore, the supposed 1080p quality looks just a tad better than the Samsung which is not particularly high quality either.
Galaxy Note 10 Slow Motion Initial Samples:
Samsung Galaxy Note 10+: camera demo (HD 720p, super slow motion 960 FPS) by SMARTmania.cz – nahraná videa:
Samsung Galaxy Note 10+ Slow Motion Test 4k! by Rana Shahriyar:
One More video Showing Regular Video Capture:
Galaxy Note 10 Plus: Cinematic Camera Test | Animal Kingdom by Jonathan Casey:
The last video is a good contrast to the lower resolution slow motion video modes on the Galaxy Note 10.  You can see how good the video quality is by the full sensor sample in 4k. The Dynamic range and color are probably some of the best we have seen in any phone yet. It is really amazing how good phones can be compared to dedicated larger sensor cameras in good light.
Sure the Galaxy Note 10 will not win any prizes for quality slow motion video compared to cameras like the Sony RX Series, or more professional options like the ones on our HSC Camera Guide.  However, it is clear that Samsung has been improving the quality in codec, color, detail, and sharpness as the new iterations of phones are released.  The price of the Note 10 at around $1,000 USD is very high compared to the record time at 960fps which is 0.4 seconds or 0.8 seconds at 480fps. We would like to see Samsung get better recording time and maybe now offer true 720p or true 1080p resolution instead of the typical line loss seen in these modes. It is clear the phones are not ready yet to capture full pixel read-outs at these resolutions and frame rates.
[Hands-On] The Galaxy Note10: Built-in Video Editor by Samsung:
The first phone that can conquer 1080p at 1000fps or 960fps for a second or more without having resolution and compression issues, it will really be a milestone in high speed imaging and what could only be purchased a decade ago for over $50k USD.
As speed and capabilities increase we also expect to see 4k at 120fps start showing up in new phones in the next two years as 6k and 8k video make inroads in the phone market.  That could, in theory, allow 1080p video at 1000fps for one or more seconds on a handset. Thanks for your visit -HSC
(Visited 1,250 times, 1 visits today)