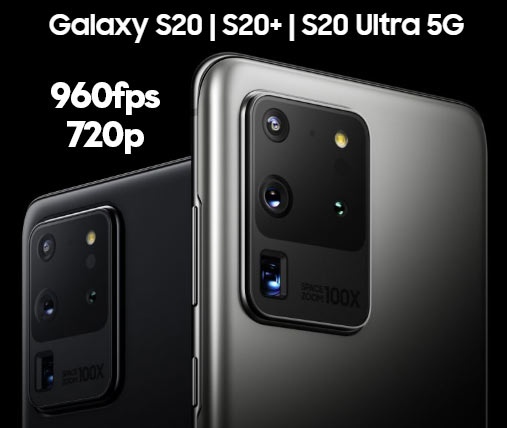 The recently announced Galaxy S20 phone line has been making some waves with impressive specs especially related to the camera modules.  As always we are only interested here in the high speed video specs here at HSC "not even the new 8k video spec" and the new phones are an improvement over the S10 and Note 10 lines.  However, it is important to note that not all S20s will share the same slow motion specs and that is what this post is about.
You may think that the S20 Ultra 5G will be the easy choice here but it is hardly as straight forward as that.  The amount of technology packed in the Ultra phone along with four camera modules and one of them at over 100MP means they prioritized photo resolution over video shooting in their sensor selection. The Ultra will not natively support the 960fps spec but default to only 480fps.
Galaxy S20 Slow Motion Specs:
We go directly to Samsung's take from this information provided in the official website:
So to break it down:
Galaxy S20 5G – 960fps 720p with 1 second recording time.
Galaxy S20+ 5G – 960fps 720p with 1 second recording time.
Galaxy S20 Ultra 5G – 480fps 720p with 1 second recording time then it can be interpolated to 960fps 720p for 2x the frame rate.
The good news is we gain recording time from the earlier generation of 0.4 seconds to 1 full second or close to it "We will have to see when the phone ships". That is a lot to like.  There is however no mention of the quality of the video and if it is improved with less pixelation and aliasing.
S20 Ultra 5G Samples?
The following samples by MKP Captain are not authenticated by HSC but seem to be real, in any case, do not bank on the quality shown here until more samples are available.
Samsung Galaxy S20 Ultra Slow Motion by MKP Captain:
Samsung Galaxy S20 Slow Motion 2 by MKP Captain:
If the videos above are real then we have seen a mild improvement in slow motion quality but remember that this is the Ultra phone on the top which is shooting at 720p 480fps and not at 960fps even when there is interpolation happening, the frames are half made by the processing unit and not captured live.   At HSC we are no fans of interpolation so we can safely avoid the S20 Ultra 5G as a slow motion contender unless you are fine with 480p.
The second video is of the regular S20 which shows no interpolation artifacts but the quality still leaves a lot to be desired. Samsung seems to have added time recording but hardly improved the quality from earlier phones that offered 960p.
Samsung Galaxy S20 Plus Slow Motion by MKP Captain:
Looking at the last video, we see that the quality is essentially the same as the Galaxy S10 and Note 10 with of course the added time recording of 1 second vs the 0.4 seconds offered before.
Samsung's Galaxy S20 And Galaxy Z Flip Event In 7 Minutes by Tech Insider:
What about the Z Flip?
Yes the bending Galaxy Z Flip phone seems to shoot 960fps slow motion as well. According to specs at GSM Arena here:
MAIN CAMERA
Dual
12 MP, f/1.8, 27mm (wide), 1/2.55″, 1.4µm, Dual Pixel PDAF, OIS
12 MP, f/2.2, 12mm (ultrawide), 1.12µm
Features
LED flash, HDR, panorama
Video
2160p@30/60fps,

1

080p@60/240fps

,

720p@960fps

, HDR10+
(Visited 2,822 times, 1 visits today)