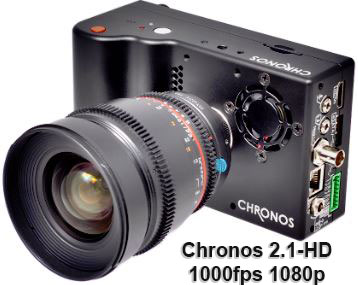 The team at Krontech.ca has been shipping the first units of the Chronos 2.1-HD 4/3″ Sensor high-speed camera to their customers and in turn, footage has started to become available online showing what this new super affordable 1080p slow-mo cam can do.  We will be reviewing a unit in the future once the firmware is more polished and will give it a good spin to finally rank it in our camera guide.
At first glance, we have a very positive reaction to the footage shown. The noise control and per-pixel detail are excellent and a clear cut above what the much smaller 2/3″ sensor on the Chronos 1.4c was able to deliver.   Larger sensors are a must for high-speed cameras to make use of more available light locations.   We have gathered some excellent video examples that will let you have a pretty good idea of what you can shoot and at what quality level with this camera.
Chronos 2.1 HD Main Specs:
1080p, 4/3" format image sensor
2.1 gigapixels per second
1000fps @ 1080p
up to 24 046fps at
lower resolutions
8GB, 16GB and 32GB high-speed RAM buffer options for 2.7, 5.5 and 11.0 second record time respectively.
High sensitivity base ISO of 500 (Color) and 1000 (Monochrome) enables shooting with modest lighting.
l battery lasts for 1 hour of recording
Runs indefinitely on AC adapter or external power source
Many lenses supported: Nikon F, Canon EF and C mounts available as field-swappable options
Starting at USD $5,000.00
Resolution and Frame Rate Table as of February 2020 (Could differ in future firmware):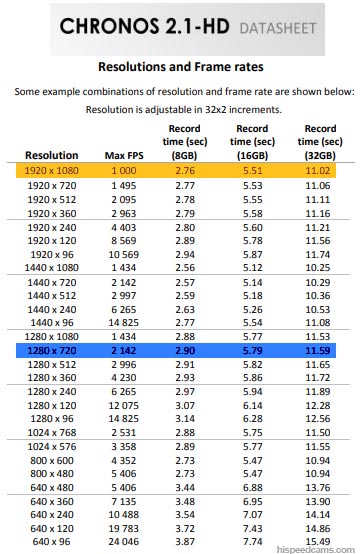 There is also a new monthly newsletter on the Krontech website so you are up to date with the news on these cameras. https://www.krontech.ca/chronos-newsletter/
Cronos HD 2.1 First footage samples:
A few notes before you look at these video samples: These are early beta firmware samples which means that the quality will probably improve from here in several aspects. The most obvious will be the vertical column banding artifact that can show up on higher frame rates and less than ideal lighting conditions.   We also see room for improvement in the color-science especially in reds and maybe some highlight tweaking.
However, at first glance, they look really good and a clear improvement from the earlier product from Krontech.ca the Chronos 1.4c.  This camera can now go head to head with much more expensive competitors as the image quality has increased greatly. Enjoy the samples!
Water Drop Slow Motion by Laurent NICOLET:
Chronos 2.1 HD Initial test at 1000fps 2142fps 3385fps 5406fps by Scott Aichner:
TEST Chronos 2.1 by WeTravelTogether:
Chronos 2.1 with Hive Hornet 200cx lights by Colin Page:
Chronos 2 1 Blue Skimmer landings 2000fps by Colin Page:
An antique1950's flash bulb shine lasty by 1911 DIN:
Chronos 2.1 Baby Jacky Dragon by Colin Page:
Chronos 2.1 with Lemon Banded Bee (maybe?) by  Colin Page:
Slow Motion Liquid Gallium (5406 FPS) by Moonspine:
Vacuuming sawdust – Chronos 2.1-HD Demo by Chronos Cameras:
Opening Pad Locks with High Explosives | Easier than Lock Picking? by Beyond the press:
Chronos 2.1 Gain Comparison by Colin Page:
There you have it, impressive samples and a really good omen for the future of the Krontech brand. The 2.1HD starts at just $5k US and delivers performance similar to what a 150k-250k USD camera used to be able to do in 2009.
There is a lot of software work that is happening behind the scenes to get the platform a big update in the interface/usability department for the Chronos 1.4c and the Chonos 2.1-HD which will make it easier to find its way into higher-end productions.
For more information about the Chronos 2.1 HD and or Chronos 1.4c cameras please follow this link https://www.krontech.ca/ and use "HISPEEDCAMS5" coupon code for a possible 5% discount, single use per new customer!
Visit us often for more information on the Chronos 2.1 HD and other high-speed cameras! -HSC
(Visited 1,034 times, 1 visits today)