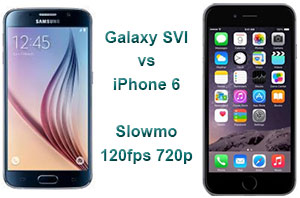 We have been getting quite a few messages with the question of what slow motion smart phone to get.  The already proven iPhone 6 vs the up and coming Galaxy S6 especially the edge.
Some reviewers have already had a go at it to compare the slow motion mode in both phones.  Video by TechBuzz Below:
Clearly the iPhone 6 is the clear winner in the above video; but it is too early to rank it on our guide without more samples.   On the one hand it has a higher MP sensor which should in theory produce more noise and less dynamic range, however the sensor is more advanced. On the other the Galaxy S6 Optical image stabilization is much more advanced that the one on the iPhone 6 see the next video by Phandroid:
If image stabilization is important to you then this is a pretty big deal when it comes to video capture, it is by far the best stabilization in the current phone crop and it will be a good benchmark going forward.
Regarding slow motion the iPhone 6 does have a 240fps 720p mode that is useful but very compressed as the data rate drops dramatically compared to the regular video modes.  In low light the slow motion is also pretty low quality.   If you don't absolutely need the 240fps then the Galaxy S6 is a good alternative phone.  Since we still have yet to see any Mediatek 480fps phones ship with the touted feature it is clear the the iPhone is still eh king of phone slow motion video. That will not last long but it's admirable.
iPhone 6 vs Galaxy S6 Slow motion by Newsgeek.it:
In the end we believe that it will come down to what system you use, if all your life is on Android then the Galaxy S6 is a perfect upgrade, however is iOS is your system of choice then the iPhone 6 or 6 Plus are the only real alternatives.  We caution that slow motion in phones will heat up very soon so if you can wait it out, do so!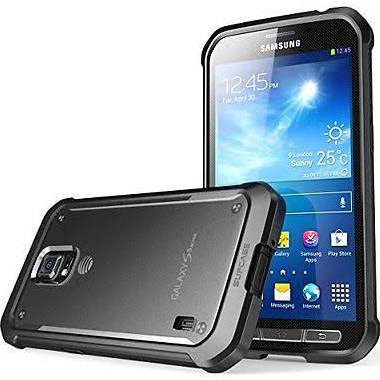 The Galaxy S5 Active pictured above could soon get an upgrade with the Galaxy S6 Active which will feature all of the regular S6 features but with water resistance and a few extra goodies. Full rumor at GSM Arena. Follow this link!
 Rumored specs:
Exynos 7420 SoC
3GB of RAM
32GB of storage
16MP rear camera
5MP front selfie camera
3,500 mAh Battery (Massive Upgrade)
Weather Resistant and Water Submersible
Slightly larger dimensions than S6
Should have at least 120fps at 720p like Standard S6
AT&T Availability.
If you need waterproof slow motion in a phone, it looks like the Galaxy S6 Active shipping later this year might be what you are looking for. The massive battery upgrade will probably be a huge selling point.  Forget about curved screen edges like the S6 Edge, the rugged phone will do without them.
Galaxy S5 Active review by Pocketnow:
Lots of competition will appear this year, stay tuned!
(Visited 5,585 times, 1 visits today)