The previously rumored HTC A55 will now launch in China late March or early next month as the HTC One E9  if rumors are correct. The specs are as follows:
Quad HD (1440 x 2560 pixels) display
5.5 inches
MediaTek  64-bit, octa-core MT6795 @  2.0 GHz.
Fauture not confirmed (480fps 1080p capable MT6795 chip)
Android 5.0 Lollipop
Sense 7.0 UI
BoomSound speakers
20 MP rear camera,
4 MP UltraPixel front-facing camera (13 MP, on some variants)
3 GB of RAM
32 GB of internal memory
Three color versions: white rose gold, metallic gray, and brown gold are rumored to be available.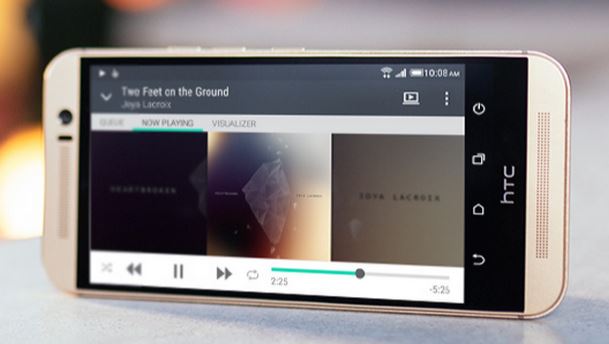 The phone will look a lot like the HTC One M9 shown above; but the specs will be quite different inside, especially the cpu.  It is unclear if they will incorporate the 480fps feature on the Mediatek MT6795 with a 20MP Sony sensor.   However the phone will also have a hard time getting to the US or Europe as the leak or rumor suggests a Chinese and Asia only release.  If it does do 480fps it will have to be an imported phone with ideally an english and other language pack.  Android Lollipop should be able to use all of the languages at launch.    We hope dealers get the phone available on eBay and other online outlets some time after launch.
End of March or April will be when this phone finally shows it's specs. We'll be informing when we get word!
In the meantime look at these new videos from MWC 2015 showing off Mediatek Super Slow Motion 480fps!
Interview Video with Mediatek Repa t MWC Barcelona 2015:
Mediatek Shows off reference designs doing Super Slow Motion 480fps. Italian Language- New footage by Toms Hardware Italy:
The quality of the super slow motion on the Tom's hardware video looks astonishing. It will be a matter of analyzing it in the monitor to judge final quality but it is exciting to see such performance from a portable device!
Stay tuned for more info soon at HSC!
(Visited 1,954 times, 1 visits today)