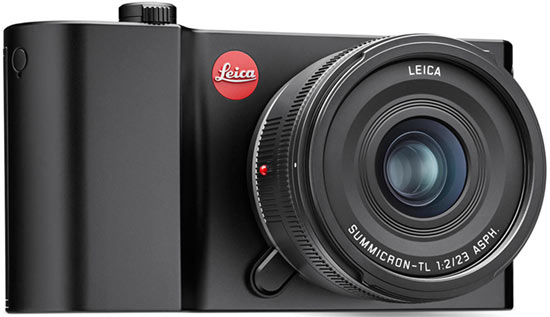 Leica has announced the TL2. It is an APS-C camera with a milti-touch capable LCD screen, 4k video at 30fps and interfaces like USB 3 and HDMI for monitoring or playback to TV.  It caught our interest because it also offers 1080p 60fps and 1280 * 720p HD at 120fps which is a real slow motion spec.
The camera is spartan but in the Leica Style, elegant and sharp. It is built to use Leica L Mount lenses but can also use the enormous array of Leica glass out there in the M and R mounts using optional adapters. As to why you would buy a $1,950 Leica pocket camera and then attach a lens that is as expensive or several times the cost of the TL2 for a less than ideal combination, is left for further discussion. However, if you are a Leica M owner with the craving of a smaller body; the TL2 may just fit your needs.
Leica TL2 Slow Motion & Main Specs:
| | |
| --- | --- |
| Sensor | APS-C sized CMOS sensor (23.6 x 15.7 mm) with 24.96/24.32 million pixels (total/effective), aspect ratio 3:2 |
| | |
| --- | --- |
| Compatible lenses | Lenses with Leica L-Mount, Leica M/R lenses using the Leica M-Adapter L/R-Adapter L |
| | |
| --- | --- |
| Lens mount | Leica L bayonet with contact strip for communication between lens and camera |
| | |
| --- | --- |
| Video resolution/frame rate | 3840 x 2160 p (4K) 30fps, 1920 x 1080 p (FHD) 60 fps or 1280 x 720 p (HD) fps or 1280 x 720 p (HD) 120 fps (SLOMO) |
| | |
| --- | --- |
| Video recording time | Depending on ambient or housing temperature video recordings are possible up to a maximum length of 29 minutes, maximum file size is 4 GB, if a recording exceeds this limit, the respective part is automatically stored in another file |
| | |
| --- | --- |
| Photo Resolution | DNG: 6016 x 4014 Pixels (24 Megapixels), JPEG: optional 6000 x 4000 Pixels (24 Megapixels), or 4272 x 2856 Pixels (12 Megapixels), or 3024 x 2016 Pixels (6 Megapixels) |
| | |
| --- | --- |
| Interfaces | Micro (type D) HDMI port, HDMI 1.4b standard is supported, USB type C port, USB 3.0 Super Speed standard is supported, battery charging via USB connection possible with max. 1 A, accessory shoe with Leica flash interface with integrated connection for optional accessories |
Leica TL2 – User-Friendly Interface:
Unparalleled beauty – The Leica TL2:
As you can see the Leica TL2 touch interface is almost smartphone like. Some will point that it is a bit too reliant on the 3.7″ touch screen interface without much real button control but that is the whole point of the TL2 camera. It is a very responsive, fast and premium experience with very good image quality.  The optional video live finder can be oriented up a la medium format style which is nice in its own right.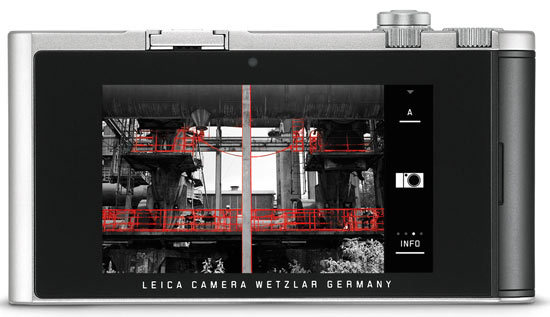 Leica TL2 Hands-On Field Test Review: Two Months Around the World with Thorsten Overgaard by Magic Of Light:
The camera will not have the huge depth of features expected by video professionals but it does justice with very good image quality. You can also estimate the video continuous AF is behind the times compared to rivals Sony, Panasonic, and Canon but it is not really a competition.
Leica is a lifestyle fashion brand with excellent image quality and very high prices. These are cameras that appeal to the photographer who wants a clean shooting experience with dependability and excellent glass compatibility with over 80 years of Leica Lenses and image quality. It could very well be the Leica that really makes the brand more main stream with the TL2 but at about $4000 for a standard shooting experience with a single lens and EVF it is sure to remain a niche line.   German made and with a long pedigree of picture quality, it is built for the Leica owner/fan and not the mirrorless budget enthusiast.
Since the camera is still not out for deep testing there are no dependable 4k or 120fps slow-mo samples to speak of at this moment but we expect all the video modes to do a fair job without many artifacts or codec issues.
The New Leica TL2. In Hand, 1st Look and Thoughts! HUFF, July 2017 by Steve Huff:
Once the Leica TL2 has been out and slow motion samples start to trickle in, we will re-visit it and see what the image quality is like. In the mean time you can go drool at it's beauty & also balk at the pricing here! -HSC
You can read more about the Leica TLT at the official Leica site here: https://us.leica-camera.com/Photography/Leica-TL/Leica-TL2/Details
(Visited 504 times, 1 visits today)