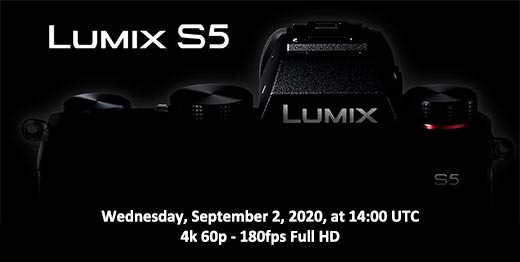 The Lumix GH5 is still one of the best video powerhouse cameras ever produced. It doesn't overheat, it shoots incredible 4k oversampled video at up to 60fps 4k or 180fps 1080p with near Full HD quality but it's Achilles heel, the Micro 4/3ds sensor which is small and quite inferior in low light compared to Full Frame or even APS-C rivals.  The GH5s is the low light lower megapixel version with dual Gain senor which is actually very clean in low light and can go toe to toe with the best out there but has no IBIS which is a big loss.
Now Panasonic is set to announce the Lumix S5 Full frame mirrorless camera which essentially migrates most GH5 features into a full-frame body with nearly the same introductory price of $1998 USD but improves 4k 60p with 4:2:2 color at 10-bit instead of 4:2:0 8 bit on the GH5. You get IBIS, and also the 180fps Full HD of other S L-mount cameras by Panasonic.  It is still too early to tell what kind of quality the 1080p 180fps mode will be capable of but it does hold promise as the S1H and S1 do a pretty good job on these modes.
Lumix S5 Announcement Very Soon:
The camera will be unveiled Wednesday, September 2, 2020, at 14:00 UTC at the official Lumix site here: https://www.panasonic.com/global/consumer/lumix/s/s5.html
We also expect to see new low-cost L mount lenses for the system that will make the camera more appealing.  We just have to wait a few more days!
But what about the AF?
Yes, the dreaded DfD Depth from Defocus algorithm based on contrast detection is also present on this camera which means it will probably be inferior to systems that use dual pixel AF based on Phase and Contrast hybrid modes which are especially good for video. That means Sony and Canon will still have the upper hand here. Panasonic should keep DfD as an option but make cameras with Phase-detection AF pixels to be able to fully compete in this market. They are doing incredible hybrid still and video cameras with one feature missing, if they fixed the AF they would probably be the first choice of video professionals considering how good the cameras perform. Sadly Sony seems to be eating their lunch with the newly announced a7s Mark III with an AF system that rivals the best out there, in fact, it is so good that you can forget about focus pulling for most shots. The same cannot be said of the Lumix DfD AF contrast system.
We expect the 180fps Full HD Quality to be as good as the one in the S1H camera of the Lumix System. See this video to see the expected quality:
EPIC SLOW MOTION – Shot on Panasonic S1H 180fps by Manit Monsur:
Text from Nokishita rumors here!
LUMIX S5 full-frame mirrorless camera is designed especially for content creators. Latest advances in image resolution, image stabilization, and autofocus all in this compact camera that is the signature of LUMIX.
Experience extraordinary video recording in 4K 60p, 4:2:2 10-bit. It also offers a Full HD 180fps Slow Motion option as well as 4:3 Anamorphic support. This is what makes S5 perfect for use when taking still photos or as a vlog camera.L-rumors
With a 24.2MP 35mm full-frame CMOS sensor, the LUMIX S5 boasts a wide dynamic range and high sensitivity performance. The adopted Dual Native ISO technology enables the LUMIX S5 to record maximum ISO 51200 crystal-clear high sensitivity video. Dual Native ISO minimizes noise in high sensitivity. V-Log/V-Gamut compatibility offers a 14+ stop dynamic range to sensitivity. V-Log/V-Gamut compatibility offers a 14+ stop dynamic range to capture every detail.
The improved autofocus detects head as well as eyes, face, and body. The powerful Dual Image Stabilization with 5-axis enables a 6.5-stop slower shutter speed.
The compact nature of the S5 is one of the signature features of the LUMIX series. To make sure that your camera withstands tough field use, the S5 comes with a dust and splash resistant construction. Optimized heat dispersion ensures a stable, continuous video recording without interruption.
One of the expanded features of LUMIX S5 is the Live View Composite mode which instantly creates a stunning image out of several live shots; the shutter releases at designated intervals of exposure time to merge the bright parts into a single image. Useful for shooting fireworks or a starry sky.
Watch this video for some killer Insect Slow Motion:
While the Lumix S5 camera is announced early September, you can check In the meantime this amazing video of flying insects in Slow Motion by Ant Lab on Youtube filmed with a Phantom Miro Camera.  The best part about this video besides the amazing visuals is the excellent informed narration by Dr. Adrian Smith, someone who knows a lot about insects and can really explain the nuances of insect flight with a lot of contagious enthusiasm. The Ant Lab channel is fantastic and we recommend it wholeheartedly!
Insect Flight | Capturing Takeoff & Flying at 3,200 FPS by Ant Lab:
Thanks for reading and remember to check back for more news and reviews about slow motion gear. -HSC
(Visited 217 times, 1 visits today)