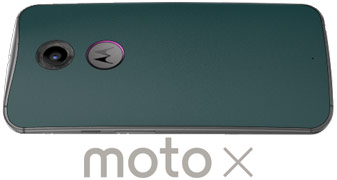 The rumor mill is heating up when it comes to the third generation Moto X phone from Motorola Mobility. The struggling company subset of the once mighty Motorola went from selling their mobile phone arm to Google in 2011; which then offloaded in 2014 to Chinese Lenovo best known as a PC manufacturer that took over the manufacturing and re branding of IBM Laptops.
The Moto X has been a popular phone but not one with class leading specs.  As it turns out the rumors still follow the mantra of being a follower in feature set rather than being innovators.  The phones haven't been stale hardware; far from it actually.  They are quality handsets that have enough features at a good price to compete with the likes of Samsung or Apple.
The Rumor suggests a marked improvement in the camera specs along with impressive new slow motion specs that show a continuous trend in mobile phone slow motion performance.
Rumored Moto X 3rd Gen Camera Specs:
4 GB of RAM
32/64 GB of internal storage
Main camera from Clear Pixel 16 MP with LED Flash and OIS
4k Recording at 30 fps
1080p Video at up to 120 fps slow motion
720p video at up to 240 fps slow motion
Front camera 5 MP
from 3280 mAh Battery
Android 5.1.1 Lollipop
The Phone ticks off most of the marks for performance and components for a middle to high end phone. The Moto X Spec sheet seems to have grown up to be competitive and leapfrog some of it's competitors. Still nothing firm about screen resolution or internal processing.  The OIS is great for stabilizing choppy footage but no details on whether it will be optical stabilization or electronic based.
The 1080p 120 would be a first for most Mobile phones and beats the current iPhone 6 and 6 Plus as the phones max out at 1080p 60fps.   We have yet to see the promised Mediatek Helios X10 powered phones that boost the 480fps spec at 1080p in mobile devices.  The Chips are already installed in phones like the HTC One M9+ however the slow motion spec has been left out.  What is the point of touting and developing an impressive hardware feature if no phones that sport the SoC will unleash it in their spec list?
The Moto X 3rd gen phone is expected sometime in the Fall 2015 time frame.
Moto X 2015 Rumored Specs by TechnoBuffalo:
(Visited 503 times, 1 visits today)