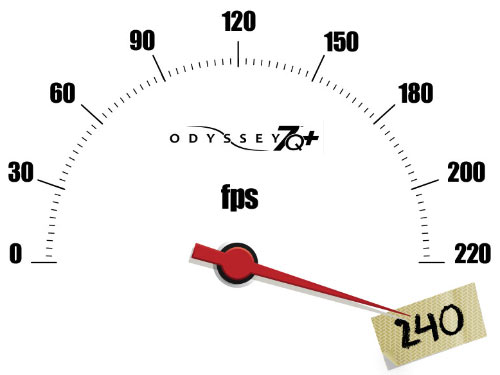 The Odyssey7Q+ by convergent design has always been able to record faster than normal frame rates but now it is able to do so directly into Pro Res bypassing RAW capture all-together which yielded massive file sizes.  With the new ProRes recording workflow you can use more high frame rate capture in your productions without needing new hard drive arrays.
Quote: "The Odyssey7Q+ can now capture high speed video at up to 240fps. Actually, Convergent Design has offered that for years in RAW, but now it is available in Apple ProRes. That's 240fps in HD.
In 4K the Odyssey7Q+ can record up to 60fps, again in easy to use Apple ProRes. The first cameras supported for high speed by the Odyssey7Q+ are the Sony PXW-FS7 (with the XDCA-FS7 Extension Unit) and the Sony NEX-FS700R."
Besides being able to record 4k at 60p it also has short bursts of a few seconds at 4k 100fps and 120fps.   Your already good camera setup can now record high speed great quality 4k in ProRes.   While now the feature is available only on the Sony FS7 with the extension unit XDCA-FS7 and the FS700R; new cameras will be added to the list in promised firmware updates.
Having Pro Res as an option for high speed is a fantastic addition to an already great setup for slow motion capture in these cameras. File sizes will be constrained and quality will still be very good as long as you expose correctly.  Many DPs opt for ProRes instead of RAW for workflow reasons but now they have the option for higher frame rates too.  We suspect this will increase the amount of slow motion samples taken from these cameras after this announcement.
Odyssaey 7Q+ RAW Frame Rate chart by camera:
| | |
| --- | --- |
| ARRI ALEXA Classic | 2.9K60p |
| Canon C500 | 4K/UHD60p |
| Canon C300 MKII | 4K/UHD30p |
| Indiecam GS2K | 2K60p/HD120p |
| IOI Flare 2KSDI | 2K60p |
| Sony FS7 (w/ XDCA) | 4K60p/2K240p |
| Sony FS700 | 4K60p/4K120p Burst/2K240p |
Odyssey7Q+ FS7 Setup Video #2: RAW & High Speed:
If you own a Sony FS7 or FS700 and need high speed in a format that is more quality oriented; purchasing an Odyssey7Q+ makes a lot of sense for these cameras. It will increase their longevity and compete with newer cameras for a few years more.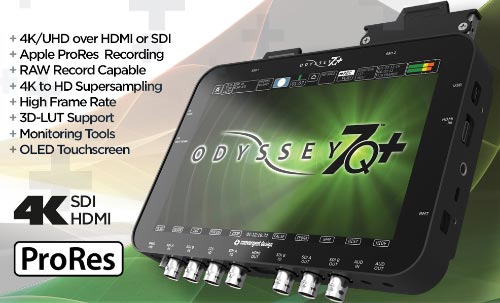 Here are some samples of the firmware in action recording directly to ProRes:
Odyssey 7q+/7q Firmware Preview Footage by  Ross Gerbasi:
Model Aircraft Captured at 240 FPS with Convergent Design Odyssey7Q+ and Sony FS7 by Philip Grossman:
For more Information about the Odussey 7Q+ and High frame Rate modes now in ProRes visit Convergent Design: https://convergent-design.com
(Visited 1,576 times, 1 visits today)