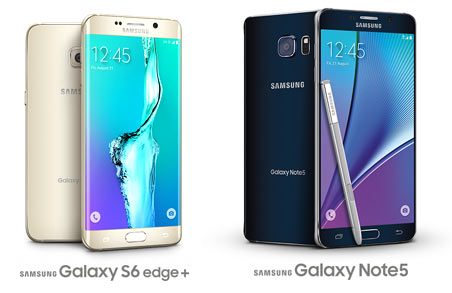 Today the Samsung Galaxy S6+ Edge and the Galaxy Note 5 were announced with somewhat subdued fanfare.  For slow motion aficionados there is not much news regarding the release.  While the Note 5 is a big upgrade in performance compared to the Note 4 of last year; the S6+ is basically a larger screen Galaxy S6 edge.
Slow motion on the original Galaxy S6 was limited to 120fps and the new phone has no changes; the S6 Edge + shares the same camera specs  at a max of 120fps at 720p .  And while Samsung has basicly the same camera setup on the Note 5 ypou could expect similar performance. However as of today there is no confirmation of 120fps on the Galaxy Note 5. There is confirmation of 60fps at 1080p on the Note 5 but no higher slow motion. Even in Samsung's direct specs it just mentions Slow Motion Mode. We guess it is the deliberate omission of some touting of specs to cater to a different market. Since the Note 4 did 120fps at 720p it is safe to assume the Note 5 at least be on par with it's predecessor.
Camera Specs For Both New Phones:
 

Galaxy S6 Edge +

 Galaxy Note 5

16-megapixel Back
16-megapixel Back
5-megapixel front
5-megapixel front
f/1.9
f/1.9
1080p and 4k Video
 1080p and 4k Video
 120fps 720p
120fps 720p* Expected 
Galaxy Note 5 Intro Video:
Samsung Galaxy S6 edge+  Official Introduction:
The S6 Edge + has 4GB of ram as opposed to 3GB on the regular S6 Edge along with a 3000mAh Battery instead of 2600 mAh, the screen is increased to 5.7″ from 5.1″. All these improvements are welcomed but should perform similarly to the regular S6 Edge. This is basically a screen real estate refresh with a design that is proven. Cant help but think this is a thunder steal attempt before Apple releases the iPhone refresh in September. Sorry to say but we don't see it working as expected.
On the Note 5 side you loose the MicroSD card slot, the removable battery and IR blaster.  Many Note 4 users have expressed disappointment that Samsung basically made the Note 5 a Galaxy S6 + with a pen and not a continuation of the popular Note line. It remains to be seen how many units are sold due to the improved design and build quality which is now on par with the Galaxy S6 and iPhone 6.
If you are looking for an all around good phone replacement these two new Samsung releases are pretty good and safe choices. However if slow motion is what you are looking for none of these phones excel or even beat the current iPhone 6 with 240fps.  There are already rumors of improved iPhone slow motion for the September 6s refresh so Samsung has fallen behind in this video spec decidedly.   They are good looking devices just not top of the spec line when it comes to high frame rates.
We expect also Mediatek powered Helio X10 and X20 phones with 480fps 1080p support to be released as time goes on.   We'll keep you informed.
For more information about the Samsung Galaxy S6 edge + and Galaxy Note 5 visit : http://www.samsung.com/us/explore/latest-galaxy-smartphones/
(Visited 1,414 times, 1 visits today)