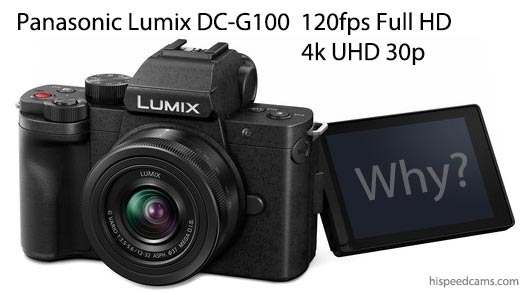 The new trend this year is the selfie mirrorless camera being bundled so that Youtube and other social media Vloggers get a camera that can easily capture what they need with little fuzz. It is no secret that camera sales are in free fall and companies will try to market anything and everything to get some sales. Such is the case with the Panasonic Lumix G100. It has a very nice microphone, a diminutive body, a terrific bright day screen, and a very portable and good enough image from a micro 4/3 sensor.
So why all this negativity? Well for a camera that wants to compete with the smaller 1″ sensor but better overall featured Sony ZV-1 with excellent dual pixel tracking AF; the G100 is limited in a variety of ways. The 5x stabilization will only work in 1080p and be only electronic in 4k.  4k itself only lasts 10 minutes which is very constrained for 2020, maybe for 2016 as a spec but not 4 years later. Dig in for more info!
Panasonic Lumix DC-G100 Main specs:
20.3MP Digital Live MOS Sensor  m4/3
5184 x 3888 maximum resolution
UHD 4K30p Video, Pre-Installed V-Log L (10min limit)
5-Axis Hybrid Image Stabilization (1080p Only)
OZO Audio with Subject Tracking
ISO 200 to 25600 (Extended: 100 to 25600)
Video Modes: MP4 4:2:0 8-Bit
UHD 4K (3840 x 2160) at 23.976p/29.97p (10min)
Full HD (1920 x 1080) at 29.97p/59.94p
Slow Motion 120fps Full HD Mode-
12 to 32mm Lens kit included
For a camera and lens combo under $750 USD it may seem like a pretty good package but when you dig in the details it becomes apparent that you are getting a subpar kit that could have been so much better.
What about Slow Motion?
The video below by Gordon Laing shows a sample of the slow motion on the camera that is very good and will give you a good indication of the per-pixel quality. It is also a very complete review with AF tests and the audio modes.
Panasonic Lumix G100 review vs ZV1 M50 G90 G95 by Gordon Laing:
The full HD 120fps looks to be on par with other Lumix cameras which is not bad but it is also way below others in their line of cameras like 180fps and 240fps which is not even a choice here.
As a slow motion camera, it is competitive with other 120fps cameras in full HD but not much else. We cannot recommend it over other options like the Sony RX series that can do 240fps in near full HD (See Here) with pretty good results.
Other things:
The stabilization which is essential for blogging is limited in the 5 axis mode to 1080p which is ridiculous, you get electronic image shift stabilization for 4k and a 10-minute recording limit on that mode which is very much a non-starter for vloggers.
Ozo audio in the video above is really the most interesting feature of this camera and something we hope to see in the Lumix line from now on. The omnidirectional microphones allow the camera to estimate the location of the person speaking and link the face detection autofocus algorithm so it stays sharp during recording even when you move out of the frame and back in.
The AF technology used is DFD or Depth from Defocus which is used in the Lumix line of cameras and while excellent for still images it still can't compete directly with dual pixel AF from other brands that use contrast and Phase detection along with object and animal/people tracking to be very consistent in the video modes. DFD has a hit and miss that is hated by many and a clear let down by today's AF standards, especially for Vlogging.
Panasonic G100: Hands-on look at a lightweight multimedia powerhouse by imagingresource
The excellent video above by imaging resource should allow you to see a complete preview of this camera along with the tripod accessory. 
What should I do?
We believe that the G100 is a good all-rounder if 1080p is your video target but as a 4k camera there are better options out there. The same goes for slow motion you can get for a similar price an excellent RX100 series from Sony with tons of HFR high frame rate modes including near full HD 240fps and up to 1000fps at lower resolutions.  We suggest you take a look at the cameras listed below instead if you want slow motion. As for Vlogging, we feel the camera to get today is the Sony Z-V1 instead which offers a better AF system, better dynamic range, and frame rates with limited HFR.
Panasonic should implement their new audio solution on newer cameras but also allow more recording time in 4k and frame rate options at all price points. The G100 is a better camera than many others but is not ready to go head to head with other options in its price range like the G95 here. You are better off looking at the competition or other Lumix cameras that have discounts. -HSC 
(Visited 1,172 times, 1 visits today)