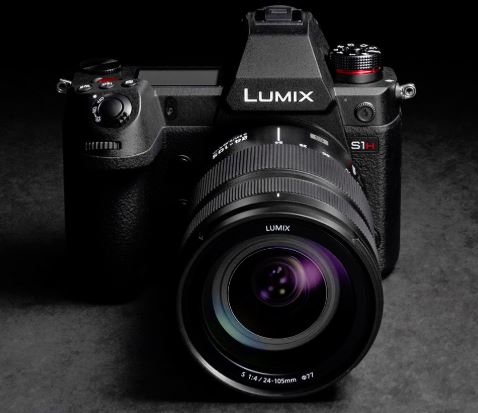 Panasonic not to be outdone by sales rivals is pre-announcing the S1H camera to appease video-centric mirrorless users who want that extra edge.  It has a 6k mode which will allow for better stabilization and cropping/punching in on 4k timelines while giving the user bragging rights.  It has a 14 stop dynamic range spec which if we look at the sensor it is only on a couple of capture settings the rest is 12 bit.
There is also no mention of higher frame rates besides UHD 4k 60p which we presume will be 180fps 1080p max since this camera shares nearly the same internals as the other Panasonic S1 cameras. We do not expect this camera to have better slow motion video than the regular S1 even with its $4000 price tag.  The camera looks to be aimed at the mid-high end of the video market and allow it to record without limits which on the regular S1 is 29min.
Panasonic S1H key features:
Full frame sensor capture of 6K/24p in 3:2
Capture 5.9K at 30p in 16:9 aspect ratio
Super 35mm 1.5x cropped DCI 4K 60p 10bit
Open gate 4:3 anamorphic mode
V-LOG and 10bit 4:2:2 codecs included without upgrade key!
Red Frontal and top Recording Button
Vents and heat sink to help with overheating
IBIS not specified
GH5 style vari-angle screen
$4000 / Fall 2019 release date (Lumix S1 is $2500)
Lumix Live Event Cine Gear Expo S1H Announcement:
It is hard to justify this camera for the market in our opinion. The S1 is almost as capable costing $1500 less. You are getting the extended recording time, a better codec and a flippy screen. you seem to lose IBIS which is a must for run and gun shooters and all of us who like using our cameras without sticks. No mention of slow motion which is why we think it will be unchanged from the S1 180fps spec.
We estimate the camera is using the Sony IMX410CQK Sensor which you can find the specs in this PDF Flyer here!
The sensor is capable of windowed frame rates of up to 1628fps at 2020*96px which is hardly usable for serious imaging and includes a more usable 2020*1342 at 150fps.  The 180fps 1080p spec is further windowed down and as we have seen with the regular S1 we have no 1:1 pixel read out in these modes as aliasing and moire are apparent. There is some resolution loss to cope for the sensor readout constraints.
LUMIX S1H Sample Video by Alicia Robbins – Cine Gear Expo 2019 by LUMIX Cameras:
The camera is capable of recording very good quality images as evidenced from the pre-production video above. However, do not expect any huge leaps compared to an S1 to justify the price. If you were put in a position to buy one of these cameras for production, in very few cases will the S1H make more sense than an expendable S1 with 95% as good quality but with a 30min recording limitation.
Sure the 14-bit color and 10 bit 4k DCI continuous recording will be enough for most serious filmmakers to justify but we are guessing Sony will have a big say with their rumored Alpha a7s III which is so long into the cycle that rumors are getting cobwebs. Sony has the technology to really create something special with that camera and maybe get us some very high frame rates to boot.  We would advise everyone to wait it out and see what Sony has in store before plunking any cash for a Panasonic Full Frame system, especially since they are still stubborn enough to keel DfD Autofocus instead of the highly superior Dual Pixel Phase which is standard on Sony and Canon Cameras to name a few. The S1H should include Phase detection but won't of course.  More info as it becomes available.

OnePlus 7 Specs Released!
While the phone is not out yet but will soon, it is essentially the same exact form factor and screen as last year's 6T but with the internals of the OnePlus 7 Pro which makes it a better phone in terms of speed and memory characteristics. The camera module is not all there but close with the main 48Megapixel Sony IMX586 sensor that is capable of 480fps at 720p resolution.
OnePlus 7 Pro vs OnePlus 7 vs OnePlus 6T: which one to buy? by Mr. Phone:
OnePlus 7 Main Camera Specs:
Dual
48 MP, f/1.7, (wide), 1/2″, 0.8µm, PDAF, OIS
5MP, f/2.4, 1.12µm, depth sensor
Features
Dual-LED flash, HDR, panorama
Video
2160p@30/60fps, 1080p@30/60/240fps, 720p@480fps, Auto HDR, gyro-EIS
So as you can see the slow motion characteristics of the OnePlus 7 are identical to the Pro model which is really just the notch-less better screen and 120hz refresh version of the regular phone.  You can rest assured the image quality of the camera will be the same but $100 USD cheaper on all configurations. There is no question the OnePlus 7 variants offer the best value on Snapdragon 855 performance. The Slow motion as we have shown leaves a lot to be desired in quality but offers excellent recording time for a phone of 3.75 seconds which compared to others like Samsung or Sony under 1/2 second seems to be endless.
OnePlus Pro Tips – Recording videos with the OnePlus 7 Pro Including Slow Motion:
The slow motion performance will be about the same as the OnePlus 6 and 6T of last year so if you have that phone, upgrading to the 7 series makes no sense for that feature alone. If however, you want a faster phone with better screen and camera modules then upgrading makes sense.  We still recommend you wait for more video samples to be available before you buy this handset in order to see the quality of the video. We will have them as soon as they become available. -HSC
(Visited 493 times, 1 visits today)