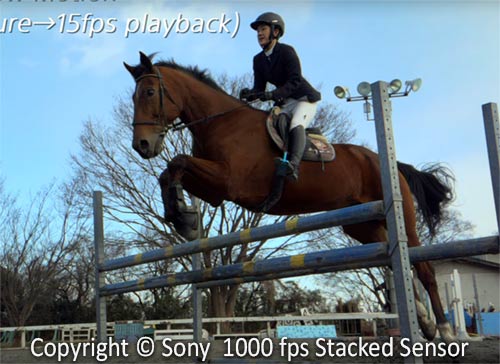 You have to hand it to Sony for their continued hardware innovation. The sensor technology that brought you the RX Camera series with stacked CMOS Technology; which is DRAM included as a middle layer along with signal processing makes it possible to capture data at tremendous pixel rates in the sensor block which leapfrogs competitors products.
That same 3-Layer stacked design is now unveiled on a cellphone geared sensor with a maximum performance at 1080p 1000fps and 4k 60fps. It is using the same buffer DRAM technology that will let you record for a limited time window and then save and process on your handset.   Considering the speed quoted it is not out of the question to expect the Sony RX series of cameras to reach or exceed this level on upcoming iterations.
Sony 1000fps Sensor 3-Layer Stacked Main Specs:
5520 (H) x 3840 (V) 21.2 megapixels Sensor
Diagonal 7.73mm (Type 1/2.3)
Pixel Fill Rate: 2,316 Megapixels/sec or 2.3Giga Pixels/sec
Rolling Shutter Extremely Reduced at 1/120 sec and up
Read Speed 8.478 ms (4:3 19.3 mp) / 6.962 ms (16:9 17.1 mp)
Maximum frame rate of 1,000 fps in full HD (1920×1080 pixels)
60fps 4K (3840 x 2160)
Still images/sec 30fps 4:3 19.3 megapixels / 16:9 17.1 megapixels
1G bit DRAM or 125 Megabytes
2.5V / 1.8V / 1.1V Power Supply
Bayer RAW Output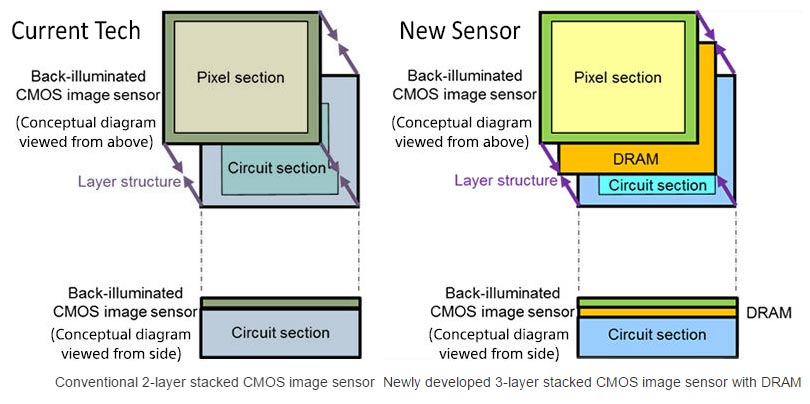 Just as with the Sony RX series of cameras the sensor block has now a DRAM module stacked inside the CMOS Package which lets the sensor buffer images at much faster speed and reduce rolling shutter jello to levels never before possible. If anything this sensor technology can get rid of the horrendous wobbly nature of unstable phone video when using a higher shutter speed like 1/120 which should be easy on daylight shots. The read out being 4x faster than the previous fastest Sony BSI sensor for phones should make rolling shutter skew an afterthought in every situation except low light when shutter speeds below 1/50 are needed.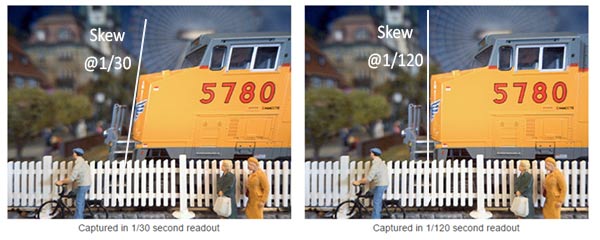 The Super Slow Motion Movie Taken by 3-layer Stacked CMOS Image Sensor with DRAM by Sony:
In the video above you can see the new sensor in prototype form recording 960fps and or 1000fps then played back at lower speeds like 15fps.  The quality does look impressive at first glance and very little image degradation.
Looking Closer:
You can see above that on closer inspection Color Moire and aliasing are showing up in the 960fps 1080p sample.  While controlled compared to other cameras it is still far from the image quality the sensor is capable of at 30 and 60fps.   As with RX series cameras the new sensor is throwing away line information to get to the higher frame rates even when it is capable of true 1080p 1000fps in spec.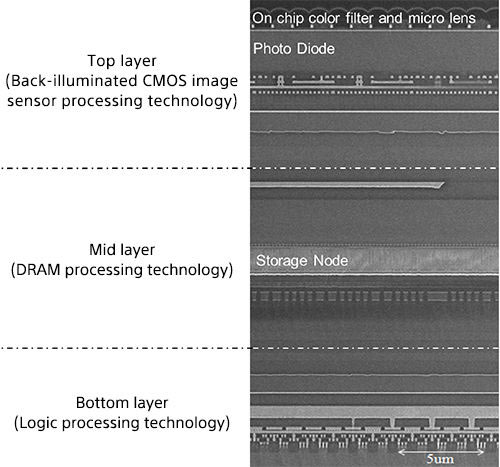 Problems arise when you feed 2 Gigapixels of image data a second to a cellphone processing pipeline and one with limited memory at that.   The phone is doing it's best to preserve motion and frame the content considering the limited resources of the memory bus.   If the phone tried to preserve all the pixel data at 1080p it would result in little over 60 frames RAW data for the DRAM on the chip package which defeats the purpose.  Several things are in order to extract the performance including line skipping, color data scrapping and heavy compression before the footage is saved to the SD card or internal storage.
The processing of the images is done inside the sensor package within the logic processing layer. Which means the sensor can be used on many phone combinations without the need of a specific processing core. The Sony sensor spits out 60 or 30fps ready video to record to the phone storage module. You can of course add some processing in the front end like color filters and a specific file wrapper.
You still have to give credit to Sony for making it look more than acceptable at these frame rates and we expect near 1080p quality at the listed spec of 240fps which would be in line with the Sony RX Camera line which is based on the same technology.
What We Expect in Shipping Products:
Considering the 4k 60fps and 1080p 240fps spec touted in the Sony documents we expect to see phones that have the following spec some time later this year or early 2018:
4k 24/25/30/60fps full sensor capture and down-sample.
120fps Full HD Continuous Shooting
240fps Full HD Time limited shooting 2 or 4 seconds.
480fps Lower Resolution Video in 1080p Wrapper 2 or 4 seconds. Moire and aliasing start to show up.
960fps/1000fps Video in 1080p wrapper with 1/2 real 1080p resolution. Moire and aliasing increased and very apparent.
Sony Xperia line of  handsets should ship with the sensor first.
Other brands like Samsung, Google, Apple, Lenovo, HTC, Huawei and Motorola to follow in flagship handsets.
In any case, Sony continues it's progressive innovation push towards better image quality and higher frame rates. The dream of a true slow motion cellphone option is getting closer by the day.  We should see some impressive releases in the portable space soon enough.    We'll cover this sensor release in phones closely!-HSC
Thanks to our readers slowmosage, JNBiz, HUBNT and Gonb for alerting us to these news!
(Visited 1,729 times, 1 visits today)