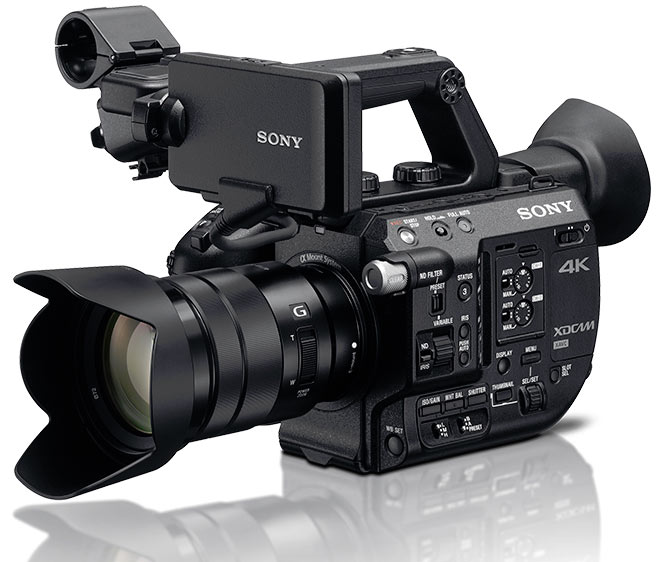 It's been an impressive year for Sony camera releases when it comes to slow motion capabilities.  We saw a resurgence of real innovation in the space with the Sony RX10 II and the Sony RX100 IV which have amazing quality for the price even when the limitations are there when it comes to quality vs time recorded which when it comes to getting the utmost frame resolution the higher frame rates are limited to just 2 seconds.  The PXW-FS5 camera has Slow motion of 8 second bursts at full HD quality at 240fps and the same at reduced resolutions but higher frame rates.
Some early adopters of the camera have been receiving it and doing some tests of the slow motion feature and it is impressive what it can do with such good color rendition and resolution in 120fps and 240fps.  While resolution drops to 720p or lower at higher frame rates it is a clear step up from the Sony FS700 of 2012.  This camera does 4k internally and has a very low introductory price of $5,599.00 compared to $7,999 for the FS700 back in the day.  The FS700 has been lowered in price due to age but the FS5 is a more future-proof camera with a new buffer design and a better sensor. So is the relentless pace of technology.
#2 Ranking – Congratulations Sony!
We have now placed the Sony PXW-FS5 as the #2 choice for price/performance for slow motion in an affordable package due to the impressive quality the camera can deliver with a surprising price. It is a pro camcorder at a not so pro price. We have a hard time seeing anything in the competitors camp from Panasonic or Canon that really can compete with the Sony FS5 feature for feature.   There is a limitation of the inability to record internally at 4k if it is recording externally to a recorder like an Atomos but hardly a deal breaker.
If you need the best quality slow motion in this price range the edgertronic is still the champ #1 at 701fps at full 720p resolution and much higher frame rates close to 18,000 at reduced resolutions. However the Sony FS5 is crawling up those spots in the low end frame rates.  If and when the fps1000 cameras do in fact ship, which are upcoming contenders there will be a shuffling of the rankings in a major way but we cannot rank products unless they are shipping and tested. This will have to wait.
Super Slow Motion Frame Rates FS5
60i:  ( 120, 240, 480, 960)
50i: ( 100, 240, 400, 800)
"Resolution in frame rates: 120fps and 240fps Full HD. 480 fps resolution is 540p , at 960 fps the resolution is about  270p."
Samples from the Sony FS5 Slowmo!
Here are slow motion samples of the Sony FS5 in action, much more to come as adopters create compelling footage with the camera but we are extremely impressed by the quality delivered by this camera thus far.  You really can't make a mistake getting this camera for your production needs, it is just that good!
Happy slo-mo slapping by Martin Stampe:
SONY FS5 400FPS by thomas dupont:
Sony FS5 First real world test by  Aspect Media:
Sony FS5 slow motion test. 400fps by Martin Stampe:
Sony FS5 available at Adorama expected availability Novermber 26th 2015: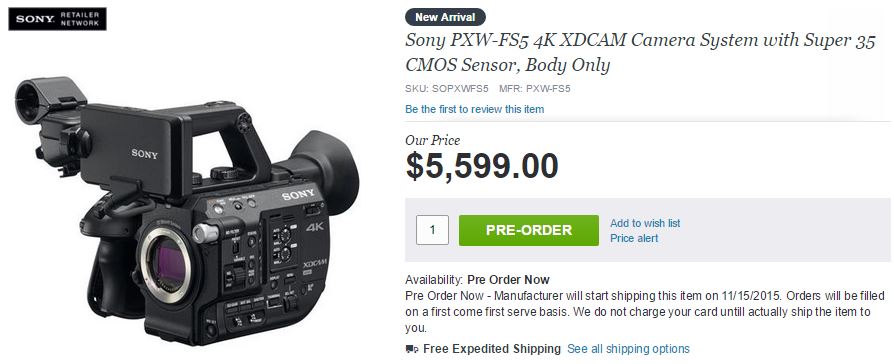 Exploring the PXW-FS5 Sea Pools by Jason Wingrove & Sony:
Sony FS5: 4K Hands on Video by Adorama:
(Visited 6,536 times, 1 visits today)