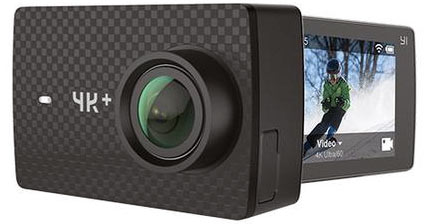 The Yi Technology Yi 4k+ has been shipping for a few days and now slow motion samples have been posted online. There is no question the Yi 4k+ is the best value in action cameras today with specs that reach 4k at 60fps and up to 240fps in 720p Wide mode.
There is, of course, a resolution decrease and softness increase when it reduces the frame size to extract frames but it is within the norm and very competitive image quality wise with GoPro Hero 5 and Sony Action cam.  There are nearly identical components inside the Yi 4k+ to other action cameras and the Ambarella H2 Chipset makes its debut on the Yi line with good performance.
Yi 4k+ Slow Motion Modes:
4K

60, 50

 Wide 3840x2160px
2.7K (16:9) 60, 50 Wide \Medium 2704x1520px
1440P 60, 50 Wide 1920x1440px
1080P

120, 100

, 60, 50, 30, 25 Wide \Medium \Narrow
1080P Ultra

90

, 60, 50, 30, 25 Ultra Wide
960P

120, 100

, 60, 50 Wide \Medium 1280x960px
720P

240, 200

Wide 1280x720px
720P Ultra 120, 100, 60, 50 Ultra Wide 1280x720px
480P

240, 200

Wide  848x480px
As you can see there's a variety of options when it comes to frame rates in
the Yi 4k+
.  The 4k 60fps, 1080p 120fps, and 720p 240fps are of note but the extra options are always good to have.
When it comes to compression and detail retention 4k 60fps is very good and 1080p 120fps is slightly aliased with 720p really losing a lot of lines but on par with what
GoPro are doing in their Black camera line
. See the samples below for the quality:
Yi 4k+ Slow Motion Samples:
4K 60fps YI 4K+ Action Camera video comparison to YI 4K Camera by TK Bay:
Yi 4K+ Action Camera video 4k 60fps (raw unedited) by Safak Ebcinoglu:
YI 4K+ Action Camera – 4K 60fps Footage by el Producente:
YI 4K+ slow motion Water sample 720p 240fps by Bob Ditzel:
YI 4K+ slow motion Dog – Hovawart by Bob Ditzel:
YI 4k+ Plus – 2017 – World First Action Camera in 4K 60fps – 1080p 120 fps – Footage
Yi 4k+ Action (Voice Control,240 Slow-mo, EIS,…) Yi 4K. It's Better Than Gopro Hero 5 !!! by TK Bay:
There you have it. There is a window of opportunity from Yi technology to get the GoPro Hero Black crowd to get their camera instead.  For just $339.98  the Yi 4k+ camera with an underwater case is cheaper than the GoPro Hero 5 Black at $399.99 with no underwater case. The GoPro Hero 5 Black has built in water protection up to 33ft or 10 meters. However, if you want to go deeper a case is, of course, the way to go.
The Yi 4k+ does 4k 60fps & 50fps for the first time in an action camera and while quality is not GH5 like due to bitrate constraints and sensor size; it is decent quality and will work for action shots and drones. The built-in touchscreen and voice control on the Yi 4k+ also aim at GoPro with a pretty good interface. There is no better value in high-end action cameras as the Yi 4k+ today. That is until GoPro or Sony show their cards and new products to compete head to head with it.  -HSC


(Visited 4,635 times, 1 visits today)