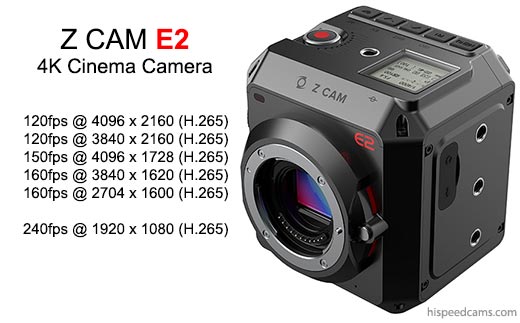 The new Z CAM E2 – M4 Micro 4/3″ sensor cinema 4k camera offers performance that punches way above its own price weight of just $1,499 @ Adorama which is $500 less than the very similar regular Z CAM E2 just lacking Multicam synch support which is a very minor trade off considering the power and benefits you gain.   It has Triple native ISO of  80 / 160 / 800 and 13 stops of DR using their ZLog profile, and 16 stops of DR in WDR mode which does some HDR processing.
The frame rates are also outstanding for such a low-cost camera and while the higher setting requires H.265 encoding which for many is not ideal considering it lowers the bit depth from 10 bits to 8, it offers what many cameras only dream of.  160fps in 4k in beautiful resolution and up to 240fps in 1080p which has very good quality with some compromises.
Z CAM E2 and E2 M4 Main Specs:
Dynamic Range13~15 Stops (Z-Log2) / 16 Stops (with WDR activated)
Sensor Type4/3″ WDR CMOS Sensor
Effective Pixels10.28M
Lens MountMicro Four Thirds  19.0 x 13.0 mm
Max Variable Frame Rate120 fps for 4096 x 2160 (H.265 only)
120 fps for 3840 x 2160 (H.265 only)
150 fps for 4096 x 1728 (H.265 only)
160 fps for 3840 x 1620 (H.265 only)
160 fps for 2704 x 1600 (H.265 only)
59.94 fps for 3696 x 2772 (Apple ProRes & H.265)
59.94 fps for 3312 x 2760 (Apple ProRes & H.265)
240 fps for 1920 x 1080 (H.265 only)
MediaCFAST 2.0
Max Bit RateH.265 / H.264
300 Mbps for 4096 x 2160 / 3840 x 2160 / 4096 x 1728 / 3840 x 1620 / 3696 x 2772 / 3312 x 2760 / 2704 x 1600
200 Mbps for 1920 x 1080
-ProRes
Please check "Apple ProRes White Paper" for the bit rate of ProRes encoding.
12-Bit ProRes RAW
10-bit (H.265 & ProRes) & 8-bit (H.264)
Triple native ISO 80 / 160 / 800
Video EncoderProRes Raw, ProRes 422 HQ / ProRes 422 / ProRes 422 LT / ProRes 422
ZRAW (partial debayer) / Proxy / H.265 main 10 profile / H.264 high profile
Connectivity
HDMI
HDMI 2.0 Type A (video output up to C4K @60fps)
USB USB 3.0 Type C for camera control & data transfer only
I/O  10-pin LEMO port for synchronization (requires additional Sync Cable, not included)
COM    DB-9 connector, supports RS-232
Remote Control  2.5 mm jack socket (Sony LANC compatible)
Audio In – 3.5 mm stereo jack socket for active microphone only, or 5-pin LEMO port for dual-channel XLR microphone (requires additional XLR audio connector)
Audio-out  3.5 mm stereo jack socket
Wi-Fi 802.11n, 2.4G with external antenna port
Ethernet  Gigabit Ethernet port for control, setting & live streaming
Power  Battery Sony NP-F series compatible (Battery not included)
External Power Supply  – DC 12V 5A (4-pin LEMO socket), with LEMO connector and AC/DC power adapter
Material  Aluminum Alloy
Weight 

757 g (without lens)

Dimensions (W x H x D) 91.2 mm x 99.2 mm x 89.1 mm (without lens)
So just from a specs point of view we can see the E2 being a real powerhouse with a variety of excellent options for shooters. If you also ad a speedbooster then you get APS-C like performance on a sensor that performs like that of the Panasonic GH5s with excellent quality up to ISO 6400-12800.
Z CAM E2 M4 Slow Motion how good is it?
The slow motion aspects for the Z Cam E2 M4 are class-leading with 160fps at 4k DCI and UHD with what we have confirmed to be pristine quality with no real artifacts besides H.265 compression. You will of course get 8-bit limitations on gradients and single shade subjects like blue skies but for everything else will be more than adequate.  See the beautiful sample below by Ludeman Productions of the E2 shooting in 4k at 160fps H.265.
ZCAM E2: 160p by Ludeman Productions:
When it comes to 240fps there is of course a trade-off that we have seen in the GH5s and other cameras that use this similar sensor design. The color, dynamic range, and frame rates are beautiful but you do get jagged edges on detail segments of the frame and especially lines with the characteristic stair-stepping of aliasing by the fact that the frames are captured by throwing out some lines.  It is still very good and for many users, it will be just as capable but if you value pixel perfection then the 240fps 1080p mode will disappoint purists.  See the samples below to get a sense of the quality offered here.
Z Cam E2 240 FPS Fountain by Newsshooter:
Shot on ZCAM E2 Flower 1080 240fps REC709 Z-Cam by Hywel Lewis:
Z CAM E2_1080p 240fps_ZhiWei Ma by Z CAM:
There is no denying that the quality offered by this very low-cost E2 camera is outstanding and could easily be used in larger productions, especially the 4k 160fps mode which is beautiful and extremely usable with ample dynamic range.   The new E2 M4 model only lacks multi-cam support which for $500 less could be the price reduction you were waiting for to get a camera that is the same performance wise as the previous $1,999 E2 which is still available if needed.   Z Cam also has 6k and 8k cameras but offer a maximum of 120fps at 4k  for a substantially higher price if needed but with also larger sensors than the m4/3ds that the E2 sports.
Should I get it?
If you are craving for 4k 120fp and up to 160fps then we see no reason not to get this low-cost camera for those situations. It will probably raise the level of your production quality up a notch against competitors stuck on 1080p slow motion. But if you want to use the 1080p full HD 240fps mode then keep in mind the trade-offs with aliasing that crop up at these higher frame rates.   For $1,499 now for order at Adorama camera than we see no reason not to get one and build your small shooting kit with the help of an HDMI monitor so you can take it on the go and of course a CFAST 2.0 card which is required for recording.   These little cameras can be customized and deliver quality way above their price range with results that can blend in with Cinema cameras in the 10ths of thousands. Well done Z Cam! -HSC
(Visited 2,383 times, 1 visits today)