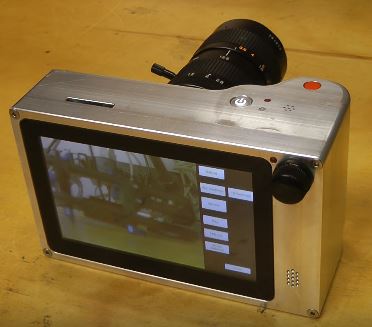 David Kronstein the mind behind the Tesla500 Youtube channel has released new footage and information from his latest high speed camera prototype.  Now aptly  named Chronos high speed camera it features a fully machined metal enclosure, with a variety of modern ports and full touch GUI with full color or monochrome capabilities depending on the sensor chosen.
The current prototype is based on the camera David created in his garage/lab that shot most of the high speed footage for his channel. You can read about the previous HSC768 camera prototype here.  This is a gigantic leap forward from that earlier camera and David was kind enough to supply detailed info about the specs and upcoming Kickstarter campaign so you can fund it and own a camera yourself.
Chronos High Speed Camera v1.4 Specs:
1.4 Gigapixel per second throughput
2/3″ sensor, C and CS mount lens, Color or Mono
1280×1024 1050fps Max Res Frame Rate!
Lower resolutions at higher rates, eg. 720p 1500fps,

1024×576 2300fps

,  640×480 4400fps, 640×360 5900fps, 640×120 17,000fps
100% self contained, smartphone-like UI, no laptop needed!
8GB, 16GB, possibly 32GB image buffer (RAM). 4, 8, or 16s record time.
Save videos to compressed H264 or uncompressed/RAW
Storage: SD card, USB thumb drive, SATA hard drive, remote via Ethernet to computer or file server
On-board RAW processing (demosaic type,color matrix, etc)
Readily available EN-EL4a Nikon Li-ION Battery Pack!
As you can see from the specs above the Chronos 1.4 High Speed Camera is no slouch when it comes to performance. The 1000fps barrier is broken even at full sensor resolution of 1280*1024px at 1,050fps. This is clearly a professional grade frame rate and welcome competition in the space.  For HD 720p resolution you get 1,500fps which is already playing in the space for rental slow motion cameras or lower priced competitors.
Chronos 1.4 high-speed camera overview, teardown and demo:
The memory it uses is plain SODIMM modules which are cheap and plenty in DDR configurations.  DDR RAM is fast enough and reliable enough for a camera like this.  A good quality SODIMM in the 16GB range is less than $150 USD.  David will try to offer a 32GB version of the camera if he can get it to work but 8GB and 16GB versions are definitely working in the prototype. David says the memory will not be user upgradeable do to the difficulty and know how needed to open the camera and perform the change without damaging it in the process. So if you order one just choose the memory you want as it will not change your pricing much. 8 seconds at full resolution is already plenty at 16GB and seldom will you need more.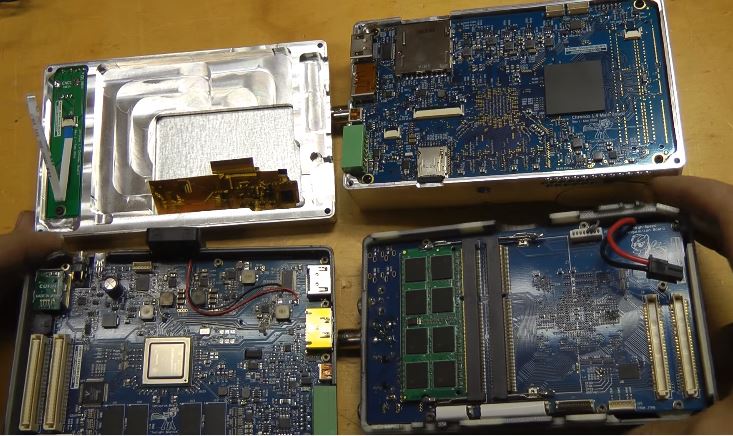 The Codec in which the camera saves footage can be either RAW image sequences or H.264 like the edgertronic high speed cameras use. This puts it in a sweet-spot of quality for RAW and or space saving H.264 which no lower price high speed camera can do at the moment. 
The Storage is either an SD Card or a USB device like a thumb drive, SATA Hard Drive or over Ethernet to a remote PC or Server. The flexibility is great to have and more so with the extreme portability of the design.
The User Interface is already fully usable with touch controls for recording, trimming and saving files along with the use of the very clever analog scroll Jog Wheel that lets you fetch within a video with ease. This is especially useful for long clips that need fine control from fast to slow while placing in out points. We assume it can also be used for selecting settings in the UI itself.  If you could choose a feature that distinguishes this camera from all others in the space is this Jog Wheel feature that is clever and useful.
Battery:  The camera uses a EN-EL4a Type Nikon Li-ION Battery Pack which is widely available due to their use in Nikon D2 and D3 cameras. You can see available batteries and pricing here!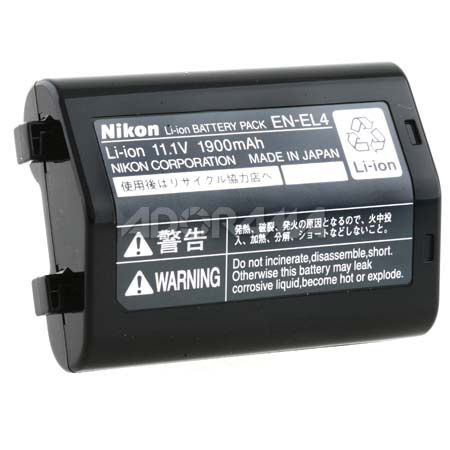 Image Quality:
No camera is able to earn your money if the image quality is suffering in some way. Gladly we can attest from the samples David has shot that per pixel image quality is excellent from this 2/3rds sensor.  BTW Flange lens distance is adjustable via a built-in ring.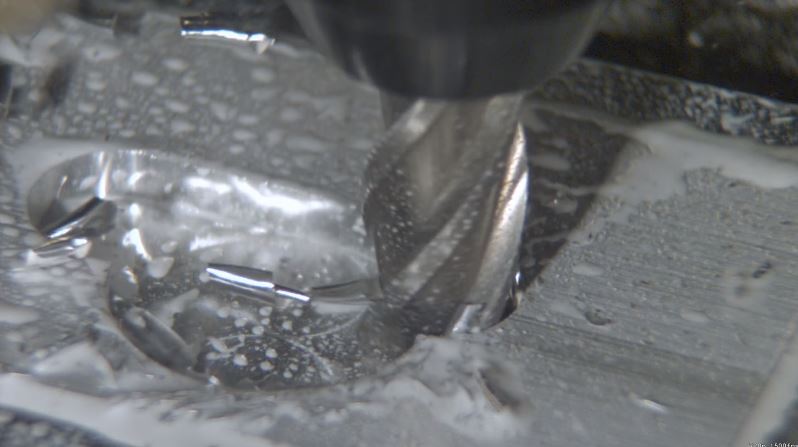 While it wont be as sensitive or have as much dynamic range as larger APS C counterparts like in the edgertronic cameras; it is clearly good enough to control noise and artifacts given enough light.  We are impressed with the initial shots and do show how strong this prototype is.  We estimate it can only get better from here when it is finally released. See the footage below that shows the camera recording prowess at various frame rates:
Chronos 1.4 high-speed camera demo shots by tesla500:
Kickstarter campaign and Pricing:
The base model with 8GB RAM will be around $2500 for Kickstarter according to David, which is an extremely aggressive pricing bracket. This is close to what the fps1000 HD is aiming at which is heavily lowering the entry pricing for high speed cameras that shoot professional quality.
The Kickstarter campaign is currently scheduled to start in late November to gather enough funds for an initial production run. David is already constructing 12 prototypes that some will probably be shaped into shipping units at some point.
It is nothing short of remarkable what David Kronstein has been able to do with his Chronos high speed camera project and looking at the quality samples it's clear the high speed camera space is getting a firm kick in the rear to innovate and lower pricing at the same time.
We will keep you informed of more developments with this and other projects. Thanks for reading – HSC!
More information about David's projects and the Chronos Camera please visit The Tesla500 Channel on Youtube and or David's Patreon Page where you can help fund his projects.
(Visited 3,236 times, 1 visits today)