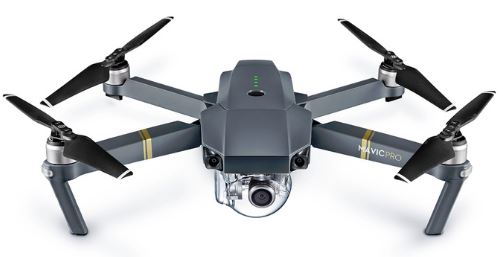 DJI the maker of the Phantom drone has answered GoPro back with a direct competitor to the Karma drone announced last week. The new DJI Mavic Pro drone is extremely portable; even more so than the Karma and has obstacle avoidance technology along with ground awareness which is missing from the GoPro completely. It also has the follow me feature in more modes than ever which makes shooting with it a breeze.
All is not rosy for the DJI Mavic Pro however as you will need to use the included DJI camera with specs that when compared with the GoPro Hero 5 Black seem a little outdated.  Frame rates are much more limited but many drone enthusiasts feel that the flattened less distorted 4k image trumps the Hero 5 Black all the way.
DJI Mavic Camera Specs:
Sensor
1/2.3" (CMOS), Effective pixels:12.35 M (Total pixels:12.71M)
Lens
FOV 78.8° 28 mm (35 mm format equivalent) f/2.2
Distortion < 1.5% Focus from 0.5 m to ∞
ISO Range
100-3200 (video)
100-1600 (photo)
Shutter Speed
8s -1/8000s
Image Max Size
4000×3000
Still Photography Modes
Single shot
Burst shooting: 3/5/7 frames
Auto Exposure Bracketing (AEB): 3/5 bracketed frames at 0.7 EV Bias
Interval
Video Recording Modes
C4K: 4096×2160 24p
4K: 3840×2160 24/25/30p
2.7K: 2704×1520 24/25/30p
FHD: 1920×1080 24/25/30/48/50/60/96p
HD: 1280×720 24/25/30/48/50/60/120
Max Video Bitrate
60 Mbps
Supported File Formats
FAT32 ( ≤ 32 GB ); exFAT ( > 32 GB )
Photo
JPEG, DNG
Video
MP4, MOV (MPEG-4 AVC/H.264)
Supported SD Card Types
Micro SD™
Max capacity: 64 GB. Class 10 or UHS-1 rating required
Operating Temperature
32° to 104° F ( 0° to 40° C )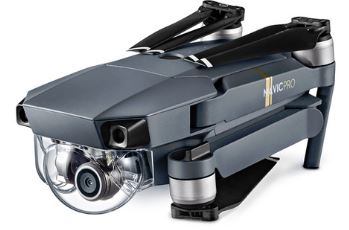 DJI Mavic Drone Video Frame Rates:
As you can see from the frame rates below there is a lack of 240fps 720p and 1080p maxes out at 96p which is a frame rate that delivers 4x slow motion on a 24p video timeline.
C4K: 4096×2160 24p
4K: 3840×2160 24/25/30p
2.7K: 2704×1520 24/25/30p
FHD: 1920×1080 24/25/30/48/50/60/96p
HD: 1280×720 24/25/30/48/50/60/120
Clearly the DJI camera is no slouch as it even has cinema 4k at 24p as an option. But it simply cannot beat the GoPro Hero 5 Black in power and frame rates which is to be expected as that camera is the foundation of the whole GoPro ecosystem and a lot is riding on it's specs. However the GoPro suffers from severe wide angle distortion at it's widest setting and even when the correction has been applied which looses resolution it is not ideal. Many users say the GoPro Hero 4 Black and 5 camera quality is lower than the DJI when all is said and done.  With Pro Tune on the GoPro you could get very close but you still have to deal with the distortion.
No Handheld Stabilizer?
The GoPro Karma Drone made a splash last week showing how the camera stabilizer can be detachable and use in a handheld fashion.  In DJI land that means purchasing a DJI OSMO $569 and or OSMO+ $649 to get that functionality but with a lesser camera in the original OSMO and a somewhat more flexible 3.5x optical zoom version in the OSMO+.   So in the DJI ecosystem you would need to buy the drone and handheld stabilizer separately in order to get the same overall flexibility of the GoPro Karma Drone.
Cost Breakdown:
OSMO+ ($649) + Mavic Pro Drone ($999)= $1,648.00
OSMO($569) + Mavic Pro Drone ($999)= $1,568.00
GoPro Karma Drone With Hero 5 Black = $1,099.00
The GoPro Karma drone is anywhere from $469 to $549 less expensive than owning both DJI products.  You do not have follow me feature and collision awareness but if you are content with the omission of those features you will save a considerable amount of money.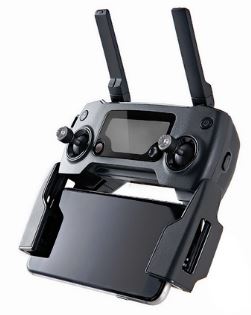 The GoPro Karma combo also has a screen controller that shows a live view without the need for a phone or tablet, which the DJI controller with basic LCD display cannot match and requires your phone or tablet for advanced options.
DJI – Introducing the DJI Mavic by DJI:
DJI Mavic Pros:
2nd generation Obstacle Avoidance Technology
Follow Me Feature
Altitude and Ground Awareness
4k Cinema Res Codec option
Flat Field Image for Distortion Free Shooting
Competitive price if you forego handheld stabilizer.
Smaller footprint than already small GoPro Karma Drone.
27 minute Flight time vs 20min on the GoPro Karma
New advanced follow modes with Active Track Technology.
Predefined height limits to avoid slope collision.
7km or 4.3miles distance operation with encryption.
DJI goggle option for VR live view. (Sold Separately)
Precision Landing technology. Automated.
40.6 Mph top speed in Sports Mode
No propellers visible in all flight modes. Like the Karma.
DJI Mavic Cons:
No hand held stabilizer detachable option.
Higher price if you factor in a handheld stabilizer.
Non detachable camera.
Camera lacks 240fps 720p and 120fps 1080p.
Codec at max 60mbit/sec 4k is prone to low quality in detail areas with heavy macro blocking. Phantom 4 has much better IQ with the same 60Mbps bitrate.
Requires smartphone to be plugged in controller for full features to be used.
Excellent initial review by Digital REV TV of the Mavic Pro including initial image quality comparisons with the Phantom 4.
Should I get it?
As you can see getting the DJI Mavic Pro with it's tiny size is a no brainer if you need portability. The drone and controller fit into a regular midsize handycam bag all folded up. It is the first truly portable personal drone.
However things fell apart when it came to image quality, the Phantom 4 aces the Mavic Pro in quality and frame rates even when they share the same exact sensor and bitrate at 60 Mbps.  Why is this? Seems the camera encoder and circuitry are a step behind. If DJI manages to fix this aspect of the Mavic then there is no reason to get a Phantom 4 compared to this tiny marvel of a drone unless you want slightly higher speed.  However they are still very comparable along with no visible propeller blades in shots with the DJI Mavic Pro Drone.
If image quality is paramount both the DJI Phantom 4 and GoPro Karma are still better options than the Mavic Pro.  Unless DJI fixes this issues and gets the video quality on par with the excellent Phantom 4, we cannot recommend it when it comes to pro video use. However even with it;s lower quality footage it will be the drone of choice for enthusiasts and people not looking to inspect video close up or use it for commercial purposes.
So for videographers the Phantom 4 or the GoPro Karma are the better options; for everyone else there is no reason why you would get any other of the two above this excellent DJI Mavic Pro Product.
Also the lack of a handheld stabilizer detachable option makes the GoPro Karma drone very relevant even with it's lesser features and flight time. DJI will probably answer this in a future drone release.
Note: If image quality improves due to a firmware update this will change. DJI may also release a better camera option for the Mavic Pro. Our guess is that cannibalization of the Inspire 1 drone would have been brutal if image quality in this small drone was close to it. DJI should do the right thing and fix these issues in software if possible.  In that case we would not only buy the Mavic Pro but recommend it to everyone looking for a drone above all competitors. 
DJI Mavic Pro Event by DJI and posted by My First Drone: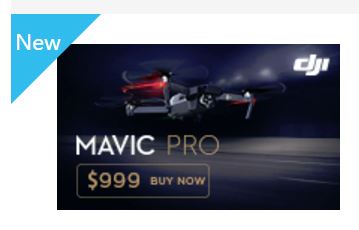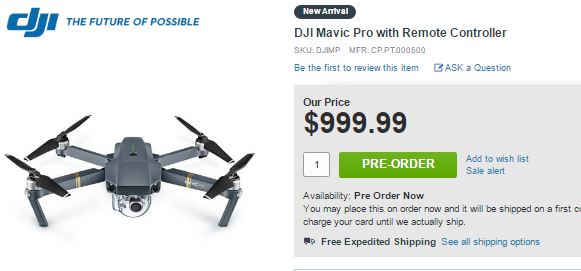 (Visited 1,278 times, 1 visits today)