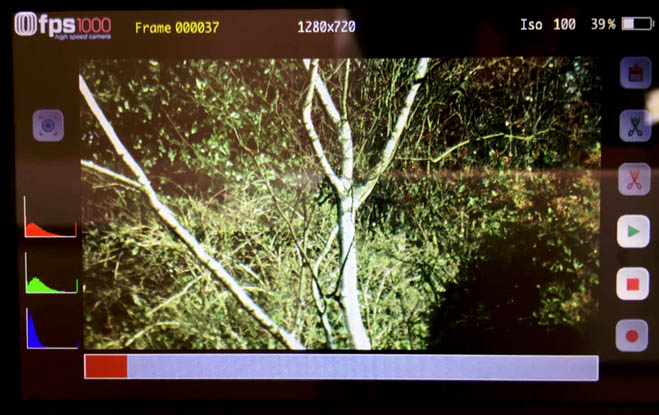 Warning: The parent company of FPS cameras "The Slow Motion Camera Company Ltd." went out of business and entered liquidation proceedings. No further development of cameras is expected. More information here on Google Search! 
The fps1000 HD Kickstarter campaign is going strong with 16 days left for funding and 80% is already covered with 22 backers.  Graham Rowan the creator of the camera with the help of Dan Kanes the shooter has made a few updates where details about the functions of the camera have been explored further along with new image samples made available in RAW DNG format.  
While you will not get dynamic range or the quality of a DSLR in these files, it sure looks like you can extract a lot of detail and dynamic range from this smaller sensor DNG files. We estimate about 2 stops of highlight protection can be achieved. Read on for more info…
fps1000 HD DNG RAW Files Update by Graham Rowan:
"The fps1000HD produces raw files rather than an encoded video file. In my project description I talk about why raw files are so flexible, retaining all of the video data directly from the image sensor so that decisions about colour balance, brightness, contrast etc can be made at a later time during editing. Follow the link below to download some sample DNG image files – these are taken from the first butterfly video on my project page.
I have posted these samples in response to several requests. One such request came from Dan Kanes, Cinematographer and backer of the fps1000HD who has experimented a little with the files in DaVinci Resolve. I have included some of his graded images in the download folder for which I thank him. Dan says:
"Having the ability easily to capture high speed RAW DNG sequences at such an affordable price with such a lightweight portable camera makes for a true breakthrough for professionals and hobbyists alike. Nothing short of a slow motion revolution."
https://drive.google.com/drive/folders/0B4_-ng_i1WZBVi1odFVvS2ZvZVE?usp=sharing
NOTE: RAW files are a shared link from google drive that could be pulled at any time.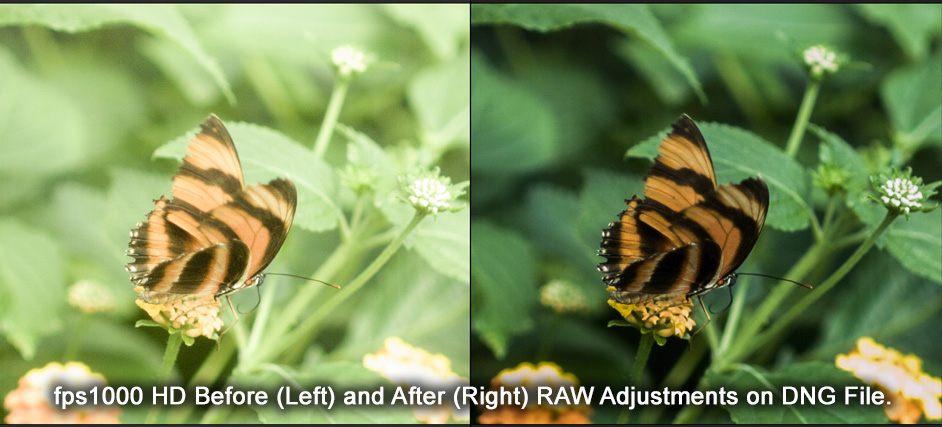 As you can see above from the original recording on the left and our Adobe Camera RAW conversion on the right you can expect a lot of headroom or close to 2 f stops of highlight protection and detail recovery before false color starts to show. However you should still be trying to expose as close to a balanced histogram as possible because details like the flowers on the lower part of the image are still blown out in the center.
fps1000 HD Recording Details Update by Graham Rowan:
Long Recording Time With 128GBytes of Memory
Firstly, many thanks to everyone who has backed the fps1000HD – we are over the halfway mark now!
In this and following updates I want to explain some of the features of the fps1000 range that put it in a class of its own in the field of high frame rate cameras.
The fps1000HD has a 128GBytes of high speed memory. This is enough memory in theory to store 90 seconds of full speed 1,000 fps video at 720p. The current software release limits this to 60 seconds but a future release will utilise the full 90 seconds (all future software releases will be available free of charge).
Is this such a big deal? Yes! High speed memory has traditionally been expensive and consumes a lot of power. So nearly all high frame rate cameras limit the memory to only a few seconds of full speed capture – yes, this is the case for even the most expensive high frame rate cameras and certainly for small handheld cameras and mobile devices.
It's true that many high frame rate capture scenarios only need a few seconds of video time – after all, 1 second of recording time at 1,000 fps provides 40 seconds of playback time. And most high speed events don't last for long. But the problem is capturing the right few seconds; when your memory is only large enough for 4 seconds of video and your event takes 2 seconds you have to be able to stop recording in time so as not to lose the event! Hence most high frame rate recording sessions take a lot of time to set up with the need for careful triggering to stop recording after the event has taken place.
So with those cameras a quick point and shoot is definitely out. So too is the ability to frame a high speed event with a slower intro or outro.
The fps1000 uses a unique memory architecture that allows 1 full minute of full speed capture without incurring huge expense or power consumption. This means that framing a shot is so much easier and it is also simple to combine normal frame rate with high frame rate video. This often makes for a more interesting video and allows you to be spontaneous and grab the camera when you see something interesting to record. At slower frame rates the recording time is even longer.
In the video below I've tried to show the intermixing of high and normal frame rates. The complete clip is around 30 seconds long. I've used geese and seagulls again as they are such willing actors – and cheap to hire too!
Partitions
Because there is so much recording time you may want to partition the video memory so you record into only a small part of it. This is useful if you have already recorded a clip into one section of the memory and don't want to loose it. I often take lots of small clips and keep them in memory and then transfer them out of the camera at a later time.
Non Volatile Memory
Another nice feature of the memory is that it is non-volatile so recorded videos remain in the camera even when the camera is switched off, until they are erased. This is a very useful feature – especially if you need to change batteries before you have saved a recording!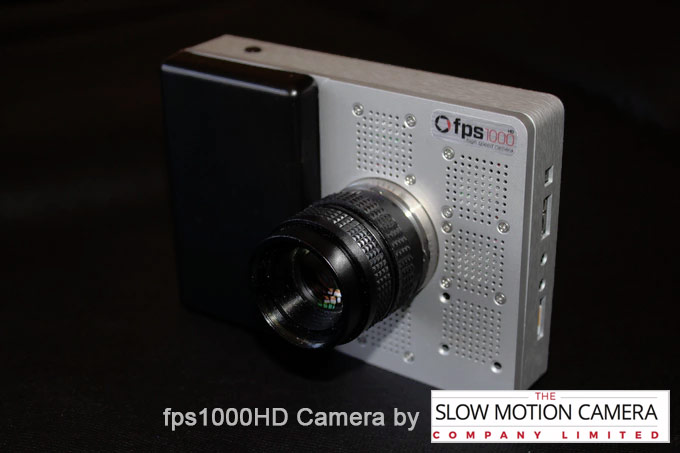 Our Take HSC:
As you can see the flash memory configuration on the fps1000 cameras makes it possible to do long record times and better yet; preserve the recorded footage as a non volatile flash recording even if you power off the camera before saving the recorded footage to the Micro SD card.  This is an advantage that just became apparent with this update and one of the benefits of flash memory recording on a high speed camera.
This along with being able to trim clips in the camera's touch interface makes it the most portable of setups and competitive with Vision Research's Phantom Miro Camera functionality when it comes to on the field recording without transferring to a server, computer or external storage.  The amount of flexibility this setup provides will be a game changer for point and shooters that want a high speed camera in their arsenal without messing up with cabling and remote backup storage.   We will have a detailed review of the fps1000 4k camera when we get one later this year as promised.
For more information about the fps1000 HD and the ongoing Kickstarter campaign click here!
All imagery and samples provided are shared by The Footage Camera Company and their contributors. Visit the project page for more information.
(Visited 1,672 times, 1 visits today)