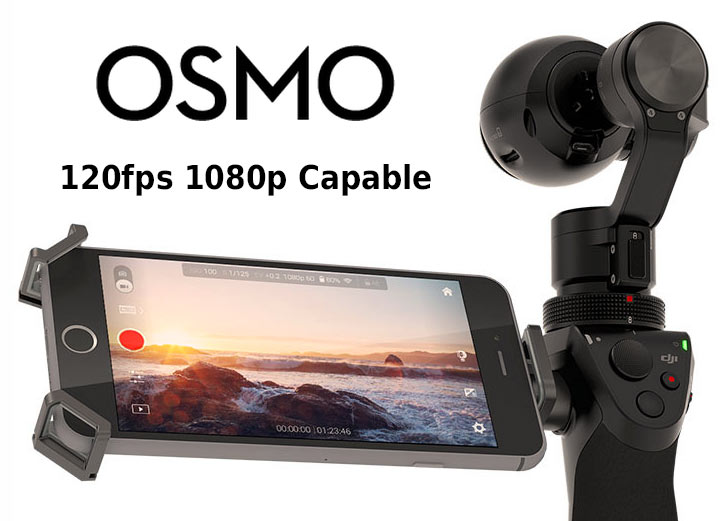 DJI Has announced a portable 3-Axis Gimbal camera system called DJI OSMO that rivals the best handheld  camera options from the competition with an integrated ZENMUSE X3 camera "Same as the one found in the DJI Inspire 1 drone.    You get a ton of standard features like an intelligent panning mode and auto panorama with also a timelapse & intervalometer to boot.   You will need to supply a Phone or other portable device with iOS or Android in order to have a live preview screen and set up the camera / adjust settings.
Specs for the DJI OSMO portable stabilized camera:
Video Resolution:
UHD: 4K (4096 x 2160) 24/25p
UHD 4K (3840 x 2160) 24/25/30p
2.7K (2704 x 1520) 24/25/30p
FHD: 1920 x 1080 24/25/30/48/50/60/

120p*

HD: 1280 x 720 24/25/30/48/50/60p
Sensor:
Sony Exmor R CMOS; 1/2.3"
Effective pixels: 12.40M
(Total pixels: 12.76M)
Still Photography Modes:
Single Shot
Photo Burst Mode: 3/5/7 shots
Auto Exposure Bracketing (AEB):
3/5 bracketed frames @ 0.7EV bias
Interval
Timelapse
Auto Panorama
Selfie Panorama
Video Recording Modes:
Auto; Slow Motion
Max. Video Bitrate: 60 Mbps
Video Formats: MP4/MOV (MPEG-4 AVC/H.264)
94° FOV 20mm
(35mm format equivalent) f/2.8
ISO Range
100-3200 (video);100-1600 (photo)
Introducing the DJI Osmo:
DJI Osmo – Evolution:
As you can see from the demo videos the DJI OSMO is no slouch when it comes to stabilized video recording that looks professional.  It will probably be used in all sorts of productions when you need a small footprint and run into tight spaces.  It sure beats a larger gimbal like the DJI Ronin or Movi for it's easy and almost automated use.  As to the quality of stabilization the larger gimballs besides allowing larger cameras are probably going to be more stable.  But the OSMO is not limited to the X3 small sensor camera. You can attach a ZENMUSE X5 camera starting at $2,199.  That can capture 4k with a 16MP large Micro 4/3 sensor with 13 stops of dynamic range, which beats the Panasonic GH4.   If you attach an X5 camera to the OSMO you have a professional recording that is stabilized in the palm of your hand.  The X5 also allows for attaching Micro 4/3ds system lenses to the camera such as the 14mm f2.5 or 20mm f1.7 which are small and capable for balancing properly.
So in the end you get to choose between a small 1/2.3″ sensor in the X3 which is the size of the one in the GoPro Hero 4 black  or go to a large Micro 4/3ds sensor and get all the benefits for high dynamic range and low light.  These camera options are the same like the ones you get with the DJI Inspire Drone.
DJI Osmo – Moments:
DJI Osmo – On Set with the X5:
Slow motion is pretty good for such a low priced camera solution which gives a 1080p Full HD image at 120fps,  No good samples of this mode are released yet but will be shown in the coming weeks.   Don't expect extreme slowmo quality with the Zenmuse X3 being outfitted with such a small sensor. If you get an X5 camera you are limited to 60fps at 1080p  so getting the larger sensor camera will decrease your slow motion options.
Highly recommend that you watch the Tested video below to see the product in action with the guys from Tested.
Hands-On: DJI Osmo Handheld 4K Camera by Tested:
We can't help but be impressed y the DJI OSMO, the low entry price of USD $649.  GoPro and the rest of the Action cam crowd have new competition for the attention of action shot seekers. Be reminded that the zenmuse X3 cameras are fixed focal length unless you go for the X5 with a small zoom lens in the m4/3 camp.  You can see what is included in the box with the OSMO standard which as you can see includes the Mobile Phone Mount for  screen!
As you can see the kit is very complete and with a relatively modern smartphone you are ready to shoot with the DJI OSMO.   It is quite a compelling product at a great price and it really turns the whole stabilized gimbal market on it's head as the price of entry has been lowered so much that others will have a hard time competing with their current offerings. They will have to adjust and adapt or risk survival.  In the end the consumer benefits as the innovation and constant one up man-ship of these OEMs will create even more featured products at incredible prices.
You can see specs and more about the DJI OSMO and other products here!
We'll keep you updated about the slow motion quality of the DJI OSMO as footage is released over the coming weeks sporting this mode. Thanks for reading and your support of – HSC!
(Visited 8,307 times, 1 visits today)