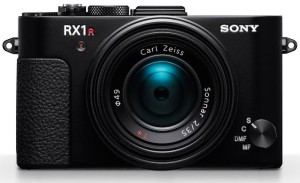 The Sony DSC-RX1R II is a monster of a fixed lens camera. It has a Full frame 42.4-megapixel Exmor R back-illuminated CMOS sensor with 399-point phase-detect Fast Hybrid AF system. It also has the first ever variable optical low-pass filter which lets you shoot with all of the quality of the sensor or with reduced per pixel quality when you want to avoid moire and aliasing. For landscape and nature photographers this is a great feature as they can shoot unconstrained for quality without having to purchase a body with or without the low pass filter.  This is real innovation and shows just how far Sony is evolving the camera space forward.
There is no real competition feature for feature that can rival Sony in the portable camera space.  Should we be worried?  We think this will push others to innovate and differentiate cameras in the future with real must have features that do what no camera phone can do.  However it could also cause stagnation as Sony becomes the go to player while others struggle.
Sony RX1R II Specs:
| | |
| --- | --- |
| Image Sensor | Full-frame (35.9 x 24.0mm) Exmor R BSI CMOS |
| Effective Pixels | 42.4 MP |
| Total Pixels | 43.6 MP |
| Maximum Resolution | 7952 x 5304 |
| Aspect Ratio | 3:2, 16:9, 4:3, 1:1 |
| Still Image File Format | JPEG, RAW |
| Still Image Bit Depth | 14-bit, uncompressed RAW option |
| Storage Media | SD, SDHC, SDXC, Memory Stick Duo, Memory Stick PRO Duo, Memory Stick PRO-HG Duo |
| Card Slot | 1 x SD/Memory Stick combo |
| Lens Type | Carl Zeiss Sonnar T |
| Focal Length (35mm Equivalent) | 35mm |
| Optical Zoom | None |
| Aperture Range | f/2 to 22 |
| Lens Construction | 8 elements / 7 groups |
Movie Recording
XAVC S
1920 x 1080: 60p, 50p, 30p, 25p, 24p
1280 x 720: 120p, 100p
AVCHD
1920 x 1080: 60i, 50i, 60p, 50p, 24p, 25p
MP4
1920 x 1080: 60p, 50p, 30p, 25p
1280 x 720: 30p, 25p
Slow motion?
As you can see from the spec table above the camera can shoot 1080p 60fps and 720p at 120fps.  Nothing big by today's standards but it's good to have. We assume the quality will be similar to that of the A7s with a probability of more artifacts due to the larger pixel count as more detail will have to be thrown out to get such a small footage sample. It could however offer full frame down-scaling to 1080p as that would be artifact free.  720p mode will be harder to achieve for 120fps so until samples are released there is no way of knowing how good or bad this mode will be.
MOVIE RECORDING MODE (NTSC)AVCHD: 28M PS (1,920 x 1,080/60p) / 24M FX (1,920 x 1,080/60i) / 17M FH (1,920 x 1,080/60i) / 24M FX (1,920 x 1,080/24p) / 17M FH (1,920 x 1,080/24p), XAVC S HD: 60p 50M (1,920 x 1,080/60p) / 30p 50M (1,920 x 1,080/30p) / 24p 50M (1,920 x 1,080/24p) / 120p 50M (1,280 x 720/120p), MP4: 28M (1,920 x 1,080/60p)/16M (1,920 x 1,080/30p)/6M (1,280 x 720/30p)
MOVIE RECORDING MODE (PAL)AVCHD: 28M PS (1,920 x 1,080/50p) / 24M FX (1,920 x 1,080/50i) / 17M FH (1,920 x 1,080/50i) / 24M FX (1,920 x 1,080/25p) / 17M FH (1,920 x 1,080/25p), XAVC S HD: 50p 50M (1,920 x 1,080/50p) / 25p 50M (1,920 x 1,080/25p) / 100p 50M (1,280 x 720/100p), MP4: 28M (1,920 x 1,080/50p) / 16M (1,920 x 1,080/25p) / 6M (1,280 x 720/25p)
No 4k Recording?
Surprisingly absent is 4k or UHD video recording which is now ever more prevalent in new camera releases.  This is a camera after all for photographers and purists with it's fixed lens. As a video camera it is limited and the absence of 4k shows the main focus for stills in this release.
RX1R II World's First* Optical Variable Low-pass Filter:
The video above shows how the new Optical Low Pass Variable filter works.  If there is one feature this camera will be remembered for is for finally offering real choice within the same body for variable measure of low pass filtering.  If you want a moire/aliasing free image you want it on and if you want all the detail it's sensor can achieve just dial it up of full on.
Multi Frame NR (Noise Reduction)
"This mode combines four shots' best details to significantly suppress noise and raise sensitivity, letting you clearly capture dark scenes without a tripod or flash. Camera shake blur is also lowered while contrast and detail are raised."
XGA OLED Tru-Finder™ with retractable design
"The retractable Tru-Finder™ features 0.74x magnification16, an optical system of four glass lens elements including two molded-glass aspherical lenses, corner-to-corner clarity, minimal distortion, anti-reflective ZEISS® T* Coating, and brilliant reproduction of recording detail. The EVF can instantly, precisely preview how your settings will affect an image. A separate eyepiece cup is included."
To see still image samples from the Sony RX1R II Click here!
MSRP $3,299.00 
The price will be a steep hurdle for many photography fans. This is after all;  a full frame state of the art camera with one of the best sensors and image quality in the world today. It is also so compact you might mistake it for a P&S camera. It is a Full Frame sensor digital that is truly portable.  For video and slow motion fans there are much cheaper and better options like the Sony RX series!
We'll keep you posted when Sony RX1R II samples of the slow motion mode surface on this camera but don't hold your breath for extreme video quality in a stills optimized camera!
(Visited 1,621 times, 1 visits today)