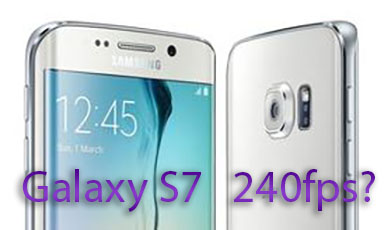 We usually do not take much credibility to rumored specs and devices until they are close to release as it is usually the time when the big leaks happen.  In the case of the Samsung Galaxy S7 flagship phone we got a rumor of what could be an interesting development when it comes to the slow motion capability of the phone's camera.
The feature set according to our source identified as only "Rampart27" claims that the Galaxy S7 will have the most advanced camera yet in a Galaxy phone with the following rumored specs:
Quad HD screen 2560 x 1440 pixels same as Current S6 flagship.
Touch Sensitive Pressure Screen like the iPhone 6s
20 Megapixel New Sensor with larger Photodiode Wells.
4k Video 30fps or 25fps
1080p video at 120fps, 60fps and 30fps.
720p Video at 30fps, 60fps and or 240fps
USB Type-C Connector
Octacore Samsung CPU or Snapdragon Latest
February or March Release 2016
Several variants including, plain and edge, edge+
What interests us of course is the slow motion capability and if it is for real the 120fps at 1080p and 240fps at 720p would put the phone in firm footing for the best slow motion flagship phone.  It is of course only a rumor but seems plausible specs wise as it does not go overboard with crazy numbers and more of a continuation of refinement in the line of the Galaxy flagship phones.
We will keep our eyes open for new rumors on these and other phones as the new year's releases start to leak before CES 2016.
Disclaimer: Rumors are not confirmed or solid information, any rumored information should be taken as unrealistic or implausible until it is confirmed. You should not make buying decisions or future plans regarding rumored information.
Supposed Samsung Galaxy S7 Plus design leak by uSwitch.com:
(Visited 1,521 times, 1 visits today)