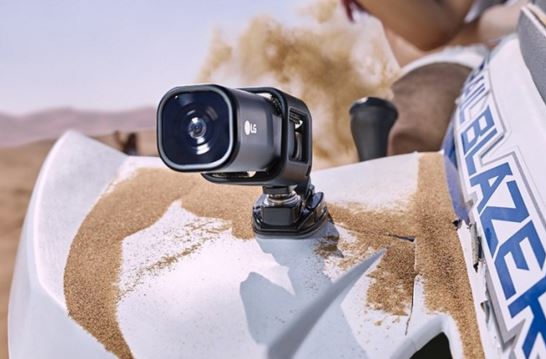 LG Released the wrapping this week on the LG Action CAM LTE  which is a GoPro Hero Competitor that has a trick up it's sleeve. The LTE Part means that you can add 4G LTE or 3G Data to the camera to stream live video over cellular data towers to potentially any internet connected server in the globe.
As to how powerful it will be remains to be seen but the use as a live car Dash Camera, home surveillance CCTV camera and streaming directly to Youtube, Facebook or Periscope seems a pretty incredible proposition at a maximum of 720p 30p over data.
LG Action CAM LTE Specifications:
Camera: 1/2.3-inch 12.3MP / 1.55 x 1.55㎛pixels
Connectivity: LTE / 3G / Wi-Fi 802.11 b, g, n / USB Type-C 2.0 / Bluetooth 4.1
Video Recording: UHD 30fps /

FHD 60fps

/

HD 120fps

Video Live Streaming: HD 30fps
Memory: 2GB RAM / 4GB ROM (OS only) / microSD (up to 2TB)
Size: 35 x 35 x 77.9mm
Weight: 95g
Battery: 1,400mAh
Others: IP67 / GPS / Accelerometer / Gyroscope
Color: Light Gray
As you can see the camera is not as rugged as the GoPro Hero Black or similar which are able to withstand several atmospheres of water pressure.  This LG Action Cam LTE can only do 30 minutes under 1 meter of water.  While this won't be a problem for the majority of uses, forget about scuba or snorkeling for prolonged times with it.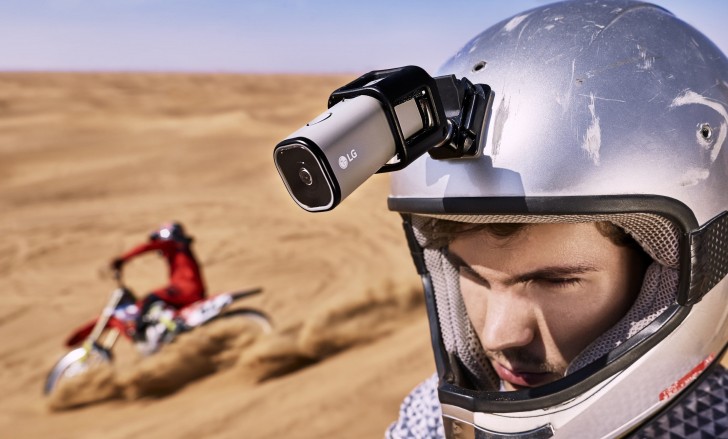 Not all is lost on the weatherproof front as a more rugged case will be released in the Fall to go with the camera that will make it withstand more pressure and abuse.
The Battery life at 1400mAh is rated for up to 4 hours of continuous 720p HD recording.  It is a 4k camera at 30fps and a slow motion camera at 120fps HD 720p or 60fps 1080p.  It will not win any prizes for being a frame rate champ but good to have.
To some it may mean the camera is more like a smartphone with sensors and data than an action camera but we see it as a blend between the two that can herald a new type of hyper connected camera.   For live media savvy people, this might be an incredible solution for live streaming video content on a very affordable level. If you don't mind the live stream limitation of HD 720p at just 30fps!
Pricing and availability:
The LG Action Cam LTE will be launched in Korea by June 2016,  LG Says it is looking at establishing relations with Europe and America to release the camera this year across the globe. The price is still under wraps but we expect it to be competitive with the GoPro Hero 4 Black flagship model or under $500; otherwise we think it will be overpriced for the current market.
We hope to have more info and video samples once they become available by June!
(Visited 848 times, 1 visits today)