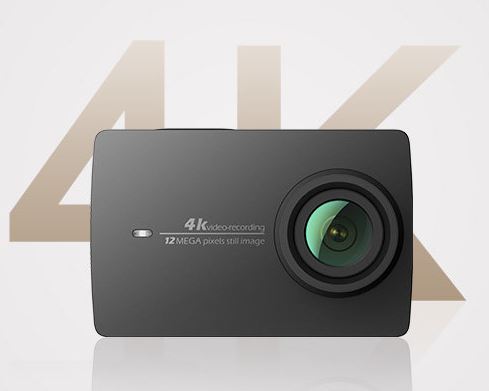 The Xiaomi Yi Camera offered most of what the low end GoPro Hero cameras brought to the table but for much less money. Now Xiaomi is releasing the Xiaomi Yi II which is a 4k capable action camera sporting the Ambarella A9 chip with a Sony IMX377 sensor and an f2.8 lens.
For the price of $249.99 which is extremely low for a camera of this caliber; you get a 30p 4k capable imaging body with the added benefit of 240fps at 720p resolution, 120fps at 1080p and 960p and the 2k 60fps spec to boot.  For giggles there is also a pink version of the camera that might appeal to the female users.
Technical Specifications for Xiaomi Yi II:
| | |
| --- | --- |
| CPU | Ambarella A9SE75 |
| Sensor | Sony IMX377, 12MP, 1/2.3″ |
| Lens | 7 layer optical glass lens, 160°wide angle |
| Aperture | F2.8, f=2.68mm |
| Display | 2.19″ touch display |
| Remote Control | Bluetooth remote controller (not included) |
| Battery | 1400mAh, 3.85V, 5.39Wh |
| Microphone | Two-channel microphone |
| Speaker | Built-in |
| Wi-Fi | Supports both 5GHZ and 2.4GHz Wifi frequency band |
| Bluetooth | Bluetooth 4.0 |
| Interface | Micro USB |
| Video Mode | Normal photography, time-lapse, looping recording |
| Video Format | H.264 codec; MP4 |
| Video Resolution | 4K/30fps, 2.5K/30fps, 1440P/60fps, 1080P/120fps, 960P/120fps, 720P/240fps, WVGA/240fps |
| Photo Resolution | 12 million pixels |
| EV Compensation | Support manually set the EV value |
| Image Stabilizer | Six-axis gyro electronic image stabilization |
| Waterproof | 40m waterproof (need to use with waterproof case which is not included) |
| Working Temperture | -10℃~40℃ |
| Size | 65mm*42mm*21mm |
| Weight | 95g(included battery) |
The camera has a 2.19″ Touch screen which is a great addition and supposedly has enough battery  power to record up to 120 minutes of continuous 4k video.  In practice this might be dismissed as a best case scenario spec but it is good to see these Action Cams get better battery life.
A general idea of whats inside YI 4K Action Camera by Sami Luo:
Another cool aspect of the camera is the 1/4″ standard tripod mount for the body which is in an ideal location since the lens is centered to it. This makes the camera usable with any 1/4″ support system. The User Interface (UI) design is also extremely easy to use and a clear step up from other offerings.  Xiaomi is creating an incredible package here.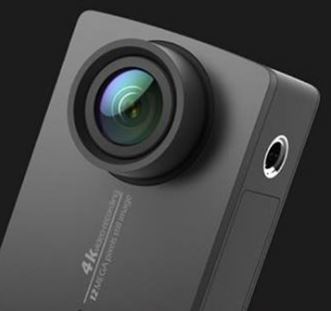 We can't wait to see footage from this camera and if it is as good as the competition and the reliability and ruggedness are up there; we don't see an easy path forward in sales for either Sony or GoPro with their offerings.  Sony however does have a benefit by getting an IMX377 sensor sale for every camera.
"Sony: The IMX377CQT is a diagonal 7.81 mm (Type 1/2.3) CMOS image sensor with a color square pixel array and approximately 12.35 M effective pixels. 12-bit digital output makes it possible to output the signals of approximately 12.35 M effective pixels with high definition for shooting still pictures."
MSRP: 249.99 USD
Estimated Release Date June 15th 2016
We will keep you updated on the Xiaomi Yi II 4k camera and footage samples as they surface. Now we shall see what Sony and GoPro have in store to compete with this shot across the bow from China!
Raw footage slow motion in 720P – YI 4K Action Camera:

(Visited 1,925 times, 1 visits today)