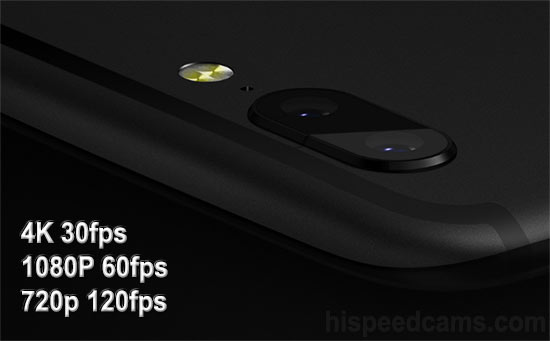 There were a lot of expectations for the phone that would replace the One Plus 3T which was a mighty seller for the performance hungry crowd without the high price tag that typically goes along with the best phones.  The new One Plus 5 is a good upgrade from the One Plus 3 and 3T in that the performance goes neck and neck with the best of the best out there and tied with the Samsung Galaxy S8 in benchmarks.
The tale, however, is not completely rosy as the camera module taking a page from the iPhone 7 Plus includes two camera sensor modules, one for wide-angle at 16MP and the other for telephoto with 20MP resolution.   We say it falls short because the slow motion frame rates are pegged to a 720p resolution and only at 120fps. This is not flagship performance for video even when it ticks off all the other boxes like 4k 30p and 1080 60p.
The Apple iPhone, Galaxy S7, S8 leave it behind at 240fps 720p while the Sony Xperia XZs and Premium absolutely destroy it at 960fps 720p due to the new stacked sensor contained in those phones. Sony it seems are keeping their best cards close to their sleeves as to not loose the performance edge.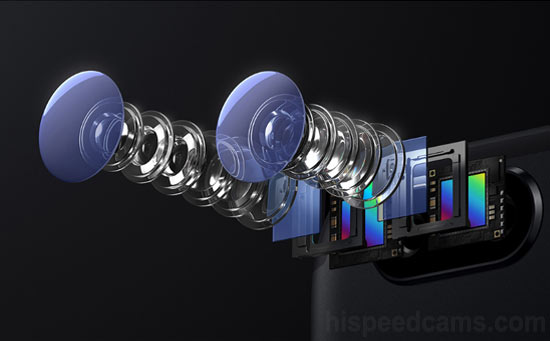 It is clear slow motion video, while touted in the specs, was never a  big design choice for the One Plus 5. The 120fps 720p spec is so 2014 and on a phone that has so much power inside it simply seems out of place.  It may be the choice of sensor in the Sony IMX 371 which may not be able to capture faster speeds.
OnePlus 5 slow motion video by Antonio Monaco:
In the video above by Antonio Monaco, you can see the 720p 120fps video from the One Plus 5 is adequate with good levels of detail and few resolution artifacts.
OnePlus 5 Slow Motion video 1 by Nagaraj:
Good color, good detail and lack of noise are all good attributes of the One Plus 5 slow motion image. However, we see a tendency to defocus and focus continuously. Probably can be avoided by using focus lock on the camera interface.
One Plus 5 Main Specs:
Dimensions 154.2 x 74.1 x 7.25 mm
Weight 153g
Material Anodized Aluminum
Color : Midnight Black / Slate Gray
Operating System : OxygenOS based on Android™ Nougat
CPU: Qualcomm® Snapdragon™ 835 (Octa-core, 10nm, up to 2.45GHz)
GPU: Adreno 540
Display:
Parameters
Size: 5.5 inches
Resolution: 1080P Full HD (1920 x 1080 pixels) 401ppi
Aspect Ratio: 16:9
Type: Optic AMOLED
Support sRGB, DCI-P3
Cover Glass:2.5D Corning® Gorilla® Glass 5
Rear Camera Wide-angle:
Sensor: Sony IMX 398 (Same as 3T)
Megapixels: 16
Pixel Size: 1.12 µm
EIS: Yes
Autofocus: DCAF
Aperture: f/1.7
Rear Camera Telephoto:
Sensor: Sony IMX 350
Megapixels: 20
Pixel Size: 1.0 µm
Autofocus: PDAF
Aperture: f/2.6
Video Specs Main Camera:
4K resolution video at 30fps
1080P resolution video at 60fps
1080P resolution video at 30fps
720P resolution video at 30fps
Slow Motion: 720p videos at 120fps*
Time-Lapse
Front Selfie Camera:
Sensor: Sony IMX 371
Megapixels: 16
Pixel Size: 1.0 µm
EIS: Yes
Autofocus: Fixed Focus
Aperture: f/2.0
Front Video
1080P resolution video at 30fps
720P resolution video at 30fps
Time-Lapse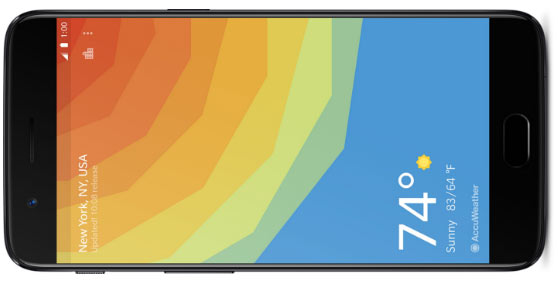 OnePlus 5 – Dual Camera. Clearer Photos by OnePlus:
Pricing depends on hardware storage/memory version:
The Phone will come in two variants that will share most components including screen but will differ in memory and storage.
One Plus 5 Option #1:
6GB LPDDR4X – RAM
64GB UFS 2.1 2-LANE  Storage
Slate Gray Color
Price: $479 / €499
One Plus 5 Option #2:
8GB LPDDR4X  – RAM
128GB UFS 2.1 2-LANE  Storage
Midnight Black Color
Price: $539 / €559
When you compare the phone to other options like the iPhone 7 and Galaxy S8 which are above $700 USD it is clear the One Plus 5 offers a lot of value for a Snapdragon 835 phone which goes head to head in performance figures. It will find a home in a lot of pockets when it comes to 99% of users. The phone is a performance monster but not a video shooters dream when it comes to high frame rates. Which may or may not impact you much. The camera application, however, is good and has great features, for 4k shooters it should be more than adequate.
For us, however, it is just one more missed opportunity for slow motion prowess to be delivered in mobile form.  We will not be covering the One Plus 5 going forward as it barely includes the minimum slow motion spec we cover. -HSC
More information about the One Plus 5 here: https://oneplus.net
More Informational Videos from the One Plus 5 Below:
OnePlus 5 Review! by Marques Brownlee:
OnePlus 5 Camera Hands-on Review by Kai W:
OnePlus 5 review by The Verge:
OnePlus 5 Review by MrMobile [Michael Fisher]:
(Visited 7,307 times, 1 visits today)