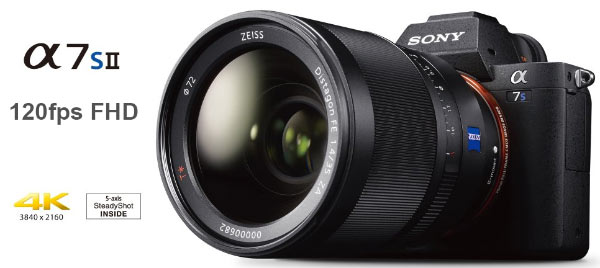 Sony today has announced a pretty important pair of products the Sony A7s II and the Sony FS5 Pro Model. On the one hand video producers that adopted the Sony A7s last year due to it's impressive dynamic range and extreme low light ability at up to ISO 409,600; were in a bind as recording 4k with the camera needed an external recorder in order to do it.  It also had no sensor image stabilization which is a very useful feature.  Not anymore the newly announced Sony A7s II has internal 4k with S-Log 3 flat profile mode and it also boosts last years 120fps at 720p to Full HD and full sensor readout 1080p at 120fps.   From the samples the quality seems impressive and artifact free, it will be a matter of looking at non Sony samples to see if the quality is that good in the 120fps FHD mode.
A7s II Main Features:
12.2MP Full-Frame Exmor CMOS Sensor
BIONZ X Image Processor
Internal UHD 4K Recording
1080p 60, 120fps Recording
S-Log3 Gamma and Display Assist Function
5-Axis SteadyShot INSIDE Stabilization
0.5″ 2.36m-Dot XGA OLED Tru-Finder EVF
3.0″ 1,228,800-Dot Tilting LCD Monitor
Up to 5 fps Shooting and ISO 409600
Fast Intelligent AF, 169 AF Points
Built-In Wi-Fi with NFC
Improved Sensitivity & Features: 
Sony: "The sensor's design also features a new-generation RGB color filter array, as well as a gapless on-chip lens design. Together, these two technologies enable truly efficient light-gathering abilities that further reinforce the low noise, high-sensitivity design."
As to the real world improvement in sensitivity it will be hard to tell but expect lower noise and lower color artifacts at extreme sensitivities.  The original A7s was unrivaled in low light and the new A7s II seems to pull ahead just slightly more. It will be quite hard for competitors to approach this level of low light performance and dynamic range in order to compete. Sony is making the race look easy when it comes to sensor performance.
The added Wifi and NFC will let you capture remotely and the improved LCD viewfinder and monitor will make it easier to interface and frame.
Slow Mo Sample 1 for A7s II:
All in all a pretty worthy upgrade for Slow motion resolution and 4k capture.
Sony: "Internal UHD 4K Recording and Full Pixel Read out Internal recording of UHD 4K movies is possible in multiple frame rates up to 30 fps and, based on the 12.2MP resolution, full pixel readout is possible that is void of pixel binning for higher quality imagery with reduced moiré and aliasing. Full HD 1080p recording is also supported in frame rates up to 120 fps, and both resolutions utilize the 100 Mbps XAVC S format contained within an MP4 wrapper with 4:2:0 sampling. The high-speed, 120 fps recording also enables 4x and 5x slow-motion movie recording with the frame rate set to either 30p or 24p."
Slow Motion 120fps FHD:
The Slow motion mode at full HD 120fps 1080p seems to be full sensor and very clean.  The 4x or 5x slow motion modes are not higher frame rates but the same 120fps saved at 30p for 4x or 24p for 5x slow motion.
Slow Mo Sample 2 for A7s II:
XAVCS is a great codec and while it is not 4:2:2 as more pro video models in the Sony line-up it should produce wonderful imagery especially by using S-Log3 to avoid clipping in highlights and shadows.  The decision of Panasonic to charge $99 for the GH4 V-Log update sounds even less enticing now that competitors like the A7s II include it for free.  Panasonic should open the update to every GH4 user at no cost, it would speak volumes of their commitment to the user base. The new GH4R does have V-Log included but only for newly acquired models, current owners are charged extra for their loyalty.   Sony is attacking in all fronts with great performance to boot.
A7s II High ISO sample Movie up to ISO 409600:
Besides price, the A7S II is now the clear choice between this camera and the GH4, the performance of the Sony and 4k Internal, extreme High ISO, 120fps 1080p better quality Slowmo and the 5 axis sensor stabilization that will work with your glass collection is ahead in every respect.  Competitors should be very afraid.
MSRP: $2999.00 USD   While not cheap you are getting full frame extreme high ISO goodness and internal 4k + 5 axis sensor stabilization.  Sony has a winner here and the initial response from the community shows it.  They fixed what was missing on the original A7s and added even more without re-inventing the wheel.  This might be the best super-portable video camera released to date.
The camera will be available for Pre-Order expected September 17th at Adorama: A7s II Pre Order Page!
We will cover the other new announcement, the Sony PXW-FS5 in it's own article as it deserves more attention!
(Visited 4,784 times, 1 visits today)