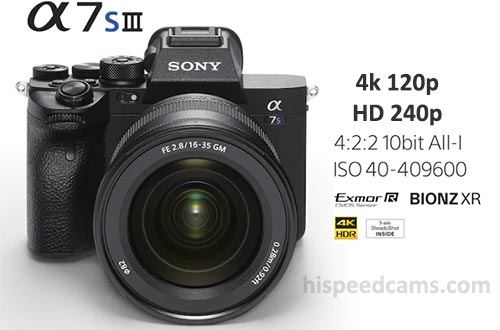 It's here, yes it is finally here you are not seeing things. In what may be the most anticipated camera release in years, Sony has finally unveiled the a7s III video-centric mirrorless camera.  It has all the new performance benefits of processing and AF seen on other Sony bodies but now applied to a 12 Megapixel back-illuminated full-frame sensor geared to shoot pristine 4k and be able to shoot stills as a secondary function.  The original 5D from Canon shot 12.8 MP in 2005 when it was introduced and it is still being used out there by many professionals as it was and still is a wedding workhorse. However 15 years later which in the camera world seems like a century, we get a brand new Sony camera with 12MP and that is actually a great thing!
The slow motion on this camera has a lot of good but also some hidden secrets that you should know about before plunking your hard-earned cash. We get what may be the best 120fps 4k footage we have seen in any camera under 10k USD at full 4:2:2 10 bit quality which after looking at the samples left us with nothing but praise to see such a well-executed mode with the added benefit of being able to shoot nearly 1hr worth of it before the camera temperature spoils the party. Excellent performance!
Sony a7s III Main Video Specs:
Video Recording Modes
H.265/XAVC HS 4:2:2 10-Bit
UHD 4K (3840 x 2160) at 23.976p/25p/29.97p/50p/59.94p/100p/119.88p [50 to 280 Mb/s]
H.265/XAVC HS 4:2:0 10-Bit
UHD 4K (3840 x 2160) at 23.976p/25p/29.97p/50p/59.94p/100p/119.88p [30 to 200 Mb/s]
H.264/XAVC S-I 4:2:2 10-Bit
UHD 4K (3840 x 2160) at 23.976p/25p/29.97p/50p/59.94p [240 to 600 Mb/s]
Full HD (1920 x 1080) at 23.976p/25p/29.97p/50p/59.94p [89 to 222 Mb/s]
H.264/XAVC S 4:2:2 10-Bit
UHD 4K (3840 x 2160) at 23.976p/25p/29.97p/50p/59.94p/100p/119.88p [100 to 280 Mb/s]
Full HD (1920 x 1080) at 23.976p/25p/29.97p/50p/59.94p/100p/119.88p [50 Mb/s]
H.264/XAVC S 4:2:0 8-Bit
UHD 4K (3840 x 2160) at 23.976p/25p/29.97p/50p/59.94p/100p/119.88p [60 to 200 Mb/s]
Full HD (1920 x 1080) at 23.976p/25p/29.97p/50p/59.94p/100p/119.88p [16 to 100 Mb/s]
The video specs from the a7s III above don't tell the whole picture but do paint a very flexible camera with a variety of quality modes so you can choose anywhere from HD at 50Mbps on the low end to 600Mbps at 4k on the highest setting which is pretty ludicrous and will need specific CFexpress Type A cards that can be used alongside two SDXC UHS-II cards for a total of four cards which is pretty remarkable.
But what about full HD slow motion?
There is also a Slow and Quick motion mode which activates frame rate selection in FUll HD modes that can reach 120fps and 240fps in NTSC and 100fps, 200fps in PAL mode…
SLOW & QUICK MOTION (SHOOTING FRAME RATE) :
NTSC mode: 1 fps, 2 fps, 4 fps, 8 fps, 15 fps, 30 fps, 60 fps, 120 fps, 240 fps
PAL mode: 1 fps, 2 fps, 3 fps, 6 fps, 12 fps, 25 fps, 50 fps, 100 fps, 200 fps
However, not all is good in the state of Sony Slow Mo…
The number of effective pixels in S&Q mode: 1408 x 804 at 240 or 200 fps. 240 or 200 fps not available when using [XAVC HS 4K], [XAVC S 4K], or [XAVC S-I 4K] file formats.
Yes, we get a reduced quality 1408 x 804 at 240 or 200 fps readout when you get the highest frame rates along with skipped lines, aliasing, and moire.  After looking at the samples we simply cannot recommend this camera for its Full HD slow motion capabilities. The image is mushy and low detailed in those modes and clearly it seems restricted by hardware limitations on the sensor which do not allow for a 1:1 frame extraction at those speeds. 
Introducing Alpha 7S III | Sony | α:
But the 4k 120 and 100fps Slow Motion is great right?
Yes, this mode is not only great but it is superb in quality with up to 15 stops of dynamic range with S-Log 3, the best high ISO quality in a camera of this price range, 4:2:2 10-bit, full-time Autofocus in 100 and 120fps 4k with full eye and face detection with tracking. The camera is dependable, can record for nearly an hour in 4k 120p without overheating and can start to record again after a few minutes cool down thanks to its very capable internal heatsink which is a cut above what Canon was able to achieve on the R5 and R6 cameras which overheat after less than 30 minutes in pretty much every video mode.
One little nitpick on the 100fps and 120fps 4k mode you need to know:
The only real problem in this mode is a 1.1x crop from full frame when recording 100fps and 120fps 4k video. You get a 10% reduction in the field of view which seems to be tied to grabbing a 4k 1:1 pixel frame without full sensor readout inside the 12MP sensor. 4k needs only 8.3MP which kind of tells us that Sony cropped the sensor windowing mode to just read that portion in order to achieve the higher frame rate. That is not a really bad thing but something you need to know before shooting if you intend to use the same shot setup with different frame rates.  It can mess up your frame composition enough to require you to use markers on set to know which portion of the frame will be cropped and or the possibility to move back a bit to get the same field of view as regular 4k.
That said the 4k 100fps and 120fps mode shoots a beautifully detailed, noise-free, and artifact-free image that is the envy of many other cameras. You can use this mode on production as it shares the same quality as the 24, 30, and 60fps modes in the 4k shooting parameters.  It is that good, see the sample section below.
Sony a7S III Hands-on Review – What a HUGE Surprise This is… by Kai W:
So we get pretty unusable Full HD slow motion from the a7s Mark III and a 1.1x crop in 100fps and 120fps in 4k which may or may not put off some buyers.  As a 4k camera, we think this is an ideal choice especially for the improved rolling shutter control, excellent noise impression, outstanding low light abilities that are unmatched at this price range, and also the killer Autofocus performance that has been improved over and over on recent Sony bodies.  This is the most capable 4k shooter out there for mirrorless enthusiasts that need a clean professional image with few compromises.
Sony a7s III Slow Motion Video samples:
We are excited at this camera's 4k performance and especially the clean as a whistle 4k 100fps and 120fps modes which allow for some of the best images you could capture with current technology.  Excellent AF performance and little overheating risk mean more time shooting and creating than being worried about gear failure. The samples below will show you a good take on what this camera can do.
The Sony A7SIII- 4k 120fps video is INSANE! by Manny Ortiz:
Sony A7S III Extensive 4K test and review in Roma (25, 50, 100 and 200 fps) by Tutto Digitale: (HD 200fps Included!)
Philip Bloom was instrumental in the launch of the original Sony a7s from Sony when it launched as his Now I See video captured the attention of the video world as they marveled at nearly 1/2 million ISO performance that kind of saw in full darkness. This new footage below is a re-exploration of the scene with the new a7s III and it doesn't disappoint.
Now I See Part 2: Filmed with the Sony A7S III with a lot of 100p 4k footage by Philip Bloom:
There you have it:
Did we get everything we were waiting for? Not really, we had high hopes for the Full HD slow motion performance of this camera as rumors suggested 240fps and up to 480fps modes, but we got a very low resolution cropped and artifact prone image at 200fps and 240fps in Full HD that makes it unsuitable for serious work. It is a gimmick mode that should only be used for experimentation.
However, the 4k 100fps and 120fps mode in the camera is beautifully detailed, sharp, low noise, and from what we saw artifact free with juicy color and dynamic range that screams professional in every way.  As a 4k camera the Sony a7s III is kind of the best ever in this price range and a clear upgrade for Sony shooters, however, Full HD seems to be an afterthought and what looks like a bad omen for the older standards in HD which may be scrapped altogether at some point.
HD is still being used heavily in TV broadcast with over 90% cable penetration to the home and 4k and other resolutions being niche formats in that last 10%.  Most people are not able to see the difference in 4k vs good Full HD on a home TV even at 60 inches, At 70+ inches then it is more apparent based on distance.  We still believe Full HD is a format we will continue to see used for streaming and TV delivery for at least another decade.
For slow motion, 4k is still just beginning to be adopted as the data rates needed for this resolution are mammoth when you go up the frame rate ladder.  You need SSD recording and a lot of GB for real super slow motion at 4k.   The Phantom Flex 4k camera that shoots 4k at 1000fps can only shoot 5 seconds to its 64GB frame buffer or 12.8MB for a single frame.  So we will probably be waiting a long time for this kind of performance to reach low-cost slow motion gear.  But we hope to be surprised sooner rather than later.
Pre-order the Sony a7s III at Amazon here for $3,499.99!
We will have more samples on the Sony a7s III when they become available, be sure to visit our links before you buy gear to support this website, it helps us on our mission without adding any extra cost to you.  Thanks for reading -HSC
(Visited 13,572 times, 1 visits today)