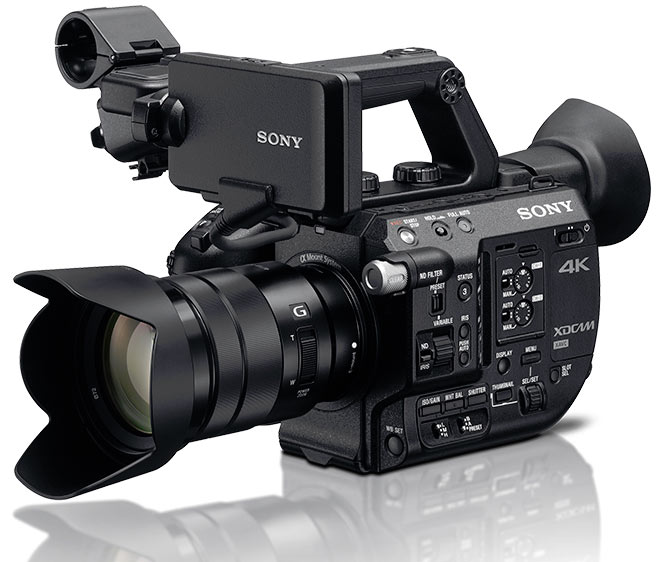 NAB 2016 has turned out to be subdued in product announcements when it comes to cameras. Sure there are a few of not but nothing earth shattering for price conscious video enthusiasts.  The Sony FS5 is still a great camera and the new firmware to be released in May-June 2016 will give it more features and power.
The New firmware update v2.0 will be free but if you want the high frame rate capabilities you will need an external recorder and $600 USD or $500 Euros. Also you will need an external recorder to handle the RAW output.
Sony FS5 Firmware Update v2.0 – May, 2016 
AUTO ND Filter: Electrical Variable ND filter can automatically keep the best exposure while keeping the aperture and depth of field. Auto Exposure for varying conditions.
GPS function Active
Expanded Zebra Settings – two zebra points can be switched swiftly.
Free for FS5 Owners.
Sony FS5 RAW Upgrade  CBKZ
4K (4096 x 2160) Raw up to 50 and 60p Continuous recording.
4K RAW – 120fps in a 4 second burst
2K/FHD Raw up to 240fps continuous Capture
Requires external recorder hardware – either Sony AXS-R5 ($5,350) + HXR-IFR5 ($2,200) Interface or 3rd party:

Convergent Design Odyssey7Q+
Atomos Shogun/Flame/Inferno (frame rates and format depending on recorder specs)

 Cost: 500 Euros / $600 USD
Sony Fs5 test Slow motion 200fps by Leo Simone:
Good to see the FS5 continue to be supported. If you already have an external recorder you will get the benefit of better RAW frame rates with the paid $600 USD update.  For free  you will get the simpler v2 upgrade which has auto ND, GPS and Zebra.
If you need RAW recording at up to 240fps in full HD or 120fps in 4k RAW; this is a very nice solution.
(Visited 2,025 times, 1 visits today)